London: One of NATO's military lawyers has called into question the legal justification for the US, UK and France bombing Syria's chemical weapons infrastructure earlier this month, saying it did not have a basis in accepted international law.
He adds to other experts who have publicly criticised the allies' stated reasons why the military strike was within the law. This is the first time such a voice has come from a military official inside the allies' own defence pact. 
Lieutentant Colonel Kris van der Meij is a Dutch lawyer working at NATO's Cooperative Cyber Defence Centre of Excellence in Estonia, as part of a team working out how international law applies to the new realm of cyber conflict. He has previously worked as legal adviser at 1st German-Netherlands Corps, one of NATO's High Readiness Forces headquarters.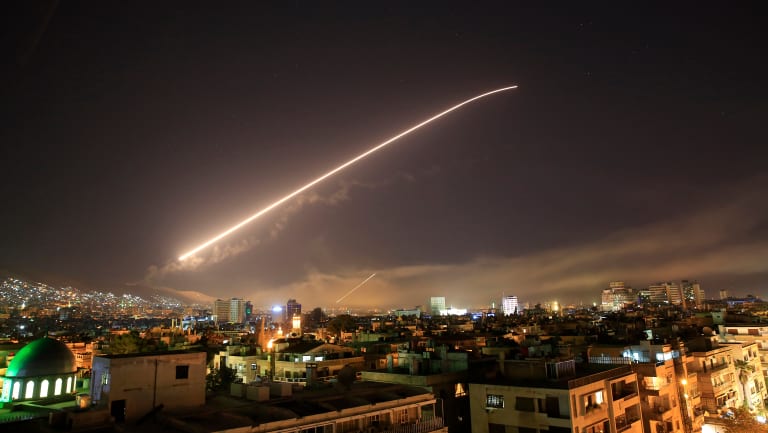 The Damascus sky lights up missile fire as the US or France or the UK launches an attack on Syria targeting different parts of the capital in April 14.
He said neither he nor his colleagues at the CCDCOE accepted the so-called "humanitarian intervention" principle as a reason to act aggressively against another country.
On the day of the attack the UK government released a summary of its legal advice on the military action against Syria.
It said "the UK is permitted under international law, on an exceptional basis, to take measures in order to alleviate overwhelming humanitarian suffering".
This required convincing evidence of extreme humanitarian distress; that there was no practicable alternative to the use of force, and the action must be necessary and proportionate to relieve humanitarian suffering.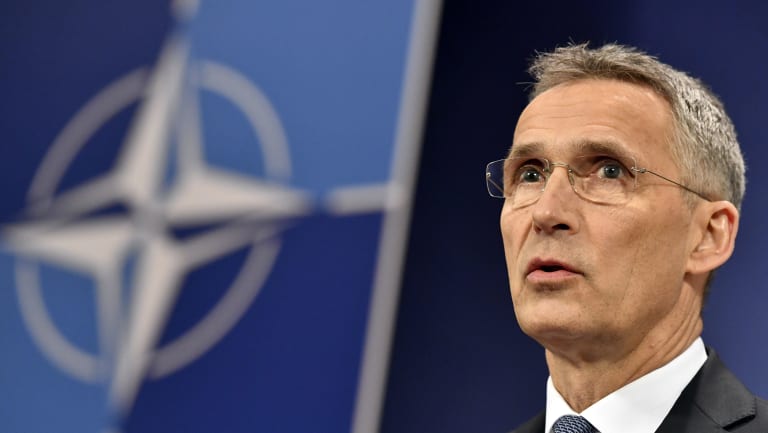 "There was no other alternative than to react the way they reacted this night": NATO Secretary General Jens Stoltenberg
The UK government judged it had met these requirements, as the Syrian regime had been using chemical weapons since 2013 against its own citizens: most recently in Douma on April 7.
Russia and Syria have also complained the attack was against international law. At an emergency meeting of the United Nations Security Council, Russia's deputy UN ambassador Vladimir Safronkov called the strike a "flagrant violation of international law and an act of aggression".
van der Meij said international law allowed three reasons for taking military action in another country: in self defence, with a UN Security Council resolution, or on the request of that country.
"The fourth option sometimes mentioned is this humanitarian intervention, like they did in Libya for example when Gaddafi was slaughtering his own people," he said.
"But this is not yet considered customary international law. We don't accept this as a reason to act."
Fairfax later asked van der Meij to clarify his position. He said via email there was a "discussion ongoing" in the international community on whether humanitarian intervention should be an option to justify the use of force.
Another option had been "responsibility to protect", which was pushed particularly by Australian foreign minister Gareth Evans, and adopted in 2005 by the UN General Assembly. But this option is seen as more preventative rather than centring on the use of force.
van der Meij said the "humanitarian intervention" principle was not just unlawful, but also undesirable.
"Since there is no consensus that 'humanitarian intervention' can be considered a lawful use of force I would rule it out as an option," he said. "Sovereignty of states… is a valuable standard.
"Humanitarian intervention would lower this standard to a level where other parties could try to achieve political goals under [its] umbrella.
"Don't misunderstand me, I absolutely disagree with dictators or leaders who mistreat their population, but I think the principle needs to be developed further."
van der Meij didn't rule out it eventually becoming accepted as customary international law, as states had used the term to justify the use of force on several occasions in past decades.
The issue of national sovereignty has emerged as a key concern of Western nations amid a Russian-backed wave of foreign interference in elections, most notably the US election of 2016.
In the case of Syria, van der Meij said, "I don't see an alternative justification [for the strike], but this is based on the limited information I have available which is definitely not comparable to information available to the governments involved."
Fairfax asked NATO what its legal advice or position was on the doctrine of humanitarian intervention.
In reply, a spokesman pointed to recent statements by NATO secretary general Jens Stoltenberg, who had said he supported the actions taken by the US, UK and France against Syria.
"There was no other alternative than to react the way they reacted this night," he had said, as "we cannot accept the normalisation of the use of chemical weapons".
van der Meij is not the only legal expert to object to the use of the humanitarian intervention principle to justify an attack on another country.
In a recent article, British academics said the justification for the Syria strikes under international law was "highly questionable".
Christin Chinkin, professor of international law at the London School of Economics and University of Michigan, and Mary Kaldor, professor of global governance at the LSE, wrote for Open Democracy criticising what they called the "hypocrisy of the government's humanitarian argument and the dangerous precedent this sets for future military interventions".
"Many international lawyers have supported the idea of humanitarian intervention, including the 'father of international law' Hugo Grotius," they wrote.
"Nevertheless no such doctrine has been formally incorporated into international law and there has been widespread resistance to the notion that the role of the UN Security Council in authorising the use of force can be overridden. The UN Charter prohibits the use of force except in the case of self-defence or when authorised by the UN Security Council."
They said it was open to the government to argue the strike was "legitimate if not lawful", which was the conclusion of an independent commission on NATO's intervention in the former Yugoslavia in 1999.
Russian president Vladimir Putin said actions in violation of the UN Charter would "inevitably entail chaos in international relations".
Source: Read Full Article