Beijing: US Treasury Secretary Steven Mnuchin says a trade delegation he is leading in China has been having very good conversations, as he heads into the second and likely last day of talks in Beijing.
A breakthrough deal to fundamentally change China's economic policies is viewed as highly unlikely during the two-day visit, though a package of short-term Chinese measures could delay a US decision to impose tariffs on about $US50 billion worth of Chinese exports.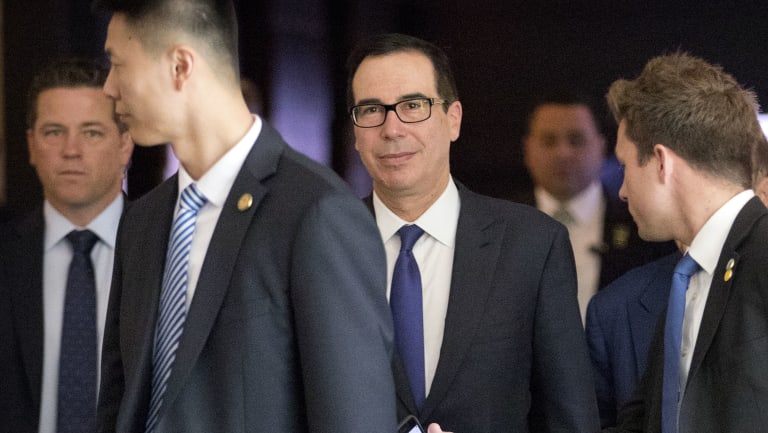 US Treasury Secretary Steven Mnuchin, centre, leaves his hotel in Beijing.
The discussions, led by Mnuchin and Chinese Vice Premier Liu He, are expected to cover a wide range of US complaints about China's trade practices, from accusations of forced technology transfers to state subsidies for technology development.
"We are having very good conversations," Mnuchin told reporters as he left his hotel. He made no other remarks.
China, which has threatened retaliation in equal measure, including tariffs on US soybeans and aircraft, has so far given no comment on how the talks are going.
The official China Daily newspaper said in a Friday editorial that the brewing tensions between the two countries underscored how "niggly" differences had become and "how difficult it will be for the two sides to walk away happy".
It added "fingers would be crossed" around the world that a deal could be stuck because "failure would herald a slug fest of tariffs that would leave global trade reeling".
This would require compromises on both sides, the English-language paper wrote.
"Acceptable agreements can be reached if both sides have realistic expectations of their give and take."
US President Donald Trump on Thursday praised his relationship with Chinese President Xi Jinping as the US delegation began their talks, which are taking place at a state guest house in the western part of the Chinese capital.
The arrival of the US trade delegation indicated the United States has "taken a step towards avoiding a massive trade war," China's widely-read and often hawkish Global Times newspaper said in a commentary.
"Since both sides have their bottom lines to keep, it may be hard to reach a deal, but it is good to start somewhere."
Reuters
Source: Read Full Article