Save articles for later
Add articles to your saved list and come back to them any time.
Aoife O'Connor has a lot of catching up to do this week. Not so much with schoolwork – she enjoyed the academic side of remote learning – but with friends and even teachers she says she barely knows.
"I haven't seen two of my teachers in person, like I haven't even met them properly, so I'm kind of excited about that," the year 8 student at Essendon's Buckley Park College said.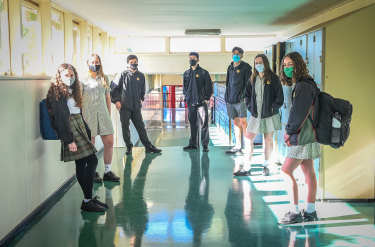 Students in years 8 to 10 at Buckley Park College made a long-awaited return to the classroom on Monday.Credit:Justin McManus
Melbourne's year 8 to 10 students made their long-awaited return to the classroom on Monday, having lost the most face-to-face schooling of all year levels since the city first went into lockdown.
In the seven months since term one was cut short by a week in late March, they have experienced just three weeks at school, compared with 21 weeks of remote learning.
Aoife's classmate, Adam Iozzi, admitted to being unnerved, but happy to be back after such a long absence. As the school bell rang out for the first time on Monday, he said that even the act of walking from classroom to classroom between lessons would initially feel a bit weird.
"I don't know how to explain it, it's like, we've been away for so long, it's like a shift that I have to try to get used to it again," he said.
Monday marks the full return to school for Victoria's million-odd students, other than those at East Preston Islamic College and Croxton Special School in Northcote, which have been closed for 14 days after being caught in the city's latest COVID-19 outbreak.
About 163,000 year 8 to 10 students in Melbourne returned to school today, two weeks after those in primary school, years 7, 11 and 12 came back under the Andrews government's staggered term four return.
Regional primary school students have been back since October 5.
Buckley Park College principal Harold Cheung expressed relief that all of his 995 students were back on site at last.
"It's not as easy when you're remote and seeing each other on a screen, compared to seeing each other in person, those informal conversations where you can just catch up, that's the biggest thing that is missing during remote learning," he said.
With just eight weeks of the school year to go, Mr Cheung said the school's biggest priority would be supporting students, both academically and emotionally, to launch into next year.
"For these last few weeks the priority is making sure we know exactly where they are at in their learning and ensuring we can support the students who need that support, or extending the students who have performed well," he said.
Levi Cara, a year 9 student at the school, said he managed to finish his work efficiently at home, but sometimes struggled to stay motivated.
"I'm very excited to be back and glad online learning is over," Levi said.
"Sometimes I found my motivation was a little bit low with it all, not having a teacher there to really encourage me to really push myself was a little bit difficult."
The state government also announced on Monday that graduation ceremonies could take place this year and that year 6 and year 12 students would be permitted to gather to celebrate.
Sign up to our Coronavirus Update newsletter
Get our Coronavirus Update newsletter for the day's crucial developments at a glance, the numbers you need to know and what our readers are saying. Sign up to The Sydney Morning Herald's newsletter here and The Age's here.
Most Viewed in National
Source: Read Full Article