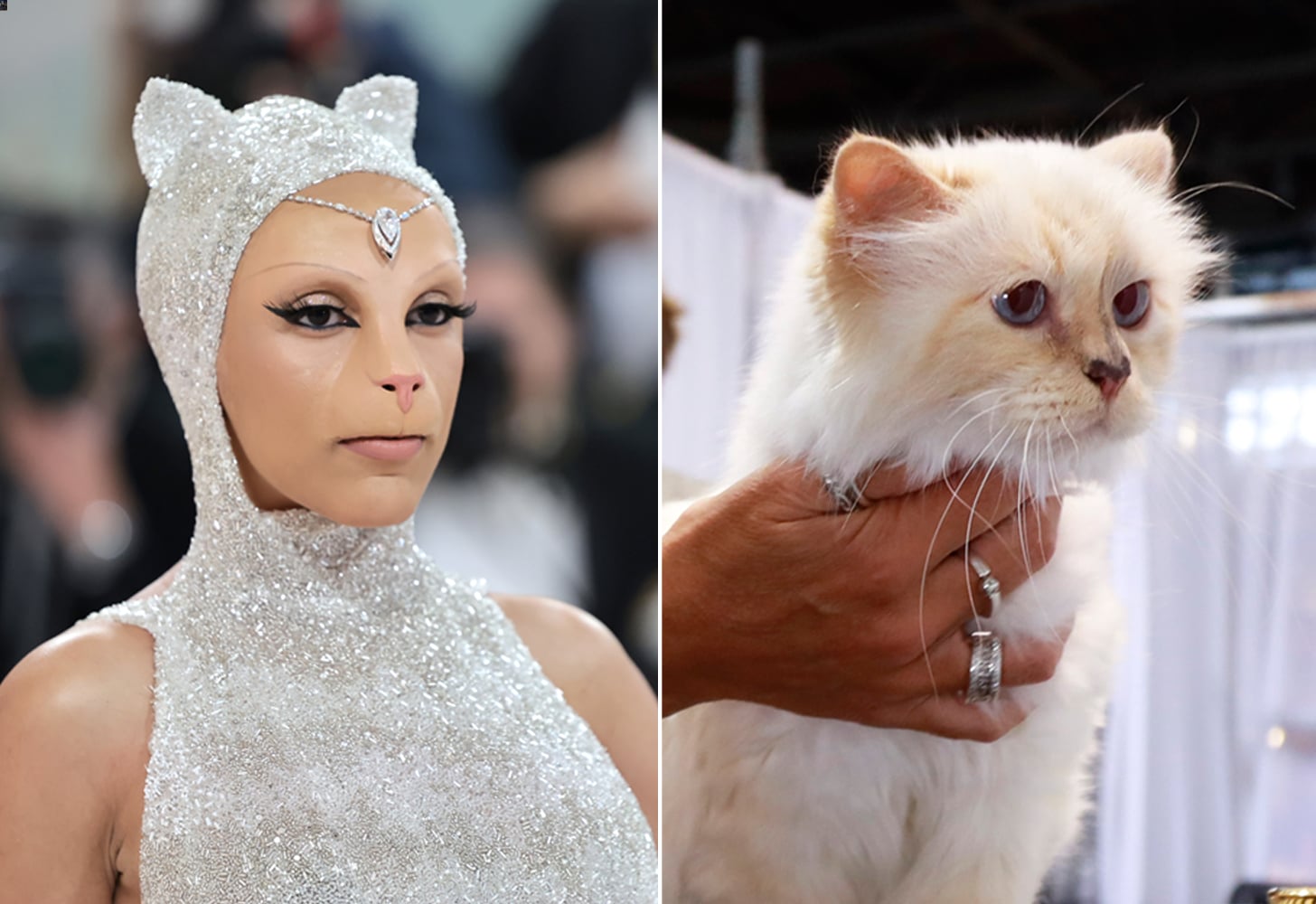 Image Source: Getty / Jamie McCarthy / Julien M. Hekimian
The 2023 Met Gala is a celebration of Karl Lagerfeld, meaning the May 1 event has been an elaborate showcase of vintage Chanel looks and modern interpretations of the designer's work. However, one slightly more nontraditional aspect of Lagerfeld's life has led to several of the night's most memorable looks: both Jared Leto and Doja Cat wore particularly unforgettable tributes to Lagerfeld's beloved cat, Choupette.
The designer leaves behind a complex legacy, as he was known for misogyny, fatphobia, and homophobia in addition to his groundbreaking work in fashion design. But his legendary love for Choupette is a particularly sweet aspect of his history, making her a logical muse for more adventurous attendees. The elegant Birman belonged to Lagerfeld for a decade and has spent her life in the lap of luxury. Lagerfeld even told Harper's Bazaar in 2012 that she ate meals of croquette and paté, flew on private jets, and had her own iPad.
In 2017, he opened up further in an interview with CNBC's Tania Bryer. "Choupette is such a strange thing because I never thought that I could fall in love with an animal like this," he said, adding that Choupette has a thriving career of her own. "She's (become) a world famous star. She has her own fortune — for the things she did in Japan and in Germany, for cars and things like that," he said. "She's over-groomed and everything. She has several maids. She's never alone when I'm not there. Oh no no . . . Even if she sleeps, she doesn't want to be alone. She's like a chic lady, like a kept woman with her personal maid."
https://www.instagram.com/p/CpIHdnTNAfk/
Lagerfeld's devotion to Choupette ran deep, and he also told CNBC that she gave him "something magical that I understand that the Egyptians from 4000 years before Jesus Christ. For them, the cats were the most important animal. I understand that," he said. "And she gives energy. It's very strange. When I have her next to me I feel like a telephone (that) is recharged!"
In a 2015 interview with The Cut, the designer shared that the cat earned around $3.18 million in 2014 for participating in two ads: a German car commercial and a Japanese beauty campaign. "She had something unique. She is like a human being, but the good thing is that she's silent," he told the outlet. "You don't have to discuss it. She hates other animals and she hates children. She stays always with me and she has two personal maids. They play with her, they have to take care of her beautiful white hair, the beauty treatments for her eyes, and they entertain her. She is the center of the world. If you saw her, you would understand. She is kind of Greta Garbo. There is something unforgettable about her, the way she moves, the way she plays. She's an inspiration for elegance. For attitude."
Source: Read Full Article