What do Madonna and Britney Spears's infamous kiss, Kanye West's Taylor Swift speech interruption, and Lady Gaga's viral meat dress have in common? Oh, nothing really save for the fact they legit *all* happened during MTV's Video Music Awards. So if you take NOTHING from this piece, just know that you'll probs miss another jaw-dropping moment that will invariably become a cultural touchstone if you don't watch the show this weekend. No pressure!
Without further ado, here's everything you need to know about how to watch the 2022 VMAs ceremony, when it starts, when it ends, and any/all programming info.
When are the 2022 VMAs?
The 38th edition of the iconic show will once again be held in-person at the Prudential Center in Newark, New Jersey after taking place at the Barclays Center in Brooklyn, New York last year. It'll ~officially~ be this Sunday, August 28 at 8 p.m. E.T., so mark your calendars!
How can I watch the 2022 VMAs?
Luckily, the VMAs will be televised on August 28 starting at 8 p.m. E.T. on *takes deep breath*…MTV, the CW, BET, BET Her, CMT, Comedy Central, Logo, MTV2, Nickelodeon, Paramount Network, Pop, TV Land, aaaaand VH1.
However, if you're someone who's quite literally cut the cord on cable, there are still online streaming optinos, including Hulu+ Live TV and YouTube TV—both of which have free-trial periods, so…do with that what you will lol.
Who is the emcee for the show?
This year, MTV took a "more is more" approach, which we are forever grateful for since it means we get three emcees for the evening: LL Cool J, Nicki Minaj, and Jack Harlow. Plus, Nicki will *also* serve as this year's recipient for the Michael Jackson Video Vanguard Award. For MTV, the decision to have three presenters felt like "a new and unique approach to the traditional 'host' gig seen in previous years," a statement from the show's press release read.
https://www.instagram.com/p/ChZ33OSJMTv/?utm_source=ig_embed&utm_campaign=loading
A post shared by MTV (@mtv)
Who is performing?
A star-studded bevy of performers is set to take the stage at this year's VMAs, including Anitta, J Balvin, Kane Brown, Lizzo, Måneskin, Marshmello, Khalid, and Panic! At the Disco.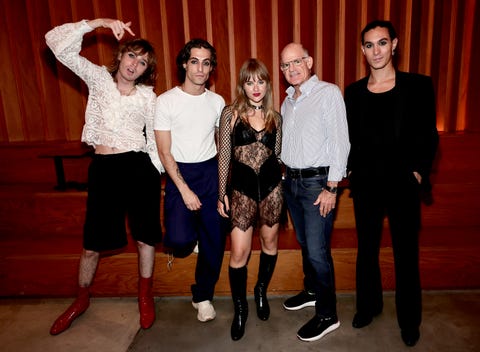 Iconic South Korean all-girl group Blackpink is also on the lineup for the first time and will undoubtedly give an exciting, knockout performance since they just came out with their new song "Pink Venom."
When asked about about the song, one of the band's members, Jennie, expressed the girls' desire to communicate their individuality in the lyrics—a theme that is also reflected in the title of their album, Born Pink, per Billboard. She added, "Since our album's title is 'Born Pink,' we wanted to relay our identity in the song as much as we could…Since 'pink and 'venom' have contradicting images, we thought they were kind of reminiscent of us…we are named Blackpink and contradiction is our charm—we wanted to show that. It's pink venom, a lovely poison, it's words that most express us."
Excited is truly an understatement!!
Are there any COVID-19 protocols in place?
Though COVID-19 restrictions are continuing to ease, those who *do* end up attending the 2022 VMAs—performers, staff, and guests included—will still be subject to following the rules set in place: "Health and safety remains the number one priority for MTV and Prudential Center. We are working hand-in-hand with state and local officials to implement stringent protocols in order to maintain the safety and well-being of artists, fans, staff, and partners."
Aaaaand that's pretty much all we know for now! FWIW, Cosmo will be covering every single second of this year's awards show, so come back here for all the happenings (and 🍵!).
Source: Read Full Article