Growing up in the White House seems like a pretty sweet gig, especially when you're just a kid.
Kids around the country can only imagine what it's like being the president's child while living at 1600 Pennsylvania Avenue. Aside from the historical significance of the White House, the president's residence is decked out with a tennis court, bowling alley, movie theatre and full wait staff. For a kid, the West Wing is a dream — yet for former President Barack Obama's daughters Malia and Sasha, it was just home, and the girls still had chores and a small allowance. 
In an interview with People back in 2008, the Obamas revealed the girls — then 10 and 7 at the time — got just $1 per week in allowance only after finishing their chores. "They have to clean up their half of the third floor where they play," revealed former first lady Michelle Obama. "They have a closet of toys they have to clean up. They have to practice their piano every day."
For Malia and Sasha Obama, the only real change from being normal kids in Chicago to being known as the president's daughters was the presence of armed guards 24/7. On the bright side, it turns out, the Secret Service had a pretty sweet nickname for Sasha Obama.
Secret Service gave the Obama daughters code names, and taught Malia how to drive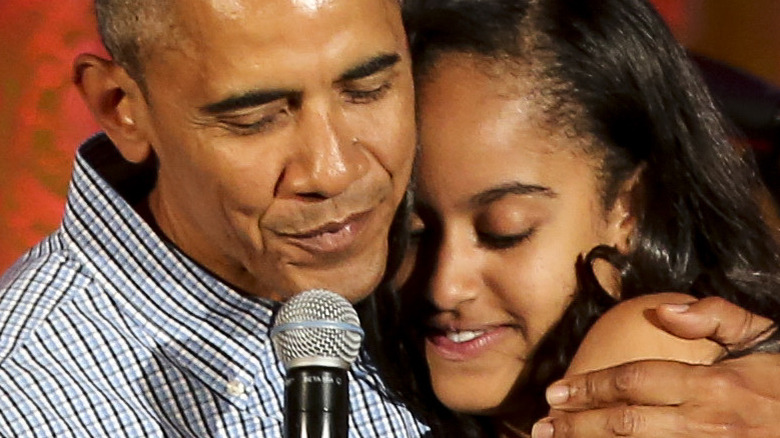 When it came to growing up in the White House, Malia and Sasha Obama managed relatively normal lives away from the public eye — yet life in the White House came with an added twist.
When it came time for the Obama's eldest daughter Malia to learn to drive, Michelle Obama admitted in an interview with Rachael Ray it wasn't she or the president who taught their teen at the time… it was the Secret Service. "The Secret Service [taught her], actually, because they wouldn't let me in the car with her," said Mrs. Obama (via CNN). "She always has security around." The former first lady went on to reveal Malia did get some alone time in the car, but we imagine Secret Service wasn't far behind. "Driving for Malia, I think, gives her a sense of normalcy, like the rest of her friends are doing. And my kids have got to learn how to live in the world like normal kids."
Having the Secret Service hovering over the Obama girls as they grew up in the White House wasn't all bad. The armed guards had a sweet nickname for each member of the family, with Sasha's perhaps being the sweetest. (And no, it isn't her real name.)
According to TIME, the Secret Service opted to call Sasha "Rosebud," while her sister Malia was given the code name "Radiance." In keeping with the "R" theme, Michelle was known as "Renaissance" while the president was "Renegade."
Source: Read Full Article