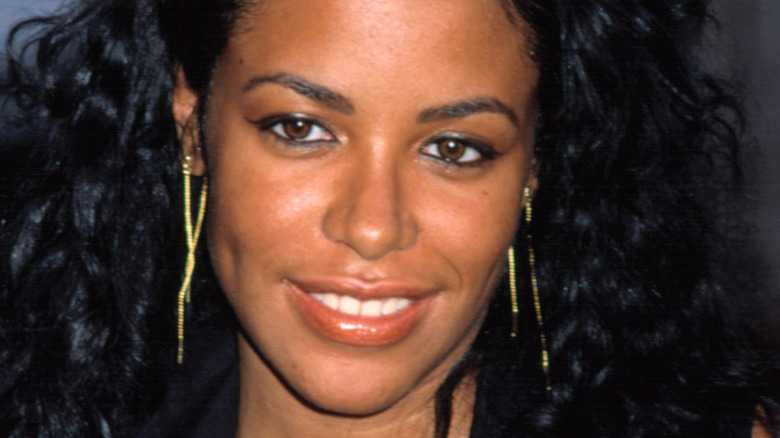 R&B sensation Aaliyah was known for her edgy style, mesmerizing voice, and mysterious persona, but, underneath it all, she was a deep well. "It's hard to say what I want my legacy to be when I'm long gone," she once pondered, despite the fact that her career was only beginning. The heartbreaking truth was that she was already sealing her legacy. With two hit albums, the first released when she was just 15, and two major movies under her belt, the world was Aaliyah's oyster. But tragedy struck in 2001 when she died in a plane crash at the age of 22, just as her music and acting career were reaching new heights — in fact, at the time, she was worth millions.
Twenty years have passed since Aaliyah Dana Houghton died, and one wish of her legacy endures. "I want people to remember me as a [full-on] entertainer and a good person," she said, via her website, created posthumously in her honor. It's safe to say she is remembered for this and so much more. Learn more about Aaliyah as we celebrate the enduring art she left to the world.
Aaliyah appeared on Star Search when she was 10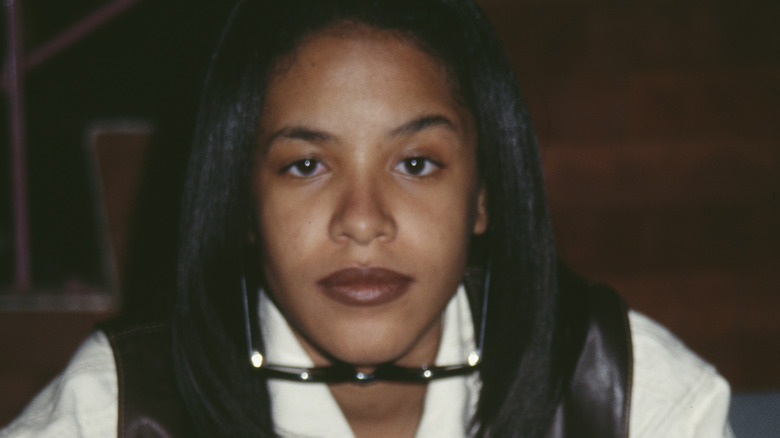 We all have to start somewhere, and, for Aaliyah, it was on the stage of "Star Search." She competed on the talent competition hosted by Ed McMahon when she was just 10. "It was an incredible experience — me and [Ed] McMahon and just being on the 'Star Search' stage because it was a show that I really looked up to," she said, via NME.
Aaliyah performed "My Funny Valentine" wearing a '90s dream outfit: white bolero jacket over a black dress with a white ruffle skirt. Though she came in second, receiving three and one-quarter stars from the show's panel of judges, it goes without saying that Aaliyah's future was bright despite her loss. "I thought I should have won," she joked on the "The Late Late Show" with host Craig Kilborn. "I was hot! I had on a hot little dress."
She joins the ranks of millennial kids like Britney Spears, Christina Aguilera, and Beyoncé as contestants who didn't win, but who ultimately found remarkable success, which McMahon could see from the sidelines. He even told Vibe that Aaliyah had star quality when she walked onstage. "I call it the fire … which has nothing to do with the schooling, nothing to do with the teacher, nothing to do with the parents," he said. "There is a desire in that person to please the audience. You see enough of it to recognize it. And that's what I saw with Aaliyah."
Aaliyah was the youngest person to ever perform at the Oscars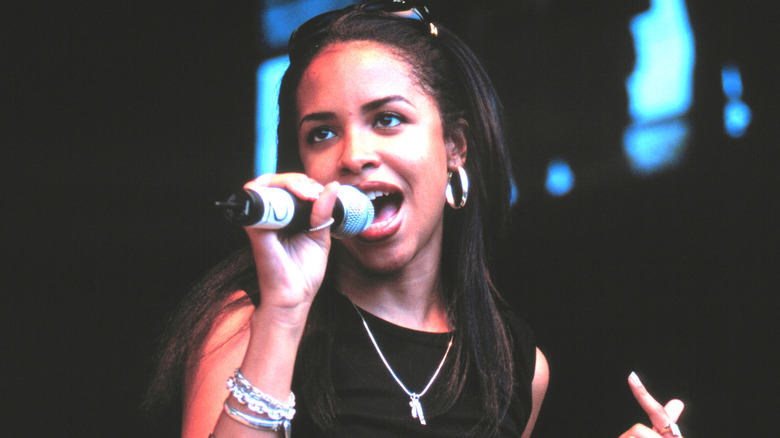 Aaliyah had a brief stint as a princess, or, at least, singing as one. According to Vice, the songstress was tapped to create a version of the song "Journey to the Past" from the 1997 animated film "Anastasia," which reimagined the life of the lost Romanov princess. To help market the film, Fox Music wanted to tap a star to create a single, and they had their sights set on Aaliyah. "Although she came from a hip-hop background musically, her character, smile, and looks exuded something very, very sweet and gentle, very kind and peaceful— not to mention the tone of her voice was perfect for the song," said producer Guy Roche. Fox Music adjusted the lyrics and sound to fit Aaliyah's style and recorded it.
In the end, "Journey to the Past" was nominated for Best Original Song, and Aaliyah performed the song onstage at age 19, making her the youngest person to sing at the Oscars. Songwriter Liz Ahrens met Aaliyah at the event for the first time, describing her as "lovely and humble in person, utterly gracious," and said seeing her sing the track was an "out-of-body experience."
Though she publicly denied it, Aaliyah was reportedly married at 15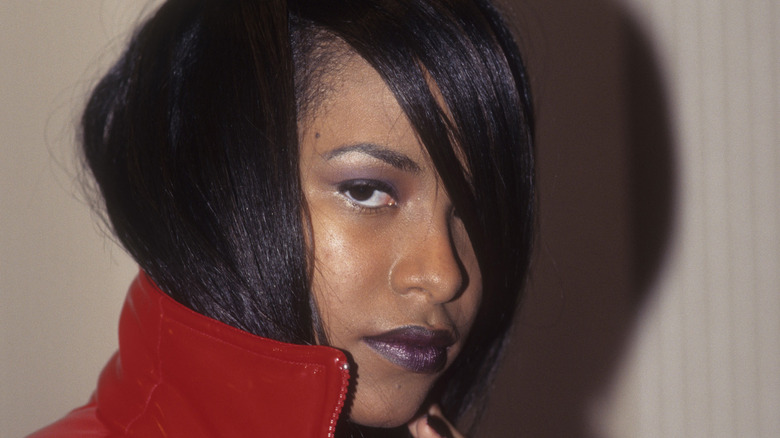 When Aaliyah released her first album, she was constantly shadowed by its producer, Robert Kelly, better known as R. Kelly, appearing in interviews together in matching outfits. Rumors about the nature of their relationship began to fly, but when asked during an interview if Kelly, who was then in his late 20s, was either family or the teenage singer's boyfriend, Aaliyah replied, "We're just very close. He's my best friend in the whole wide world."
As of publication, Kelly is on trial for allegedly abusing underage girls and boys over a span of decades, but, at the time, his closeness with Aaliyah didn't set off alarm bells despite their age difference. Vox reported that Aaliyah met Kelly at age 12, when the uber-successful singer seemingly took an interest in her talent. At age 15, Aaliyah's record "Age Ain't Nothing But a Number" debuted, with Kelly appearing in the background of the album cover and on the lead single, "Back & Forth."
Though the pair publicly denied it, in 1994, Vibe magazine uncovered a marriage license that listed Kelly's age as 27 and Aaliyah's as 18 — though she was actually 15. The New York Times reported that Kelly allegedly bribed an official to obtain a fake ID for her. The marriage was swiftly annulled, and Aaliyah distanced herself from Kelly. While details of Kelly's alleged abuse of Aaliyah still emerge today, she never had a chance to share her side.
She was obsessed with Harry Potter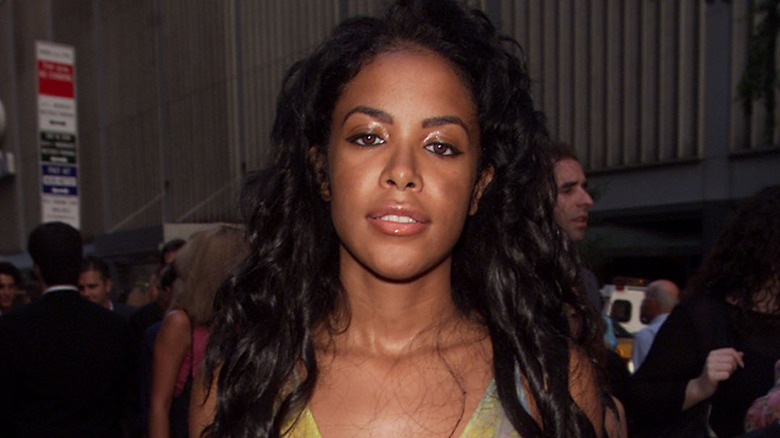 She may have been the queen of cool, but Aaliyah was also a nerd for Harry Potter. When asked how she takes time to relax, during an MTV Stripped special, she gushed about the series. She said she was "obsessed" with the boy wizard and that reading helped her wind down. "I love Harry Potter," she said. "I'm on the second book."
During a 2001 interview with Vibe magazine, she again revealed she was reading the series and said she wanted to get home for some quiet time with her books. She and Vibe writer Hyun Kim had met up at a bowling alley to talk, bowl, and play video games in what would become Aaliyah's last extensive sit-down interview before her death.
Kim recounted the day in a Medium post, remembering an impromptu visit to a sticker photo booth, with Aaliyah picking the pink gun as they played Time Crisis. Despite growing up quickly in the spotlight, the singer loved normal kid stuff like Harry Potter, laser tag, and video games.
While her love for geek culture was well established, one question remains: What Hogwarts house would the singer be placed in?
She was also into vampires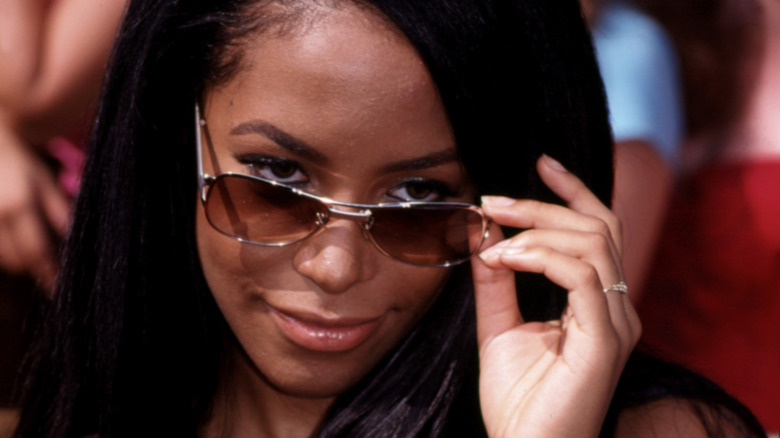 With dark nails and smokey makeup, snakes draped over her body, and her black hair swooped over one eye, Aaliyah's later music videos gave off a goth vibe. So it may not come as a surprise that the singer was into the undead. "I have been a lover of vampires since I was very, very young," she told Entertainment Weekly. The singer's preferred vampire lore included Ann Rice's "The Vampire Chronicles" series and Bram Stoker's "Dracula," which made it all the more sweet when Aaliyah landed a starring role in the 2002 movie "Queen of the Damned," based on the Rice novel. Her character was ancient vampire Akasha, whom she described as "sexy" but "evil."
But not all aspects of transforming into Akasha were sexy. According to People, her fangs once flew out of Aaliyah's mouth during a heightened scene while filming. "It was so embarrassing," she said. "They had to make me a different pair that stayed in my mouth."
She got to hang onto her character's fangs and contact lenses after the movie wrapped, which she intended to have some fun with — perhaps since she related to the vampire life. "I have black-out shades in my apartment, I push a button, it's totally dark. I think I'm a bit of a vampire in real life, and there are times when I just want to be myself," she told Vibe magazine.
Aaliyah's tomboy style influenced fashion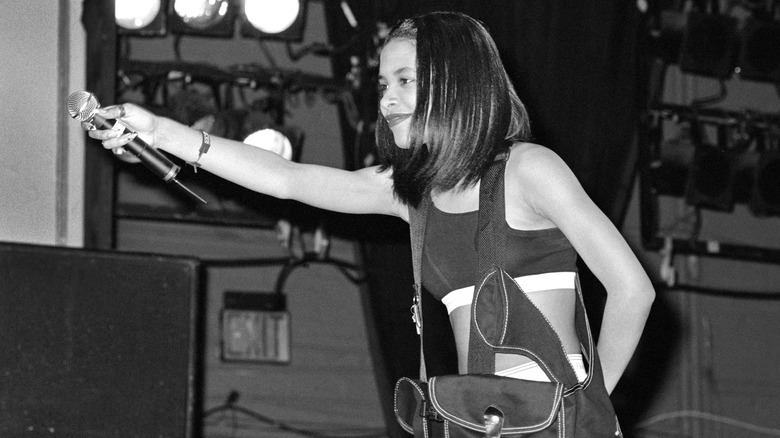 The '90s had some fashion moments, but Aaliyah's perpetually cool style hit malls like a meteor. In her video for "Back & Forth," the singer's baggy jeans paired with a sports bra, black bandana, and dark sunglasses set a whole mood for 1994. She established the edgy tomboy look, with boxer shorts peeking over the top of jeans and bikini tops worn under enormous logo jackets. Teen Vogue analyzed some of the trends the star started, like looking glam in sportswear, sporting Timberlands, and layering oversized clothing, noting that contemporary stars like Rihanna and Billie Eilish have followed in Aaliyah's fashion footsteps. "Whether it's baggy tracksuits or glossy motocross looks, Aaliyah probably did it first (and best)," Vogue declared.
She was especially keen on Tommy Hilfiger sweats, and, according to Harper's Bazaar, even became their brand ambassador. Aaliyah's stylist, Derek Lee, described her look as "confident, comfortable, effortless street style," which was what made it so timeless. "Aaliyah's sense of style is motivating pop culture to this day," R&B singer Dawn Richard told Vogue. "Her fearless play with tomboy style and sexuality made her unique in every way."
She was a straight-A student who wanted to go to college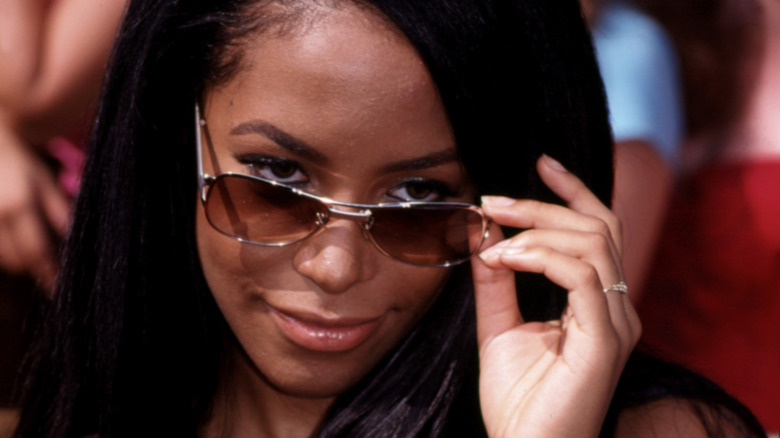 Despite having a one-in-a-million entertainment career in front of her, school was a top priority for Aaliyah. As a teenager, she was fixated on her GPA. After an interviewer congratulated her on being a straight-A student in 1994, she responded with joy. "Yes, yes, and I'm proud of it!" she said. "I just got my 4.0. And I'm going to maintain it."
And she most certainly did. In 1997, Aaliyah graduated from the Detroit Performing Arts High School with a 4.0 grade GPA, per her website. One reason she thrived academically was that Aaliyah's schools fostered her creativity. Her primary education at Gesu Catholic School got her out on the stage early. "They had an amazing theater program," her biographer told Model D. "I was really impressed by how Aaliyah was able to cultivate her talent at such a young age because the school facilitated that."
Aaliyah said she aspired to go to college, where she wanted to major in music history and minor in a subject most wouldn't associated her with: engineering. "I have an engineering class at my school that I enjoy," she said in that 1994 interview, asserting that she still wanted to stay in the music industry "as long as possible."
Aaliyah's acting career was taking off
Outside of music videos, Aaliyah only has two acting credits, which doesn't reflect how much her acting career was taking off. The singer's interest in acting started early. She got her start on the stage, with roles in theater productions of "Annie," "42nd Street," and "Hello, Dolly!" according to Aaliyah's biography "Baby Girl: Better Known as Aaliyah." And, at 9, Aaliyah tried out for the part of Judy Winslow on "Family Matters," but didn't get the role (it went to Jaimee Foxworth, who dished about being dissed by the sitcom's producers).
According to IMDb, Aaliyah landed her first big role in the 2000 action film "Romeo Must Die" alongside Jet Li, DMX, and Isaiah Washington. Vulture reported that Janet Jackson was originally considered, but once Aaliyah's name was mentioned for the role of star-crossed lover Trish O'Day, she was the only actress even screen tested.
With a leading role under her belt, Aaliyah next starred in the gothic vampire flick "Queen of the Damned." Though the movie was panned by critics, she already had more opportunities lined up, including the part of Zee in the two sequels to "The Matrix" (via MTV News). In fact, the singer had already filmed portions in Australia before her sudden death in 2001. In the end, her part was filled by Nona Gaye, daughter of late musician Marvin Gaye. Casting director Lora Kennedy lamented the loss, saying Hollywood had "such big plans for her" (via Vulture).
She had an unlikely collaboration with Nine Inch Nails in the works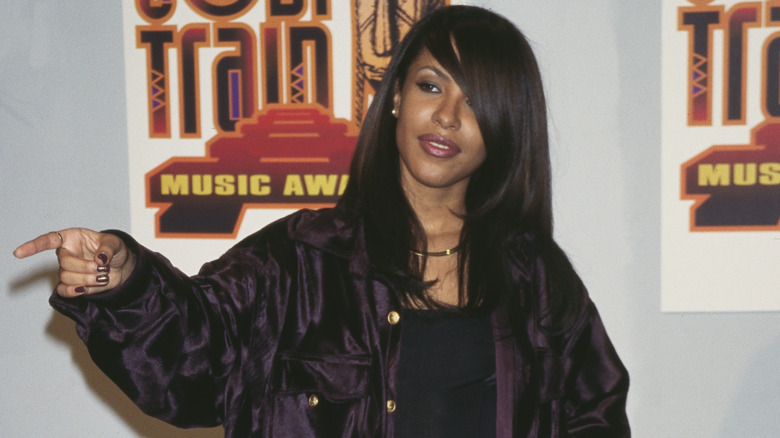 Aaliyah had eclectic taste in music and often drew inspiration from new artists and genres. In fact, she's said that the first recording she ever bought was the '80s hit "Karma Chameleon" by Culture Club, which she actually got to tell lead singer Boy George on MTV. Aaliyah's all-time favorites typically ranged from soul singers to hip hop artists, but, thanks to her brother, she was also into rock music.
While hosting a segment on MTV where she played her favorite videos, Aaliyah surprisingly chose industrial rock band Nine Inch Nails' "Closer" as No. 10 on her playlist. She said her brother turned her onto the band and that she found parallels in their sound to her own. "Their production, I think it's a little similar to some of my work," she said. "Some of Timbaland's beats, that electronic kind of thing that Trent Reznor does."
The feeling was mutual, because talk about a collaboration between Aaliyah and Reznor began to percolate. According to MTV News, after meeting at the MTV Video Music Awards, the pair spoke about working together. "I think our sounds would really mesh well," she said, "so I'll bring a little something to the table, he'll bring something, and we'll see how it works." Unfortunately, scheduling conflicts got in the way, leaving us only to speculate what the duo could have done together.
Aaliyah rose above a pop feud with Brandy and became her friend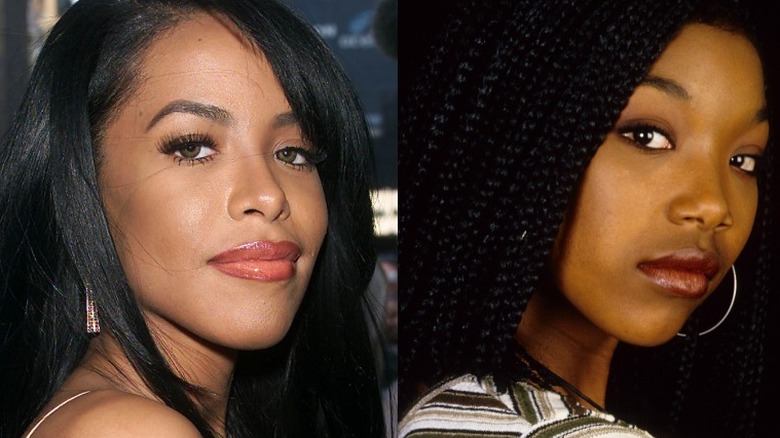 Feuds between female artists are often played up in the media, but Aaliyah wasn't having any of that. As she paved the way for younger Black R&B singers like Brandy and Monica, rumors of catfighting began to circulate. According to The Source, Brandy reportedly made remarks about Aaliyah's style and appearance, calling it "too grown." However, Aaliyah wasn't taking the bait.
When asked what she thought of Brandy's comments during an early interview with Video Music Box, she shrugged it off, saying, "I caught wind of some of it, but I don't pay much attention to that. I think there's room out here for all of us, so good luck Brandy."
Rather than play out the drama, the two ended up becoming friends. In an interview with Billboard, Brandy described Aaliyah as humble, unique, and always real. She recalled Aaliyah's professional comradery when they performed together at a radio event. "I remember going on before her and I could see her in a section where they kept the artists and she was just bobbing her head, really being supportive. It felt like [there] was no competition, or any of that. She was just very, very supportive."
She loved ancient Egyptian history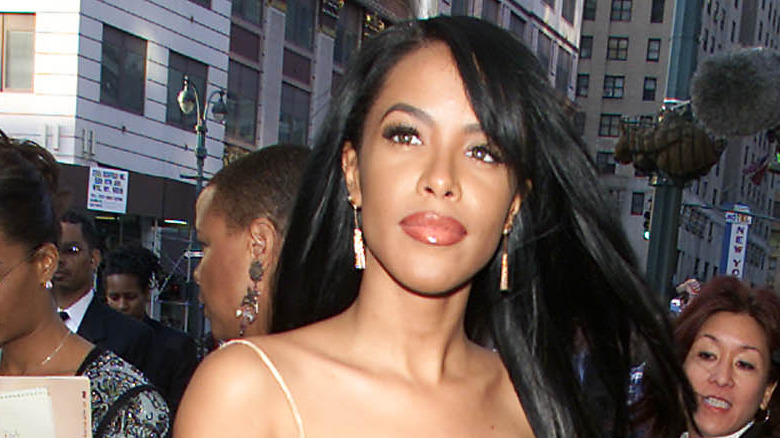 Playing Akasha, a powerful 6,000-year-old vampire, in "Queen of the Damned" was a dream role for Aaliyah — and not just because she loved all things vampire. "She's also Egyptian," she said of Akasha, via Chicago Tribune, "and I'm totally obsessed with Egypt."
Ancient Egyptian history was her thing — Aaliyah even decorated her New York apartment with a scattering of authentic artwork, rugs, and pyramids, along with a collection of Egyptian artifacts, to suit her fascination. She even permanently carried around an Egyptian symbol. "This is an Egyptian ankh," she said on MTV Stripped, showing the delicate tattoo on her inner wrist (ankh hieroglyphics mean "life" or "breath of life" and are often associated with the afterlife). "I feel this connection with Egypt for some reason, so I really wanted to get, represent something on my body," she said.
The connection may have stemmed from a personal belief that she was "once an Egyptian," NZ Herald reported. Aaliyah described her ideal man as "strong like an Egyptian warrior" and wished to one day study Egyptology.
Aaliyah was guarded about her personal life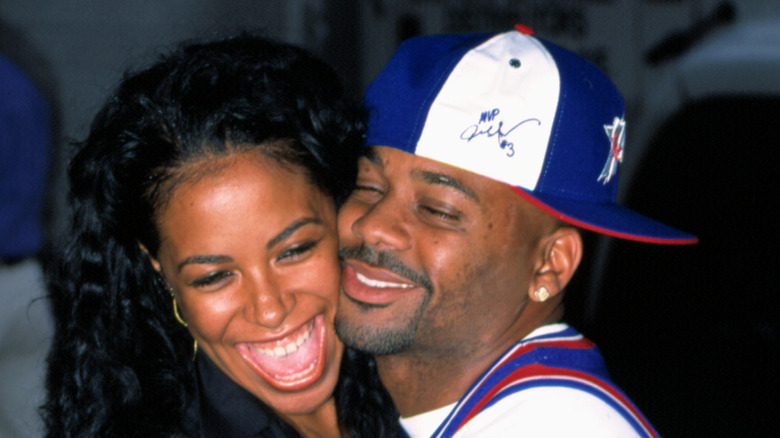 The start of Aaliyah's career was fraught with rumors under R. Kelly's influence and the abuse she allegedly endured as a teenager. So it's no shocker that she drew a fixed line between her private and public life as she matured and gained more control over her career.
She famously didn't yield to reporters trying to pry open certain topics, showing confidence in creating boundaries. "She was friendly, but she was guarded," interviewer Hyun Kim recalled, "She blurted out, 'Private life!' whenever I brushed on topics like her rumored relationship with Damon Dash."
Aaliyah explained why she was a closed book on certain topics, like her romantic life, on MTV Stripped. "Now as far as my personal life is concerned, I don't really discuss it," she said. She admitted that, as a public figure, her life "belongs" to her fans. "And that's fine, that comes with the territory," she said. "But there's some things you have to hold on and keep for yourself. And that part of my life is definitely for me, so I don't discuss my relationship status."
Aaliyah was reportedly afraid of flying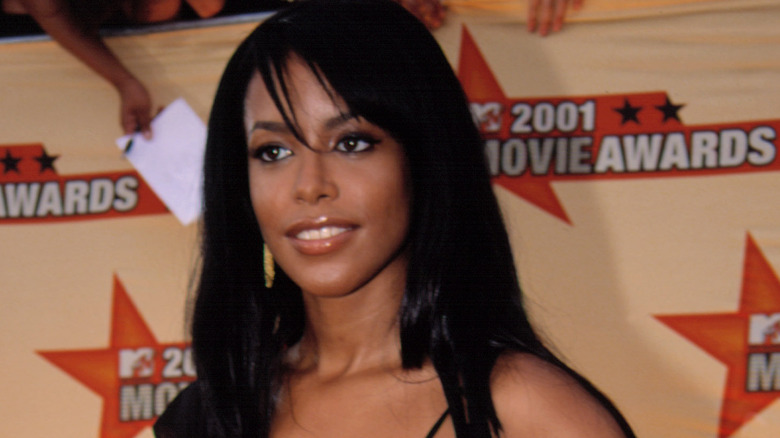 Aaliyah's tragic death occurred in August 2001, when she was just 22 years old. After filming a video in the Bahamas for the song "Rock the Boat," ClickOnDetroit reported that the small plane carrying her and seven other passengers back to Florida experienced engine failure. The resulting crash had no survivors, and it was later discovered that the pilot did not have a license to fly the plane.
Damon Dash, Aaliyah's rumored boyfriend at the time of her death, recalled to Entertainment Tonight that, despite globetrotting as an international superstar, Aaliyah never liked flying. "She always had a very serious fear of planes in general," he said. "So she had to overcome her fear to get on that plane on the way there."
Dash said this particular twin-engine plane was especially daunting to the singer. Before boarding, he said she messaged him on her Blackberry, "I don't like this plane." He told her not to get on, but, sadly, she felt obligated to because she was working.
On August 25, 2001, the world mourned the shocking death of Aaliyah — her funeral was held August 31 — whose enormous talent continues to live on today in all she has inspired.
Source: Read Full Article