Princess Kate and Prince William delighted fans on Tuesday when they battled it out on spin bikes in Wales, with the Princess of Wales crowned the winner in their race.
The royal is known for her athleticism and has spoken of a love of trampolining and running in the past, but spinning isn't something she's mentioned a penchant for before. However, given she was so skilled in the activity, despite wearing a skirt and heels, fans suspect she has more experience on indoor bikes than she let on. See how she aced her spin class below
WATCH: Prince William and Princess Kate battle it out on spin bikes
"I'm sure she's a spin demon, my money says she's got a Peloton bike in her home and is on it frequently. The lady is naturally athletic and in very good condition," one speculated.
It's not known whether there's a home gym inside Adelaide Cottage, the Windsor home Prince William, Princess Kate and Prince George, Princess Charlotte and Prince Louis share, but if she does have an indoor bike at home it could certainly contribute to her lean physique.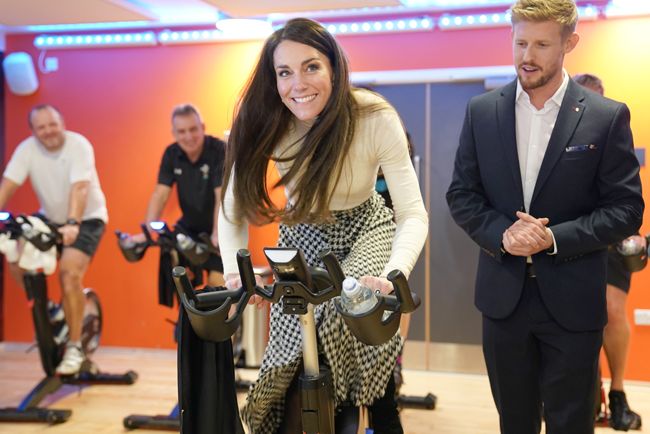 Princess Kate was a natural on her spin bike
What are the benefits of spinning for Princess Kate's physique?
"Indoor cycling boosts your cardio fitness and is a great way to get your heart pumping and improve the flow of blood and oxygen throughout the body," says Peloton trainer Leanne Hainsby. "This can benefit your energy, your mood and your sleep."
SHOP: Best exercise bikes for your home in 2023: From Peloton to Echelon and more
Spinning could also be responsible for Princess Kate's incredibly poised posture, Leanne says. "If your stationary bike is properly adjusted from the handlebars down to the pedals, you'll have a neutral spine and will develop lean, toned muscles, particularly in your quads and glutes."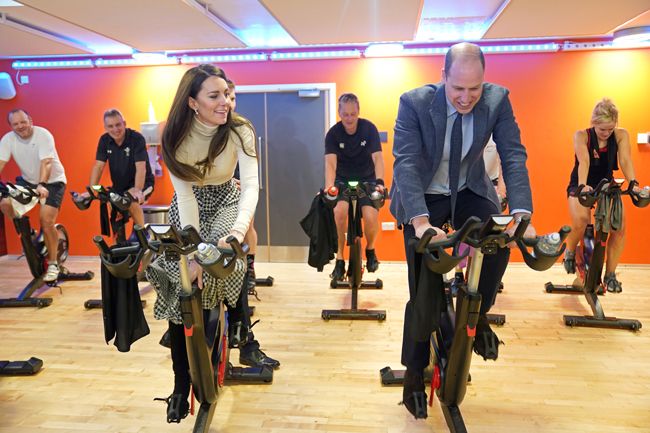 Princess Kate beat Prince William in their fitness challenge
Given the royal is an extremely active woman, known to love exercise such as running which is hard on the joints, indoor cycling is low impact – an important thing to factor in as we age.
DISCOVER: Kate Middleton set to make major lifestyle changes following 41st birthday?
"Unlike running, cycling places minimal stress and pressure on your joints, making it a great option for those with injuries, joint pain or struggle doing high-impact cardio," says Peloton instructor Sam Yo. "This is great for everyone from kids to aid their physical development to older adults looking to stay active and maintain their mobility."
He adds that indoor cycling is a good option for people with busy schedules as it works the whole body.
MOST READ: 'I tried Princess Kate's royal workout routine and the results are mindblowing'
"It's a full-body workout," says Sam. "Cycling engages your strong lower body muscles, but it also works your core and upper body muscles, such as your back and arms as you maintain posture and alignment while engaged in riding helping to tone your entire body while also building strength."
No wonder Princess Kate always looks so strong!
LISTEN: Kate's royal tour fashion choices revealed!
HELLO!'s selection is editorial and independently chosen – we only feature items our editors love and approve of. HELLO! may collect a share of sales or other compensation from the links on this page. To find out more visit our FAQ page.
Source: Read Full Article