I Have Worn the Same $3 Liquid Eyeliner For 10 Years, and It Gets Me So Many Compliments

I'm a girl who likes to wear a sharp, inky-black cat eye on the regular. There's something about it that makes me feel both powerful and glamorous, so I have made it my go-to look since my teenage years. Time after time, friends, coworkers, and strangers have asked me the same question: "What eyeliner do you use?" There's nothing that brings me more joy than smugly telling them it's a $3 pick from the drugstore. Yes, I have been religiously swiping Wet n Wild MegaLiner Liquid Eyeliner on my lids for 10 years now, and I don't plan on stopping any time soon.
Before you become skeptical, know that I have tried my fair share of liquid liners. I am always curious to see if any high-end or drugstore brands can match the quality of my Wet n Wild pick, but they never do. MegaLiner Liquid Eyeliner comes in a small tube with a screw-top handle. The applicator, a flexible spongy brush, is easy to maneuver as I glide it across my skin. The harder you press, the thicker the line becomes, so you have a lot of control over the intensity of your look. The formula itself is smooth and matte. Its raven-black shade makes my blue eyes pop. All it takes is one coat to get a pleasing obsidian-dark effect.
For me, pen-tip applicators and pots with angle brushes don't give me the razor-sharp line I'm looking for. Only MegaLiner provides me with that smooth edge — I won't accept anything less. What can I say, a good cat eye has become a passion. It's time to set down your pricey choice and give my favorite a try. I can confidently promise you that it won't disappoint.
Let's be real, a $3 purchase is not a big risk to take. Even better — it's currently on sale for $2. I keep one in every purse I own. Read on to see close-ups of the liner itself and how it looks once it's applied.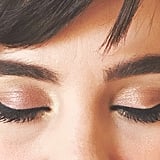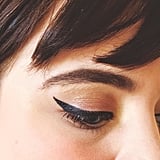 Source: Read Full Article