Just a day after she slammed Lady GaGa for allegedly asking her to feud with Nicki, the 'Black Madonna' rapper mocks the 'Anaconda' hitmaker for being 'overweight.'
AceShowbiz –Azealia Banks has risked getting on Nicki Minaj's nerves, just a day after she accused Lady GaGa of asking her to antagonize the latter rapper. The "Anna Wintour" hitmaker has taken aim at the Trinidadian star on her recent Twitter posts, calling Nicki "overweight" and even pitting Nicki's son against her nemesis Cardi B's kids.
"She's still overweight , with that dirty looking man, and Cardi's kids are cuter," Azealia tweeted on Tuesday, May 10. "Nicki better drop to an 0-2 and come back swinging at these pop h*es like she KNOWS how to do! Get the Oshkosh deal re-brand!"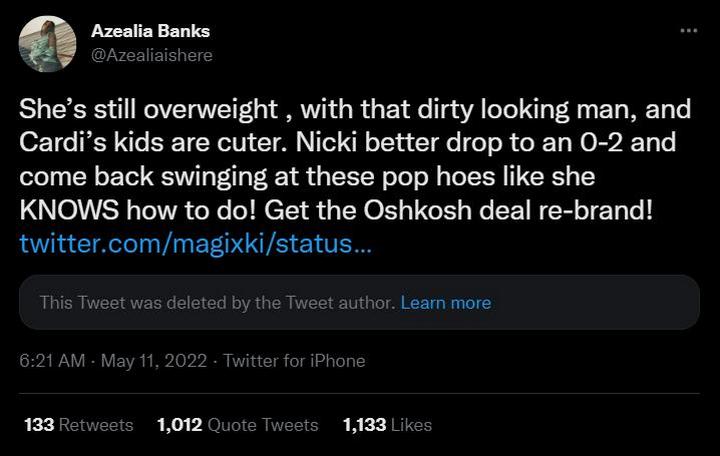 Azealia Banks slammed Nicki Minaj.
Elaborating further, she penned in a separate tweet, "I meannnnnnn ….. Cardi does win the family photo contest. Nicki's kid is cute but the blue ivy/north west/kulture celeb kid obsession isn't kicking in." She also slammed Nicki's husband Kenneth Petty as claiming, "And it's because we're not into the Dad, like at all. We just want her, and her only. A size 2 pretentious KONTY mean-girl."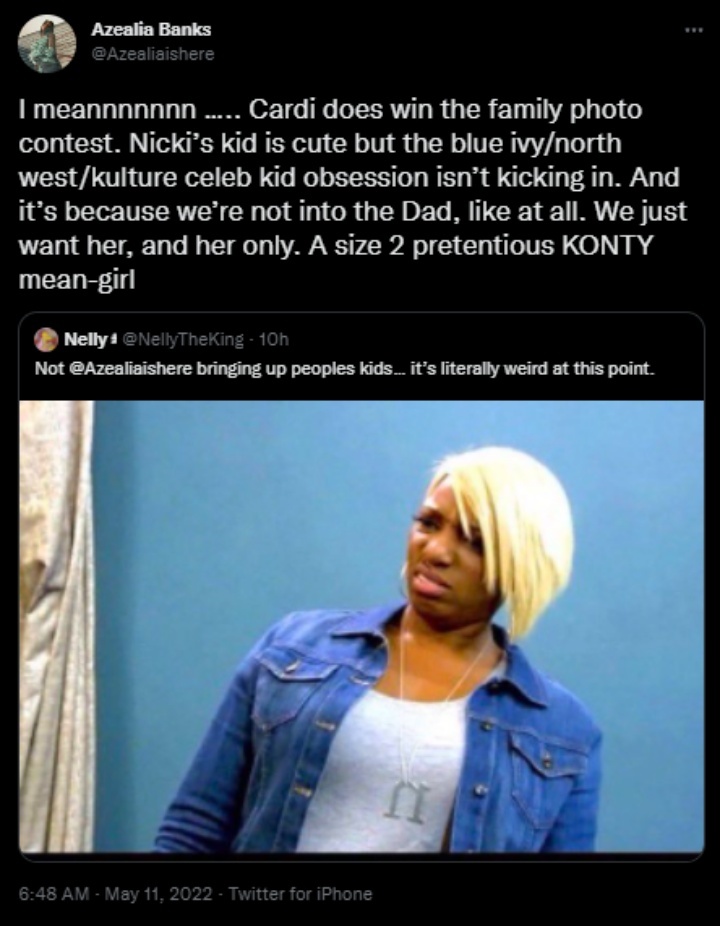 The New York City rapper further ripped into the Trinidadian-born star.
Ironically, just one day before Azealia insinuated that she refused to pick a fight with Nicki just because GaGa allegedly told her to do so. In response to fans' suggestion that she should do a collaboration with the Mother Monster, she wrote, "No. That woman has zero respect for Black women."
The 30-year-old then launched into an online tirade against the pop superstar. "I cannot ever respect her for literally asking me to beef with Nicki Minaj on her behalf," she claimed. "I refuse and send a less incendiary song, insinuates that we're gonna spill nicki's *human blood* (f**king eye roll)."
Azealia also accused the "Poker Face" hitmaker of mocking late singer Aaliyah as saying, "then she openly Mocks a late-Aaliyah's traumatic, and short lived life marred by sexual Abuse by once again uncontrollably oozing racism for not getting her way, and seemingly doing that r.Kelly collab out of spite."
Azealia went on insinuating that GaGa is holding resentment against the Trinidadian rap star. "Like her deep deep jealousy and hatred for Nicki Minaj and the sneaky s**t she was saying and trying to do behind the scenes was just gross," she penned. "If I want to beef or pop s**t about Nicki I will do so on my own accord. I will never do a white womans bidding for her. TUH."
Source: Read Full Article