In other news, the 'These Heaux' raptress has been invited to speak to students at Oxford University's prestigious debating society, joining past speakers such as Queen Elizabeth II, Mother Teresa and Albert Einstein.
AceShowbiz -While Bhad Bhabie has been enjoying being in the spotlight since an early age, she isn't fond of being sexualized as a teen. The OnlyFans creator is disgusted by people who are lusting after her picture from when she was only 15 years old.
The Boynton Beach native, whose real name is Danielle Bregoli, first took issue with people using her old picture from when she was 15 on her Instagram Story. On Thursday, September 15, she wrote, "Y'all love using that ugly a** pic of me from when I was 15 y'all lame."
A follower then replied to Bhabie's Story, "Bruh u were hot at 15," prompting the now-19-year-old star to call them out. "This is another reason that I don't like y'all using pics of me from when I was younger if you understand what I mean," she wrote back.
In a separate post, Bhabie slammed her haters for continuously talking negatively about her. Venting her frustration, she penned, "I'm literally so quiet these days… that fact that y'all still be talking crazy about me is insane."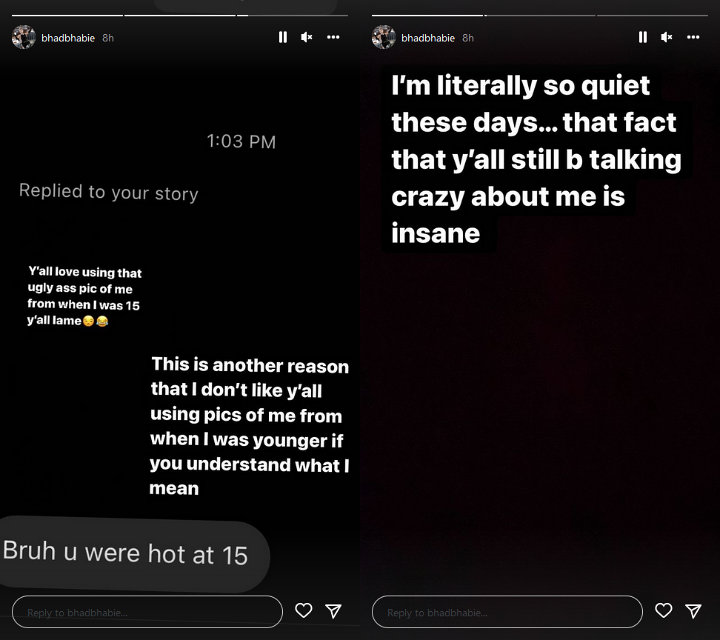 Bhad Bhabie called out a fan for lusting after her picture from when she was 15 years old.
While Bhabie has been receiving hate these days, there is no doubt that she has risen to a world-class rank in her own way. The "These Heaux" femcee has been invited to speak at Oxford University in England.
According to TMZ, the social media personality is asked to share her wisdom to students at Oxford Union, one of the most prestigious debating societies on planet Earth. She will follow in the footsteps of Presidents Ronald Reagan, Richard Nixon, Jimmy Carter and Bill Clinton as well as Queen Elizabeth II, Dalai Lama, Mother Teresa, Malcolm X, Albert Einstein, Sir Elton John, Shakira and Billy Joel for the honor.
The Oxford Union Prez said in the invite to Bhabie, "It would be an honour to welcome you to continue this fine tradition." She is scheduled to speak sometime in November and the event will be available to watch on YouTube.
Source: Read Full Article