We are so scared and happy for Danielle Fishel in one breath!
The Boy Meets World star has a harrowing tale to tell about her pregnancy — thankfully with a happy ending: her newborn son Adler Lawrence Karp.
The Once and Future Topanga and hubby Jensen Karp announced their pregnancy back in January, after only two months of marriage.
And they aren't the only ones who were quick!
Unfortunately lil' Adler was four weeks early due to some very serious complications.
Danielle explained all about the scares and her medical miracle on Instagram, writing:
"One week ago today, on 6/24 at 4:52am, Adler Lawrence Karp made his entrance into the world, 4 weeks early. My water broke on 6/20, one day before my work week directing at Raven's Home ended and my maternity leave began. I was hospitalized that night and put on magnesium sulfate because Adler was only 35 weeks old. Unfortunately, after doing an ultrasound, our amazing OB discovered fluid in his lungs that was not there during our last appointment only 10 days earlier – and thus we entered a nightmare we'll never forget."
Eesh!
So glad we have happy ending spoilers!
She continued:
"We still don't have Adler home with us because the deeply good doctors and nurses in the NICU are working diligently to find out why the fluid is there and determine the best way to get it out. This has been the most trying week and a half of mine and @jensenkarp's lives but we have gotten through it with the support of our incredible family and friends who have shown up for us in unexpected ways."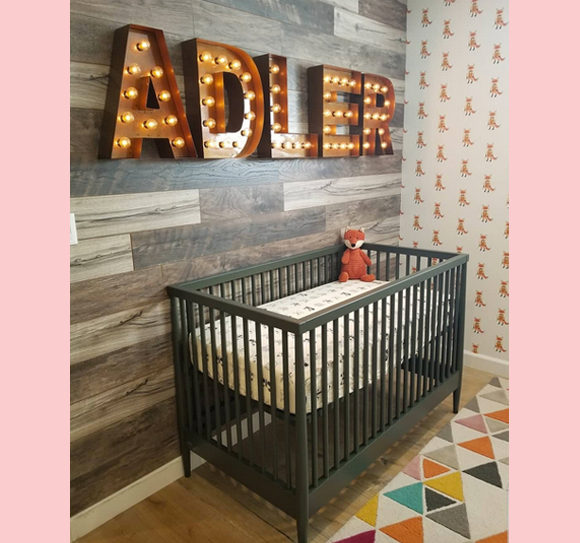 "Jensen and I have also become closer than we ever thought possible and the love between us has grown exponentially as we have leaned on each other during both our highest highs and our lowest lows. We feel helpless and powerless and useless and we wanted so badly to follow our "birth plan," unsurprisingly none of which involved leaving our beautiful baby boy at the hospital for the first weeks of his life."
She concluded:
"We have also struggled with making this announcement – we are THRILLED Adler is here and we want to shout it from the rooftops but we know posting about his birth and it's complications opens us up to prying eyes – aka paparazzi staked outside our house, following our every move they way they did several times during my pregnancy. We are much too fragile for that right now and I pray wholeheartedly that we can have some space as we navigate these next few weeks.
I can't wait to share more details about him with you (he hates having a poopy diaper for even 1 minute, he loves bath time, he has the cutest sneezes I've ever heard) and sing the praises of his NICU care team but I prefer to do that when Adler is in this crib in his nursery at home on a still unknown future date.
P.S. the fox will be removed from his crib before he's ever in it. ?❤️"
Awww! Sending Danielle, Jensen, and Adler ALL THE POSITIVE VIBES!!!
Hubby Jensen, aka comedy writer/art gallery owner/battle rapper "Hot Karl", also took to the 'gram to relay his experience of their little blessing.
He wrote:
"I remember being a kid and first hearing about Noah's Ark in school. Our teacher explained the "two of each animal" thing and called it "a miracle." And immediately, I had to ask – "What happened to the other animals?" The teacher was confused. I said I knew that there were thousands of other animals alive – so, what happened to the other animals during the flood? The teacher looked at me weird, never answered and moved on, but it was hard to ignore that I figured out that even miracles can't always be 100% perfect.
And so here is Adler Lawrence Karp. Our miracle."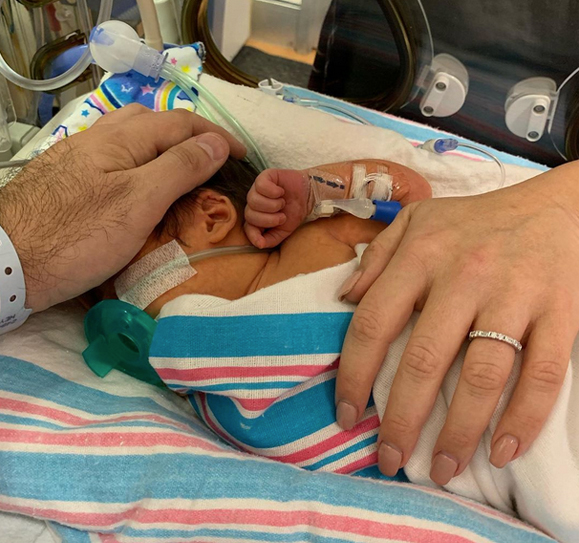 "He was born a month early on June 24th at 4:52 AM, days after he surprised us with not only an early birth, but with a shocking ultrasound that has since taken over lives. Despite months of clean bills of health, at the last minute, he developed unexplained fluid in both of his lung cavities. Our ensuing rollercoaster ride of emotion, terror, vulnerability and unadulterated sadness has been one we did not expect. Adler is currently in the care of incredible, thoughtful and outlandishly skilled nurses and doctors, yet we're still in so much pain not being able to bring him home.
But, @daniellefishel is a partner in every sense of the word, picking me up when I'm down, asking the right questions, giving the perfect amount of love during our numerous visits each day – and she's already the parent I can only hope to be half as good as at some point. She's been my savior, alongside our family and supportive friends, each willing to help, always asking for an update.
Adler is already the center of my universe. He's adorable. He has so much hair. It's ridiculous. He looks like if Nosferatu was a newscaster. Or a Goth Marv Albert. And he's fighting so hard every single day.
I KNOW he'll be out soon, kissing me back, ruining our lives, ready to board our ark. I've remembered that miracles still can't always be perfect, but as soon as he's feeling better, it's going to be difficult to convince me that this little guy is anything but."
So sweet!
Well it's obvious Adler is going to be heading home to a couple of VERY loving parents.
Source: Read Full Article