After the 'Who Do You Love?' spitter unveils the cover art for his new single 'Toxic' featuring him kissing the model's baby bump, many speculate if he gets her pregnant.
AceShowbiz –Brittany Renner and YG have started the Internet rumbling with talks about their relationship but they didn't mind it. The model and rapper have sparked wild speculation after she looked visibly pregnant in the cover art of YG's new song "Toxic".
On Thursday, August 11, the Compton-born star unveiled the artwork for the upcoming single featuring him kneeling to kiss Brittany's apparent baby bump. "Aye @bundleofbrittany you TOXIC !!" he captioned the snap.
Brittany responded by writing in the comment section, "2 Pisces so you know it's toxic." She also posted on her Instagram Story a close-up picture of her baby bump and wrote over it, "you're the father @YG."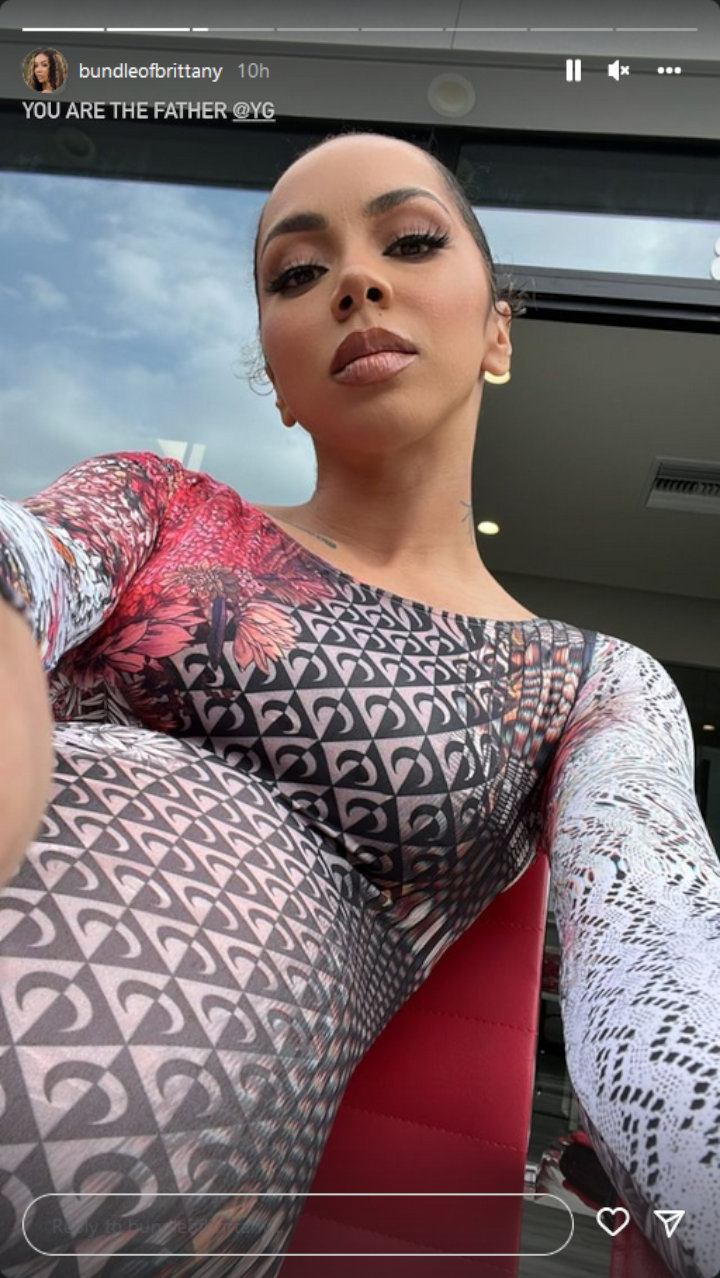 Brittany Renner gave a closer look at her baby bump.
While it's likely that Brittany was wearing a fake bump to pose for the cover art, many social media users speculated if YG is the father of the social media personality's supposed unborn baby. "she gone do the same as she did washington," one person commented, referring to Brittany's past relationship with her ex and baby daddy P. J. Washington. Another retorted, "Another victim LOL."
Seeing the negative comments, the 30-year-old clapped back at the haters, claiming that many men would love to get her pregnant. "I see so many men act like getting me pregnant is the most insane thing ever but in all actuality they'd love to **t in this p***y and accept the repercussions!" so she wrote on Twitter.
Brittany and YG were previously rumored to be romantically linked back in April after they were spotted on an ice cream date. During the outing, the duo sat at a wooden table and appeared to engage in deep conversation as they enjoyed the desserts. Neither of them ever confirmed their relationship status though.
Brittany has a son whom she shares with basketball star P. J. Washington. Meanwhile, YG has two daughters from a previous relationship and dated Kehlani in 2019 before he was caught cheating on her.
Source: Read Full Article