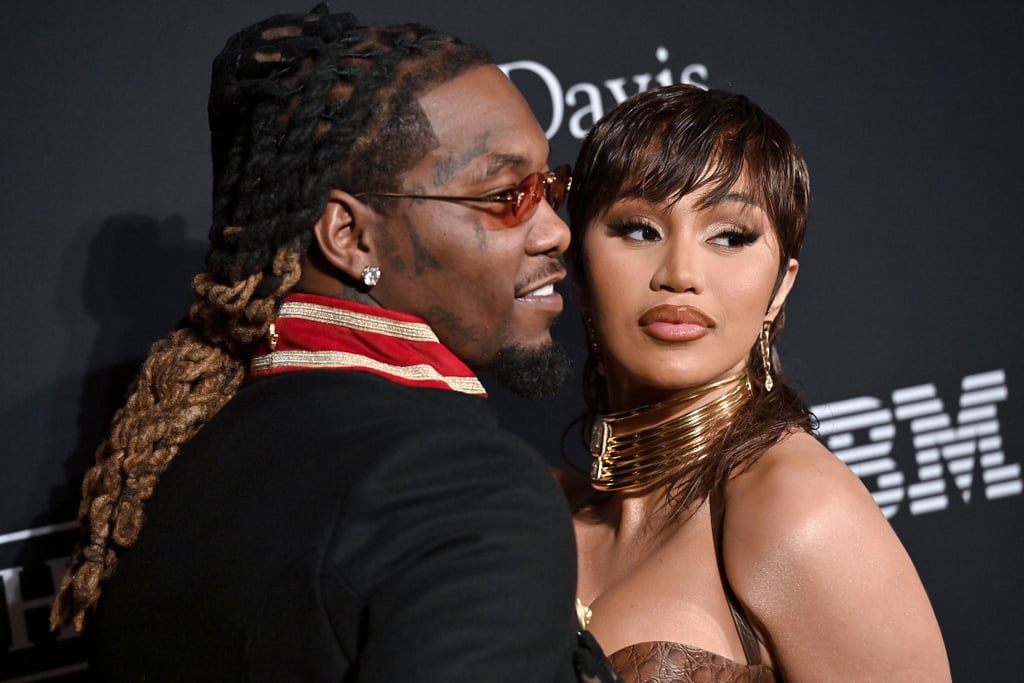 Cardi B and Offset Have a PDA-Filled Date Night at Pre-Grammy Gala

Married couple Cardi B and Offset packed on the PDA when they walked the red carpet at Clive Davis's Pre-Grammy gala at the Beverly Hilton in Los Angeles on Feb. 4. The "WAP" rapper wore a brown, patchwork dress with matching gloves, while simultaneously making the mullet cool again. Meanwhile, Offset made military chic a thing in a suit with two rows of gold buttons running down the front.
But as impressive as the couple's style was, it was their PDA that turned heads. The couple, who are parents to their 4-year-old daughter, Kulture, and 1-year-old son, Wave, made the most of their date night. Not only did they make out on the red carpet, but they broke out their tongues as well.
After their PDA-filled walk down the red carpet, the famous couple joined Lizzo and Myke Wright — who went Instagram official at the event — at their table once inside. Per The Hollywood Reporter, Cardi gave a speech honoring Atlantic Records executives Julie Greenwald and Craig Kallman, who received the 2023 Grammy salute to industry icons award at the event.
"I have to say that I'm not making this beautiful speech tonight about Craig and Julie because I want them to give me a bigger budget for my new album and my next music video," she said. "I'm here tonight because I want to thank them for believing in me. When I signed to Atlantic six years ago, other labels were lowballing me and not giving me what I thought I deserved, but Atlantic was right there respecting me and my vision for my career."
Cardi continued, "When I was in the middle of making my first album, I was very scared. I was pregnant, and I was afraid to tell anyone. I was afraid that people would want me to decide between my family and my career because I knew that that happened to other artists and other labels. But with Craig and Julie, the exact opposite happened. You told me I could do both, and I will never, ever forget that."
Cardi and Offset tied the knot back in September 2017. After nearly four years of marriage, the 30-year-old rapper filed for divorce in September 2020, but she called it off two months later. In November 2021, she told E!'s Pop Daily, "We went through some challenges. You have to learn [about] each other better. I feel like I've never been happier."
Source: Read Full Article