The Phoenix Suns athlete, who used to date Kendall Jenner, takes to Instagram to comment on the diss from the Puerto Rican musician, who is currently rumored to be dating the model.
AceShowbiz –Devin Booker has broken his silence after it was reported that Bad Bunny threw apparent shade at him on his new song "Coco Chanel". The former boyfriend of Kendall Jenner took to Instagram to comment on the diss from the musician, who is currently rumored to be dating the model.
The Phoenix Suns athlete caught wind of a post by reggaetontvcom about Bad Bunny sending subliminals to him on the track. "Do y'all think he wants everyone to know he's dating #KendallJenner now?!" the caption read. In the comments section, the 26-year-old athlete responded, "He worried about another MAN again."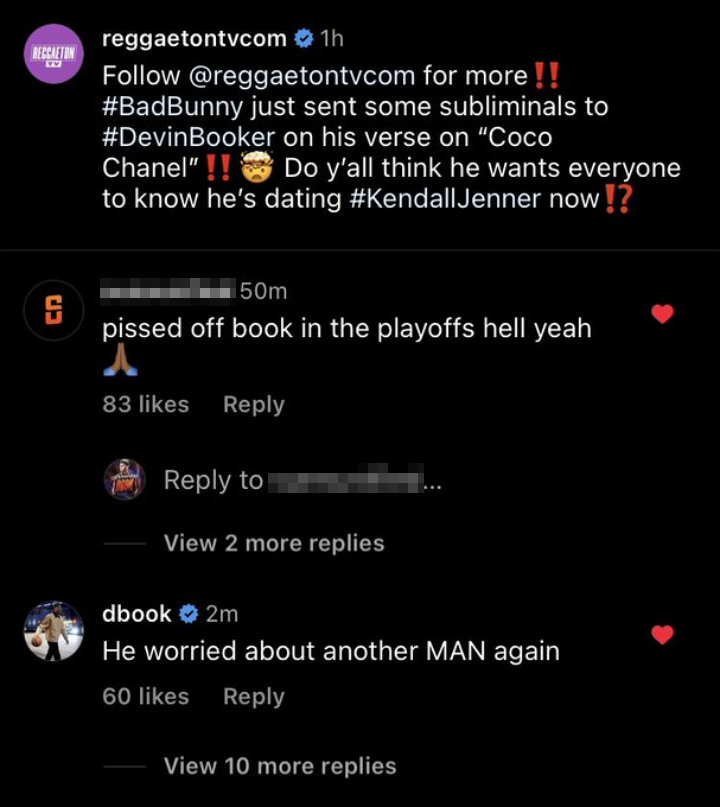 Devin Booker responded to Bad Bunny's apparent diss.
On "Coco Chanel", which is a joint from Eladio Carrion's new album "3MEN2 KBRN", Bad Bunny spits bars in his native language that translate to, "I'm not bad baby, that's a gimmick/ The Sun in [Puerto Rico] heats up more than the one in Phoenix." In the same verse, the "Un Verano Sin Ti" artist raps that "Scorpios are dangerous," which just so happens to be the brunette beauty's zodiac sign.
Devin and Kendall reportedly started dating in 2020 and officially called it quits about two years later. In February, the basketball player was unveiled to unfollow "The Kardashians" star amid rumors of her romance with the Puerto Rican musician.
As for Kendall and Bad Bunny, the pair started dating rumors when they were seen on a dinner date last month. They were also spotted having a double date with Justin Bieber and his wife Hailey Baldwin. Most recently, the rumored lovebirds were photographed leaving an Oscars after-party together at Chateau Marmot on Sunday, March 12. While it's unknown if they arrived at the event as a couple, they hopped into the same car before leaving the soiree together.
Prior to this, the catwalk beauty was reported to have been "taking things slow" with Bad Bunny. The 27-year-old model is allegedly "having a good time" together with the 28-year-old musician.
"They're taking things slow for now and seeing where things go in the future. They both really like each other and are just hanging out and having a good time. They get along very well and have mutual friends, so the people around them really like them together," a source told Entertainment Tonight.
You can share this post!
Source: Read Full Article