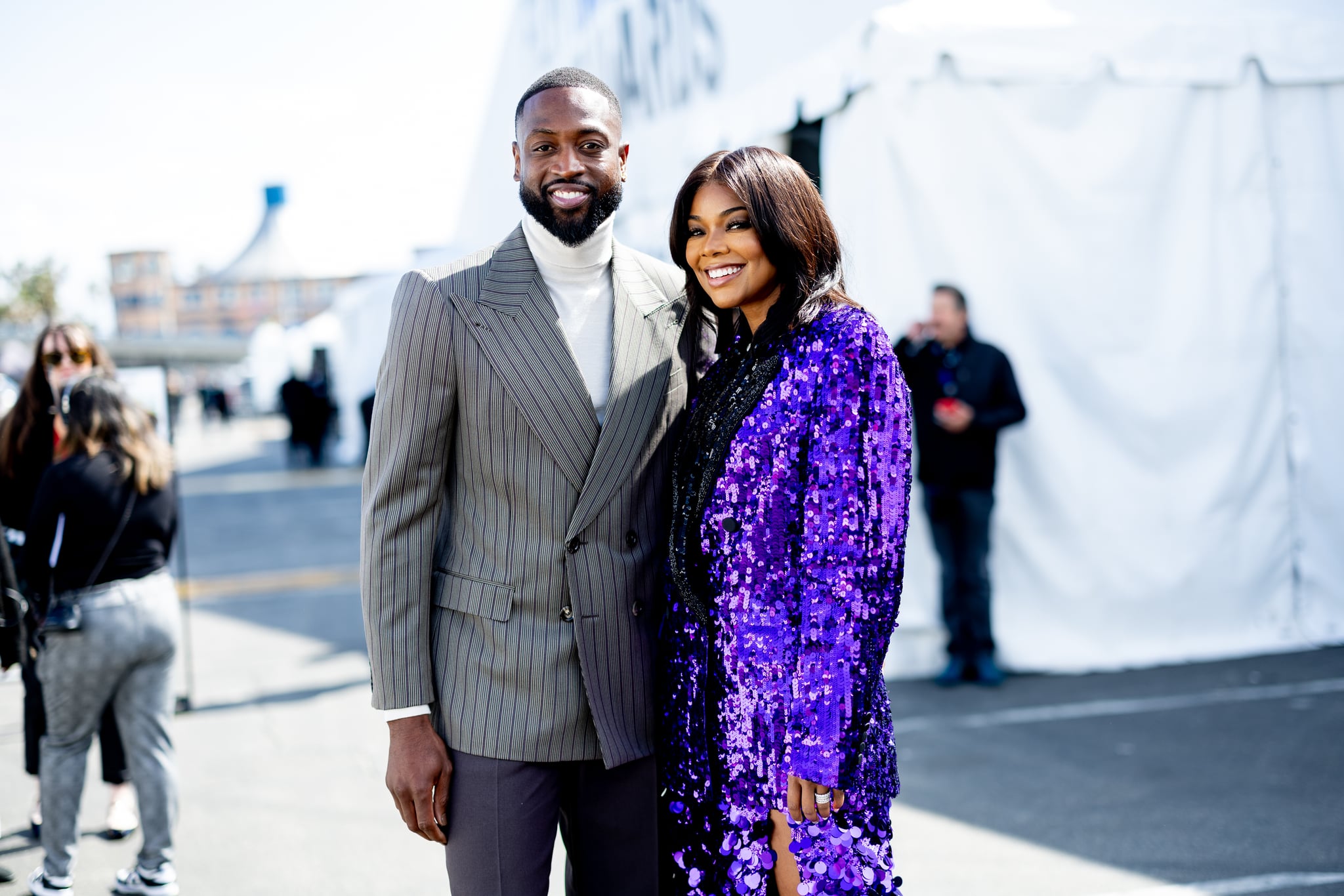 Dwyane Wade and his wife Gabrielle Union have long been supporters of LGBTQ+ rights in general, and of their 15-year-old daughter Zaya Wade, who is trans, in particular. In a new interview, Dwyane opened up about how his own dad, Dwyane Wade Sr., taught him to support Zaya, and why he and Union ultimately decided to move their family out of Florida in the wake of new anti-LGBTQ+ laws.
Wade opened up about being a dad and supporting Zaya during an interview that aired on the Thursday, April 26, episode of Showtime's "Headliners with Rachel Nichols." Nichols asked Wade what it was like navigating Zaya's transition, and Wade teared up as he spoke about the example set by his own dad.
When Zaya first came out, he explained, "I didn't have a lot of exposure to the conversations of being anything but a cis man, right?" But he said that didn't mean he knew nothing, because he had an example of what it meant to be an amazing dad.
"I had a great father, and along the way you start to look back and you start to see the things that were built in you that you didn't even know was built in you," Dwyane explained. "I tell my dad all the time, I'm just a mirror image of the way he loved us, and the way he not only accepted myself and my brothers, but the other kids in the community that didn't have father figures."
Dwyane said he had to "educate himself" and "get a better understanding" of the LGBTQ+ community to support Zaya and that he did "lose some friends" in the process, "But I never wavered on loving my kids, and trying to find space to get the chance to understand them."
Nichols asked Dwyane later in the interview how he would respond to Florida lawmakers trying to pass anti-trans laws. "That's another reason why I don't live in that state. A lot of people don't know that," Dwyane explained. "I have to make decisions for my family. Not just personal, individual decisions." He said there are lots of good things Florida offers, "But my family would not be accepted or feel comfortable there. So that's one of the reasons why I don't live there."
Wade's connection to the state runs deep. He made his NBA debut with the Miami Heart in 2003, and he stayed with the team until 2016; he returned for a final season in 2018. The soon-to-be Hall-of-Famer won three championships as a member of the Heat and was named Finals MVP in 2006. He and Union sold their Miami Beach home in 2021, according to The Real Deal.
As for what Dwyane would tell Florida lawmakers, he said, "I would love to have a conversation with them." He added that he "hates" the new laws, explaining that it felt like we were making so many "strides" from when he was a kid, but now society is "taking so many steps backward."
At the end of the day, his focus is on people who do want to support LGBTQ+ people and want to progress forward. He said, "My family and I will continue to . . . lead with our voice, to lead with our efforts."
In March, Zaya herself opened up about her platform and the "positives" that come with it. "There are some highs and some lows," she told Dazed of her journey since coming out publicly. "I mean, a lot of attention equals a lot more hate, a lot of transphobia, and [there is] a lot of pressure on me, but I'm also able to reach more people. The positives of having such an inclusive platform completely outweigh all of the negativity online, which my support system has enabled me to filter out. It has allowed me to let in the positivity and distribute it to all of the trans people in the world who need a voice and give them a platform to get inspired to live with themselves without being afraid."
Dwyane and Union's blended family also includes Dwyane's nephew Dahveon, 21; son Zaire, 21; son Xavier, 9; and daughter Kaavia, 4.
Source: Read Full Article