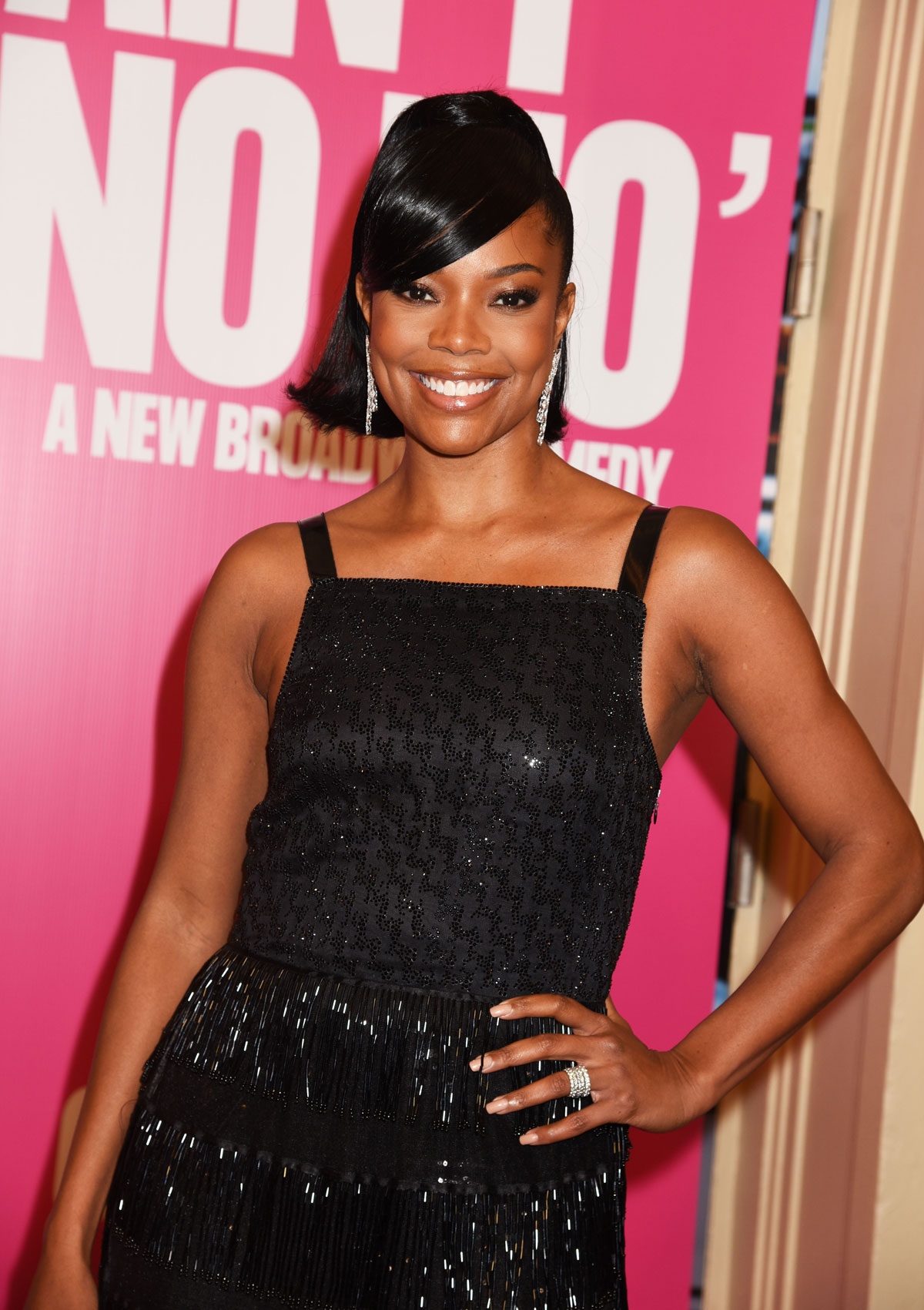 Gabrielle Union has a new movie out, The Inspection, in which she plays a corrections officer who kicks out her teen son for being gay. It's wild to me that Gabrielle can play the mom of a teen and is actually old enough to have a teen/adult child, when she looks the same as she did in her Bring it On days. It's also wild that this character couldn't be further from who Gabrielle actually is — she's an outspoken supporter of the LGBTQ+ community and her transgender stepdaughter with Dwayne Wade. So Gabrielle had to find some common ground with this very disparate character somehow, and that was through self-image and identity.
Ultimately Union found a link to Inez through some reflection on her self-image and identity.

"I had to find the common ground with her. And that common ground is all of the things that we are willing to do in order to be seen, in order to move that much further ahead for a check, for a relationship, for acceptance, validation for white supremacy. What are we willing to gamble with? And for me, I didn't gamble with my children, but I've gambled with all sorts of things.

"I mean to not make light of it, but I gambled with my upper lip. For many years I would literally smile [while hiding my lip]. Because I thought if I let my full lip be seen, then they would know I was Black. … As illogical and silly and stupid as that is, I tried to minimize my Blackness. I tried to constantly be shapeshifting that dual consciousness. I had multiple personalities. I was trying to constantly change who I was, depending on the room, if I thought it was gonna get me this far ahead. All the things that you do for a man, all the things that you do for Jesus, all the things that you do for whoever you think that is going to deem you worthy, deem you good enough, deem you worthy of all the opportunities in life, riches, you'll do anything. You will barter with anything. And for some of us that's children. And for me, it was my soul many times. So when I realized that common ground, it's dark. It's just very dark and disturbing."

Union, 50, started her career with roles in popular but predominantly white teen comedies. In the years to come, though, the actress began landing more prominent parts in films with largely Black casts.
[From Yahoo! Entertainment]
I would not have necessarily connected those things on my own — feeling insecure about her Blackness/image and the movie character being intolerant — but it becomes very clear in the way she describes it. In both cases, they're doing things for acceptance, to get ahead in white society, to diminish the things that make them "other" to fit in. It makes unfortunate sense that Gabrielle felt she had to change who she was, even in this small way, to get opportunities. We've heard countless stories of actresses being told they're too Black or too ethnic or too something for a role, so of course Gabrielle tried to minimize her Blackness, to become a version of herself that's "more palatable." I too had a year in the early aughts when I felt my lips looked too big, but it took me years to even make the connection that I was being anti-Black to myself. This was well before lip injections, but one day I just decided they were perfect and never felt insecure about it again. Logistically, pulling in your lip is super uncomfortable. I just tried to do it and it feels really gummy and awkward. It's hilarious, but also sad, that now our screens are filled with people with insane, overdone versions of exactly the feature Gabrielle was insecure about and trying to hide.
https://www.instagram.com/p/ClqzXn3u9K9/
https://www.instagram.com/p/Clj1VGvvBci/
Embed from Getty Images
photos credit: Blaine Ohigashi/Avalon, Darla Khazei/INSTARimages.com/Cover Images, Getty Images and via Instagram
Source: Read Full Article