WARNING: THIS POST CONTAINS SPOILERS FROM GOOD TROUBLE SEASON FIVE, EPISODE 2! DO NOT CONTINUE IF YOU DON'T WANT TO BE SPOILED!
There was a heartwarming proposal on tonight's (March 23) new episode of Good Trouble!
In the episode, "It Was Not Your Fault But Mine," Callie (Maia Mitchell) returns to the Coterie to support Mariana (Cierra Ramirez) in a time of crisis. Gael (Tommy Martinez) searches for Isabella (Priscilla Quintana) and his baby. When a member of the Coterie anonymously submits a complaint, Alice (Sherry Cola) tracks down the secret critic. Luca (Booboo Stewart) digs into his past.
Get the scoop inside on who proposed to who…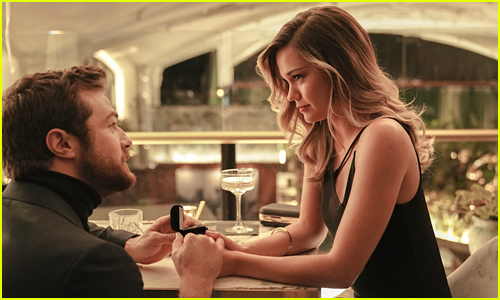 In a scene with Callie and Mariana back at the Coterie, Mariana asks her sister how things were going with her beau Jamie after they both moved to DC and got back together.
We then get a flashback scene, where we see Callie and Jamie (Beau Mirchoff) out to dinner in DC. At the dinner, they're talking about work and Jamie can be seen just looking at Callie with heart eyes.
Then he stands up, reaches into his pocket and gets down on one knee, saying all the right things, like how he loves her and wants to spend his life with her.
It then cuts back to real time with the sisters in bed, to which Callie replies to Mariana, "Everything's good."
However, we did NOT get an answer on if Callie said yes to the proposal!
Based on the season five trailer, it looks like we will be seeing even more of Maia and Beau as Callie and Jamie, and hopefully get an answer on if they're engaged. Can't wait!
Source: Read Full Article