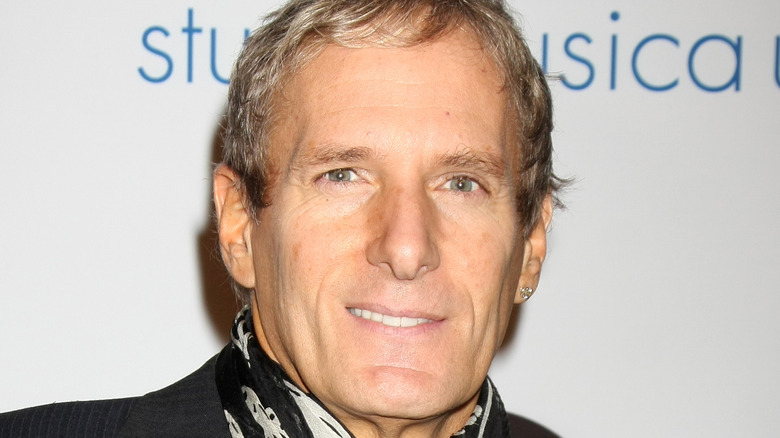 New Haven-born Michael Bolton is world-famous for hits like "When a Man Loves a Woman" and "How Am I Supposed to Live Without You," bringing deep soul to his R&B-tinged repertoire (via All Music). With a career spanning five decades, Bolton has left a mark on the music scene for his impressive vocals, and his reworking of the Motown genre. 
Known for romance, it's no wonder the singer has an impressive dating life, too – and you can bet it's passionate and pretty shocking. Now that Bolton is playing matchmaker to the stars on ABC's "Celebrity Dating Game" (via USA Today), we're even more interested in the smooth musician's dating history.
As per Live Ramp Up, Bolton was first married from 1975 to 1990 to Maureen McGuire, having three daughters together named Holly, Isa, and Taryn. Divorced after a whopping 15 years together, much of their marriage took place before Bolton became a chart-topping success story with his 1983 album "Michael Bolton" (via All Music). 
According to Information Cradle, McGuire is a journalist from New Haven, Connecticut who received an English degree from Manhattanville College, and went to graduate school at the University of Missouri-Columbia. Although not much is known about the ex-couple's initial meeting, the two are originally from New Haven, so that might be the connection. Apart from that, they seem to be total opposites which may have lead to their ultimate divorce.
Michael's early dating life was a rollercoaster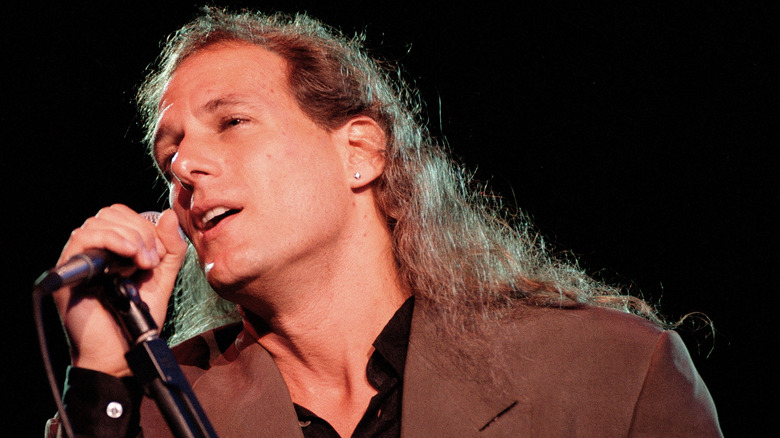 About his first marriage to Maureen McGuire, Michael Bolton told The Sydney Morning Herald, "Guys in their 20s don't have a clue who they are as human beings … [Women] seem to know exactly who they are. Once you have a family you realize pretty quickly, because your kids become front and center. They become the most important thing." 
Once the two divorced in 1990, McGuire moved back to East Haven to teach yoga and focus on their daughters, living a shockingly low-key life (via Information Cradle). But just before his 1990 divorce, Bolton is rumored to have had an affair with none other than Cher in 1986 (via Famous Fix). While surprising, the two's alleged trysts took place while working on music together, such as when Cher recorded Bolton's song "I Found Someone," released in 1987 (via Song Meanings and Facts). Recording another Bolton song titled "It's Been Hard Enough Getting Over You" in 1987, and "Emotional Fire" in 1989, it's clear Cher had a thing for Bolton – his music, that is!
Once Bolton was officially a new divorcé, he became known for dating a wide-range of celebs that might surprise you. 
Michael dated a handful of celebs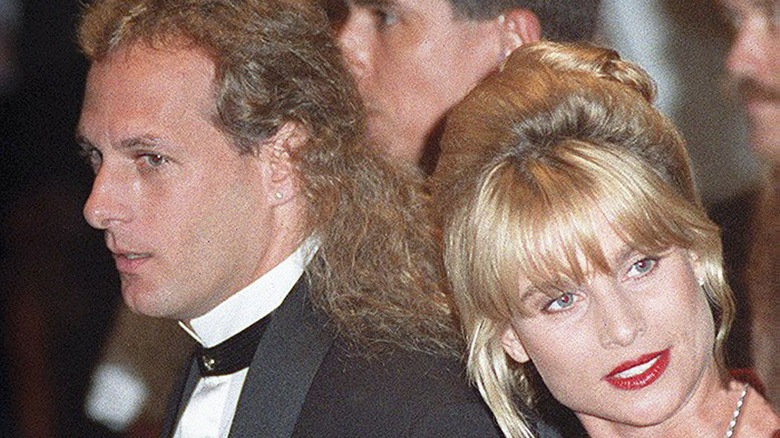 Michael Bolton dated actress Marla Maples in 1991, just before her marriage to former President Donald Trump in 1993. Trump talked about the love triangle to Vanity Fair in 1994, describing how Maples dated Bolton during one of their breakups. Trump recalled, "Michael Bolton calls Marla and says, 'Marla, I'd like to take you out.' And he falls madly in love with her – it's like an affirmation that the girl has to be great, because the No. 1 singer has fallen for her." Trump and Maples got back together, and Bolton moved on.
Afterwards, the soul singer dated Brooke Shields from 1991 to 1992 (via Famous Fix). Although the relationship was short-lived, it was highly-publicized as Bolton had just released his chart-topping album "Time, Love & Tenderness" (via All Music), and Shields was a household name known for 1980's "The Blue Lagoon" (via IMDb). After that romance, Bolton dated Argentinian tennis player Gabriela Sabatini, which might have overlapped with Shields for a month in 1991.
Bolton then moved on with "Desperate Housewives" actress Teri Hatcher in March 1992, which came after she was featured in his music video for his hit "Missing You Now" (via Entertainment Tonight). Interestingly enough, as per Reuters, the "How Can We Be Lovers" dated another "Desperate Housewife" in 1992 – Nicolette Sheridan, who he went back to in the early 2000s (but more on that later). 
Michael dated some of Hollywood's top '90s stars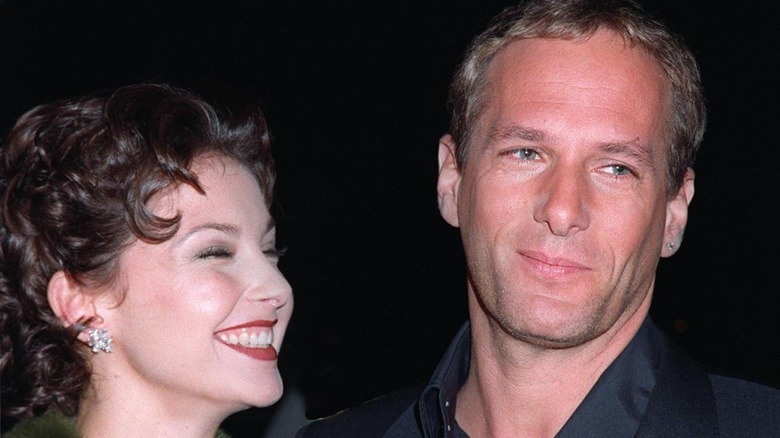 By 1993, Bolton was spotted with another of his video girls: Paula Barbieri, who starred in his music video for "Completely" (via Alchetron). But a truly Earth-shaking romance for the singer came in 1996 with actress Ashley Judd, who "credits him with helping her out of a deep depression" (via Snakkle). Judd also starred in Bolton's music video for "The Best of Love" in 1997, which was the end of their relationship.
Soon enough, the crooner might have struck a fling with "Baywatch" actress Pamela Anderson, with the two possibly meeting in 2001 at a party in the Bahamas (via Famous Fix). While their time together only lasted about a month, Bolton quickly moved on to American dancer and actress Deborah Yates, dating from 2001 to 2002. There's no doubt the "Go the Distance" singer is quick!
Bolton reportedly dated Malta-born actress Valentina Agius in 2003, who later married Olympic gold medalist Mitch Gaylord (via Who's Dated Who). The soul singer had a brief fling with Entertainment Tonight host Nancy O'Dell in 2003 (via Famous Fix), possibly meeting in an interview, but Bolton's most publicized romance didn't come until 2005.
Michael and Nicolette went for a round two in the early 2000s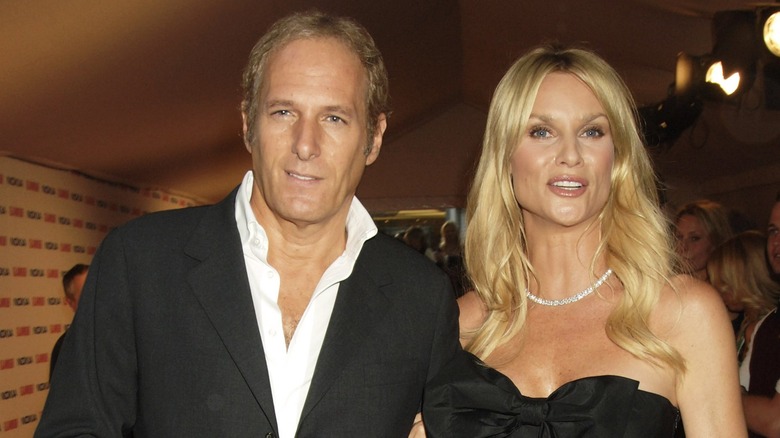 In 2005, Michael Bolton and ex-flame Nicolette Sheridan struck up another romance, singing a duet titled "The Second Time Around" in 2006 (via Famous Fix). The singer proposed to the "Desperate Housewives" star in the Bahamas in 2006, breaking up two years later. As per Meaww, the singer and the actress originally dated in 1992, with Sheridan cheating on her then-husband Harry Hamlin to be with Bolton. About their final breakup, the singer told Access Hollywood that there are "certain people you're always gonna love." Sadly, in the end, the relationship ran its course.
So who has Bolton dated recently? The singer has kept a low profile in the last decade, only reportedly dating German singer and actress Helene Fischer from 2010 to 2012 (via Who's Dated Who). The two even performed at the Berlin Golden Camera Awards in 2012 (via Alamy), but broke up son after.
According to The Sun, the "Missing You Now" singer is currently single, but is still a romantic. Talking to The Sydney Morning Herald in 2019, Bolton revealed, "I'd get married again. Marriage is the expression and physical manifestation of a mutual, deep bond." About dating now, he shared, "My friends around me are using Tinder and other dating apps, but I can't really use them." Even then, Bolton says dating "has been fun. Also exciting, often highly illuminating and deeply stimulating." With a dating history like his, we can bet it still is!
Source: Read Full Article