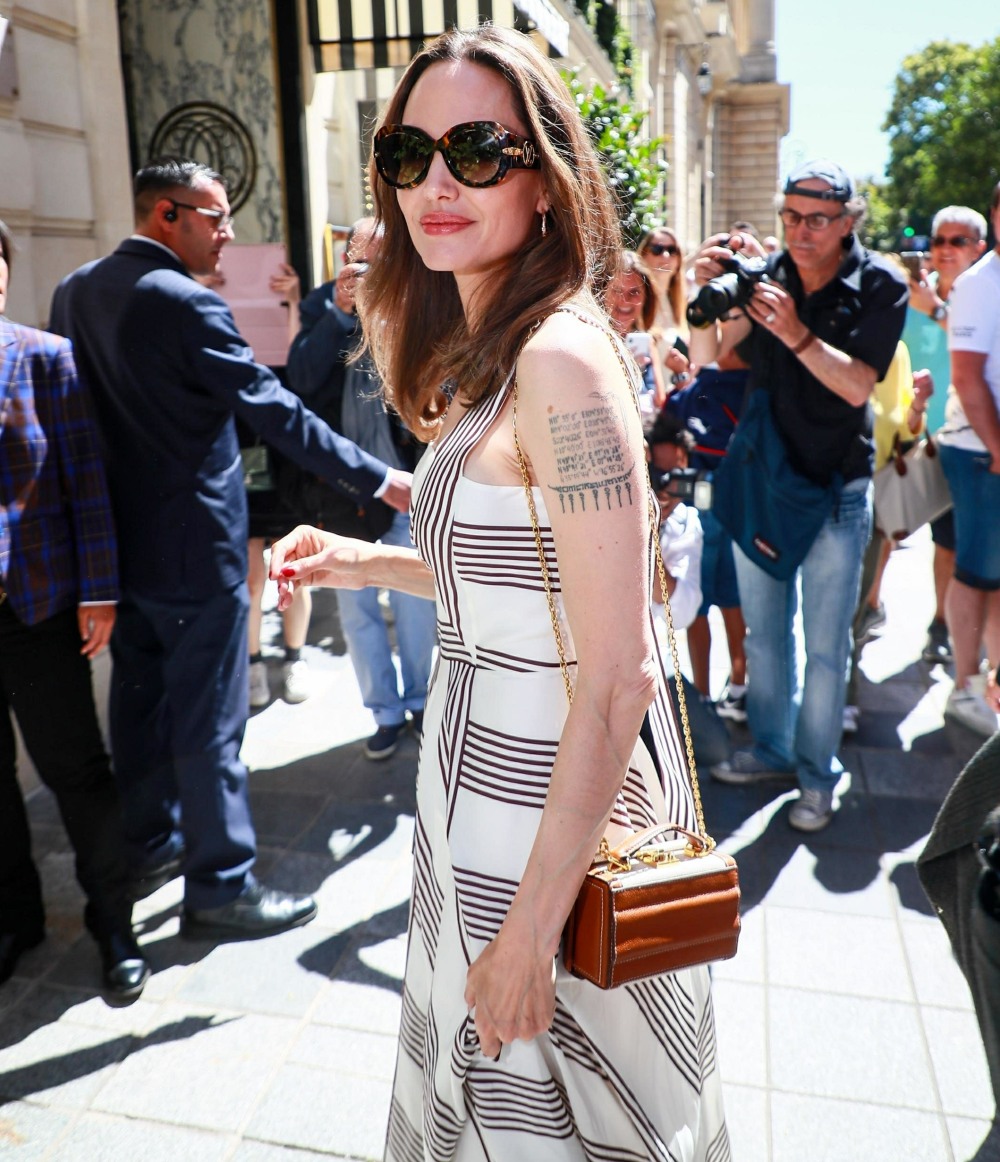 Personally, I believe that Brad Pitt is still obsessed with his ex-wife, Angelina Jolie. Angelina left him dramatically after he terrorized and abused Angelina and their children on an international flight in 2016. Angelina made a clean break and refused to take him back, nor did she come crawling back to him. She was done, and he's been in damage control personally and professionally ever since. His love curdled into an obsessive hatred and a need to belittle her, financially abuse her, and terrorize her through the court system. And still, Angelina thrives and heals. She was recently seen out on a "business lunch" with David Mayer de Rothschild, and that must have sent Pitt over the edge. Pitt's team ran to the New York Post – one of the favorite outlets for hit pieces against Jolie – and they got the Post to publish a very strange article about Angelina's love life and how much she's still hurting poor, pitiful Brad Pitt. Some highlights:
The lunch with David Mayer de Rothschild: Looking fresh-faced with barely any makeup, and clad in a slinky black dress with cutouts, Angelina Jolie left the restaurant with a smiling de Rothschild, 44, in tow. Single since her bitter divorce from Brad Pitt, it would seem that de Rothschild, a British explorer, environmental campaigner, author and filmmaker, would be precisely the kind of man Jolie would want to date. However, de Rothschild is married to Ukrainian actress Karina Deyko, who, like Jolie, is a dark-haired beauty, and the pair share a sprawling bohemian complex in Venice Beach. Deyko declined to comment. Indeed, the Nobu lunch was a business meeting, sources confirmed, attended by a small group of people. But, as always, Jolie has a knack for making even a business meeting look intriguing.

Angelina's "flings": Jolie has seemingly had a fling or two since the divorce. We're told by one highly placed Hollywood insider that she "definitely hooked up" with singer The Weeknd (real name: Abel Tesfaye) who counts supermodel Bella Hadid and Selena Gomez among his exes.

She had coffee with Paul Mescal: Then, in January, Jolie and Shiloh were pictured having coffee with "Normal People" heartthrob Paul Mescal in London after watching the 27-year-old actor perform in "A Streetcar Named Desire" at the Almeida Theatre. But Page Six is told there is "nothing" romantic in Jolie and Mescal's friendship.

Pitt sold his house: Angelina bought Cecil B. DeMille's famous home for $24.5 million in 2017, and is living there with son Pax, 19, a budding artist, Shiloh and twins Vivienne and Knox. The actress's eldest son Maddox, 21, is studying at South Korea's Yonsei University and Zahara is a student at Spelman college in Atlanta. Jolie revealed that she chose the property because she wanted her kids to be close to 59-year-old Pitt, who then lived only five minutes away. This week, however, it was reported that Pitt — now dating Ines de Ramon, the ex wife of "Vampire Diaries" star Paul Wesley — has sold his Los Feliz estate for $39 million as he wants to downsize, although a source who knows him said he's not moving in with de Ramon.

Pitt claims "parental alienation": In August 2022, Jolie prompted the release of an FBI report into the incident — in which she said that Pitt "physically and verbally assaulted" her and their children aboard the plane. The FBI declined to press charges against Pitt, who later insisted he would not "own to anything" he did not do. "It's a case of parental alienation," claimed one source familiar with the custody fight this week. "It's very sad."

The Judge Ouderkirk debacle: In 2021, Jolie won her appeal to remove their private judge, John Ouderkirk, from the case after arguing that he had business interests with Pitt. "They're back to the beginning pretty much," said the source. "Brad is pissed, but there's honestly been no movement recently while the lawyers are doing their thing. Angelina has been quiet for close to six months, so it seems for the moment that things have calmed down between them." The couple still don't speak, however, Page Six told.

The Miraval lawsuit: Brad Pitt claimed in the lawsuit that Jolie sold her interest in the vineyard without his consent, something they had previously agreed was a requirement, although Page Six is told that this was a "verbal" agreement. Lawyers are still wrangling. Jolie's attorneys still have to deliver information they promised as part of the discovery process, while another legal filing, seen by Page Six, makes it clear there is a row brewing over whether documents were destroyed by either Jolie or Shefler's camp.

Angelina won't be single forever: She's still acting — in October it was announced that Jolie will star in a biopic of opera singer Maria Callas, directed by Oscar nominee Pablo Larraín. This could lead to another Oscar nomination for the star, said multiple Hollywood insiders, but it's yet to be seen who would be on her arm on the red carpet. As one insider said of Jolie: "She won't stay single forever!"
[From Page Six]
The unnamed sources arguing from Pitt's perspective tell me all I need to know about who organized this piece. Pitt's obsession with Jolie is creepy – she left him six and a half years ago, and this is his way of letting her know that he's keeping tabs on her, that he's mad that she looked hot while having lunch with a billionaire. As for those Pitt-perspective quotes – is it parental alienation if the children he abused want nothing to do with him? Is it parental alienation when Angelina made a point of buying a house close to Pitt's Los Feliz property so that she would be close by if and when the kids visited Pitt… and then he sold that Los Feliz home and he's moving out of LA?
As for the stuff with the lawsuit and the "verbal agreement" – one of the funniest filings to come out of this whole Miraval shambles happened last December, when Jolie's lawyers were openly mocking Pitt's claim of a secret, unspoken, unwritten agreement about the sale of Miraval. I hope Angelina stays strong and lets her lawyers handle all of this. Brad Pitt is such a f–king loser.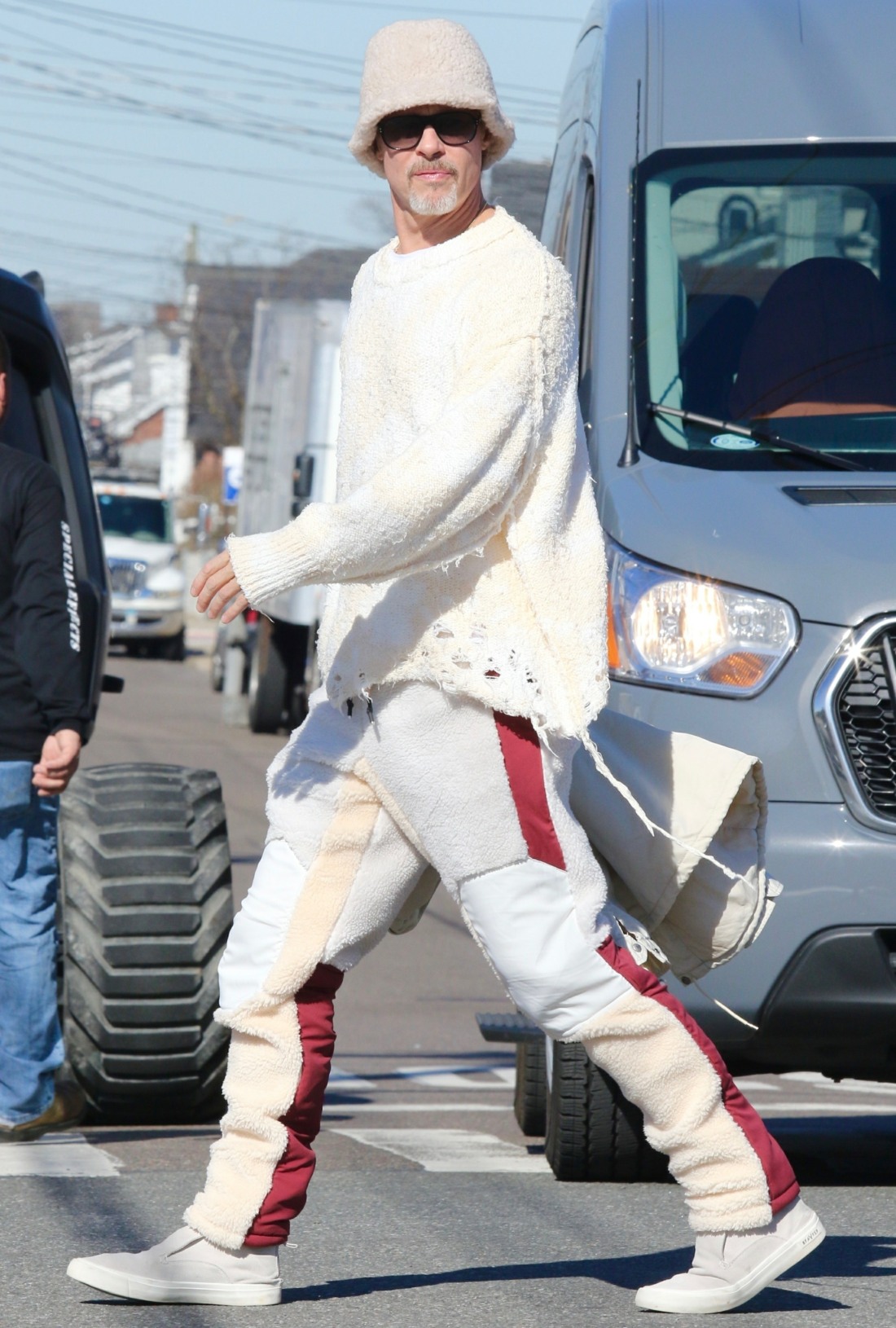 Photos courtesy of Backgrid.
Source: Read Full Article