The 'Mission: Impossible – Ghost Protocol' actor says he's able to heal 'fast' because of his daughter's love as he celebrates the 10-year-old girl's birthday with a loving tribute.
AceShowbiz –Jeremy Renner has revealed the source of his strength amid his recovery from the snowplow accident. Gushing over his daughter Ava on her 10th birthday, the actor credited his little girl's love for helping him heal "incredibly fast."
The Hawkeye depicter in the Marvel Cinematic Universe posted a sweet tribute to his Instagram Story to celebrate his daughter's birthday on Tuesday, March 28. Sharing a photo of him and Ava, whose face was covered with a heart sticker to protect her privacy, he wrote, "Happy 10th Birthday to you!!!! So very proud of you in every way."
The father of one went on revealing how his only child has contributed to his recovery journey. "Your hugs and your love, have healed me so incredibly fast. I stand up for you, and I am stronger than before because of you," he added. "I am your Father, I am your protector, and I am only yours. I love you, Daddy."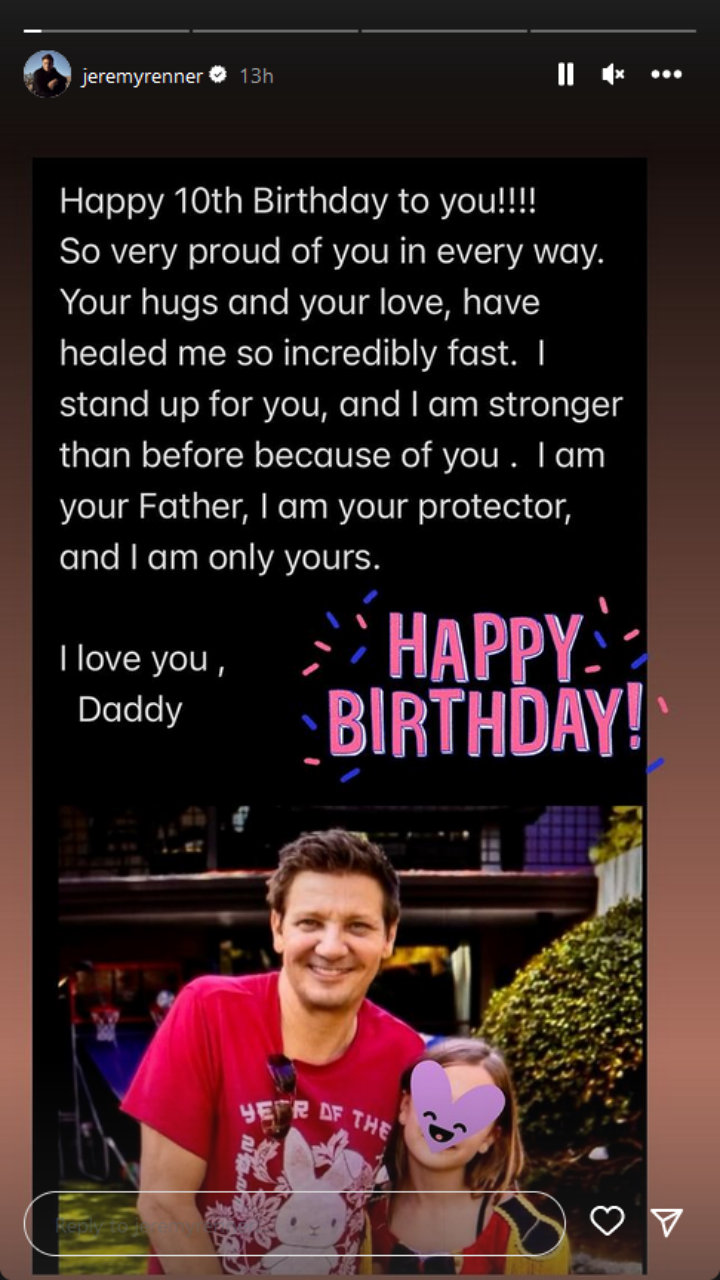 Jeremy Renner posted a loving tribute on daughter Ava's 10th birthday.
Jeremy indeed appears to be healing fast enough for him to attend the Los Angeles premiere of his new Disney+ series "Rennervations". The 52-year-old is set to make his first public appearance since the January 1 accident at the screening and Q&A event, which is set to take place on April 11.
"Rennervations" follows the actor as he and his team of expert builders use their skills to reimagine decommissioned vehicles and rebuild them into mind-blowing creations that serve communities around the world.
"I've been on this journey for many years, and I started in my community by building vehicles for people in need. But a few years ago, I thought, 'How can I plus this up and create a bigger impact on a whole community?' – and that's what this show does," he said of his passion project when the series' premiere date was announced. "This is one of my biggest passions and it's a driving force in my recovery, and I can't wait for the world to see it."
The show is set to premiere on April 12 on Disney+.
You can share this post!
Source: Read Full Article