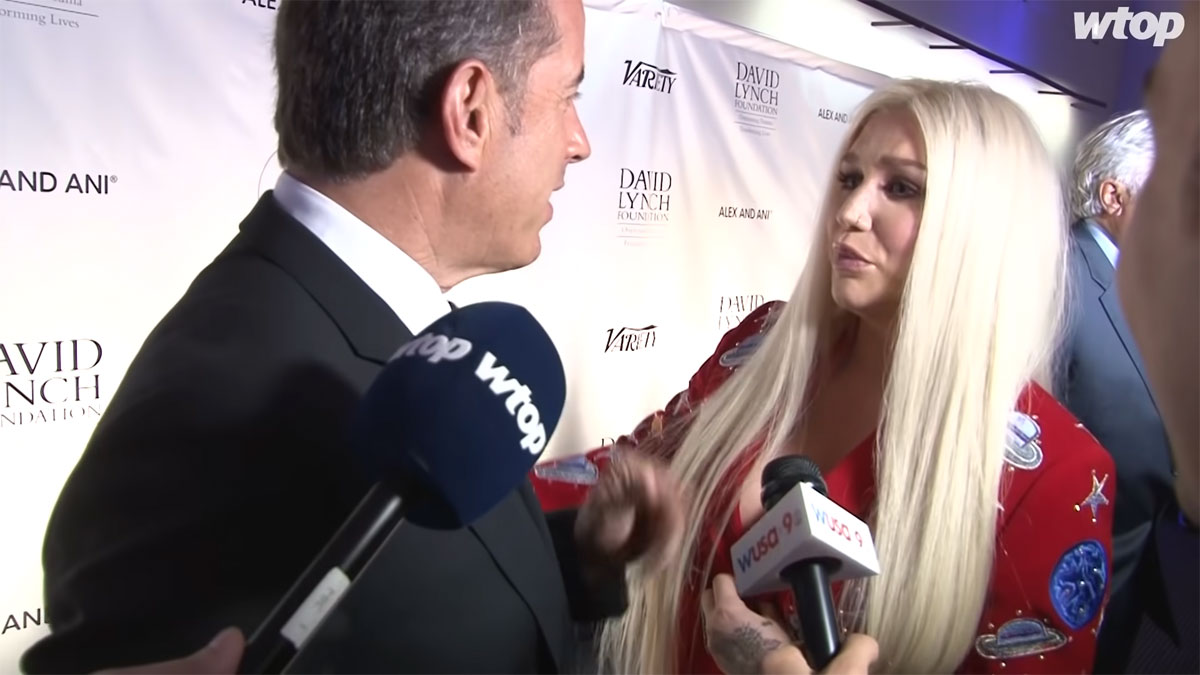 I've never watched Seinfeld but I know a lot of people love it. One of those people who really loves it is Kesha. Watching Seinfeld on flights helped her manage her fear of flying. When she met Jerry Seinfeld at a charity event in 2017, she asked to hug him and he said no, and the whole moment went viral. It was super awkward because she asked him three times! I'm not a hugger so I get where Jerry was coming from. Now Kesha has reflected on that moment again in a podcast interview with Tom Scharpling. The rejection had a big effect on Kesha.
Kesha called her infamous Jerry Seinfeld snub the "saddest moment of my life" in a new interview.

In conversation with Tom Scharpling on his The Best Show podcast, Kesha revisited the viral 2017 snub, wherein Seinfeld declined a hug from the pop star not once but twice at an event at the Kennedy Center in Washington, D.C. "Do you want to know the whole story? It's really sad," Kesha said. "You're going to get lots of clicks after this because I don't think I've ever told the whole story."

"So I learned TM from David Lynch, the David Lynch Foundation," she said, referencing transcendental meditation. "Love meditating, so he was like, 'Could you do an event that's a charity event?' I was in the middle of tour. I was exhausted, but I really love David Lynch and I heard that Jerry Seinfeld was going to be there."

Seinfeld's eponymous sitcom helped her navigate tough flights, she said. "I used to take my computer, when there was the CD, and I'd carry it around the world internationally, the little DVDs. When it got bumpy on planes, I'd pop in Seinfeld and I'd be like, "Everything's okay in the world.'"

At the charity event, "I got really excited because he brings me peace and love and all things good in the universe," Kesha said. "And then he didn't hug me in front of cameras. And it was the most depressing, and hilarious, but also so sad, it was like the saddest moment of my life."
[From Yahoo]
Do I think calling it "the saddest moment" of her life is a little exaggerated? Possibly. I completely get that Kesha was just trying to offer Jerry a token of appreciation and gratitude, and she felt rejected. For that to happen in front of the whole world would be embarrassing. I also get why Jerry declined a hug from someone he did not know. From the little I know of him, he doesn't seem like a warm-fuzzy guy. This is an example of why (in my opinion) you should never meet your idols. Not just because they'll disappoint you, but also because you might be overwhelmed by the experience and act in a way that you never normally would. If I met Dolly Parton I'm sure I would spontaneously erupt into sobs, because I love her so much and her work is so meaningful to me. So I don't think I should meet her because I couldn't handle it. I hope Kesha doesn't let this get to her too much. We've all embarrassed ourselves, and in the scheme of things, if Jerry Seinfeld refusing a hug from you is your most embarrassing moment? That's not so bad.
Embed from Getty Images
Embed from Getty Images
Embed from Getty Images
Source: Read Full Article