Moreover, the All-Star guard's former teammate LeBron James reacts to his trade request with cryptic social media post, seemingly hinting that they will soon reunite.
AceShowbiz –Kyrie Irving may have revealed the reasons behind his decision to request a trade from Brooklyn Nets. Turning to his social media platform, the seven-time NBA All-Stars hinted at being "manipulated" and "hurt."
On Friday, February 3, the 30-year-old All-Star guard tweeted, "To my Peers: JUST BE YOURSelf and GROW! Keep people around who CELEBRATE YOU unconditionally and appreciates all of the hard work that gets put in." He later stressed, "Distance yourself from the folks who manipulate, hate, and hurt."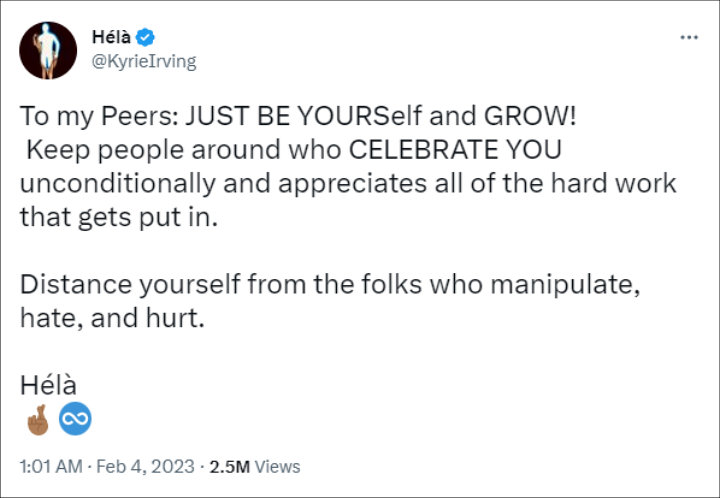 Kyrie Irving tweeted about manipulation after requesting trade from Brooklyn Nets.
The cryptic tweet came after it's reported that Kyrie requested a trade from the Nets amid issues over the contract. Over the past three and a half years, Kyrie and the Nets have had their issues. Previously, he had told his team that he wanted a contract extension.
According to reports, the Nets offered Kyrie a long-term deal. However, there were various "stipulations" that Kyrie did not agree with. One of these stipulations was that the final year was not fully guaranteed. After rejecting the proposal, he indicated to the team that he wanted to be traded before the deadline on February 9 and that he would leave in free agency if he didn't get his move.
The Los Angeles Lakers are believed to be interested in making a move for Kyrie and have been tipped to send Russell Westbrook the opposite way. It's also said that Kyrie still has an interest in joining the Lakers.
Moreover, Lakers' star LeBron James has been desperate for the team to make moves in the trade market in order to improve their chances of making a run at the NBA Championship and reuniting with Kyrie. Both LeBron and Kyrie played for the Cleveland Cavaliers in the past.

LeBron James posted cryptic tweet upon learning of Kyrie Irving's trade request.
LeBron also offered a cryptic clue about his reaction to the trade news after it broke. The 38-year-old basketball pro tweeted the eyes emoji along with the crown emoji, the latter he posts at the end of most of his tweets in reference to his nickname of "The King".
You can share this post!
Source: Read Full Article