Former Little House on the Prairie star Melissa Gilbert is currently promoting her new book, Back to the Prairie. Still known for iconic role as Laura "Half-Pint" Ingalls, Gilbert found contentment away from Hollywood with her husband, Timothy Busfield. The actor recently shared how her third marriage and home in a rural setting is bringing her some much-needed peace.
Melissa Gilbert and Timothy Busfield wed in 2013
Gilbert was previously married to actors Bo Brinkman and Bruce Boxleitner, and wasn't looking to start a romance with another actor when Busfield came along. She recalled having a drink by herself and talking to an acquaintance the day she ran into the Thirtysomething alum.
"I usually don't just sit in bars alone," Gilbert said in 2014, according to MLive. "I was alone, talking to Joe the bartender."
Busfield vividly remembered seeing Gilbert and knew instantly he was smitten. The two tied the knot in 2013.
"I was just going out to get a slice of pizza and a beer and watch sports on TV, and I knew just the spot that would be empty," Busfield recalled. "So I walked in the front door, and there was one person, sitting in my chair, at the bar. … I went in, sat at the bar, and ordered a drink. Then I saw her smile and I was gone."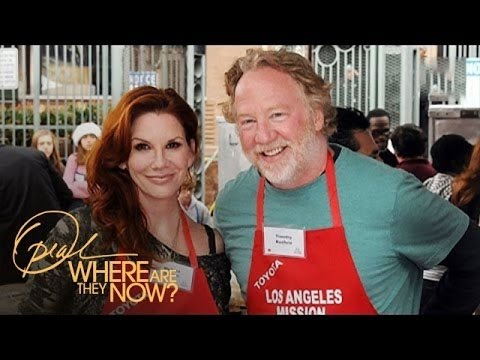 In a recent interview, Gilbert, 58, pointed out how both she and Busfield, 64, have both been married prior to meeting each other and went into this union with more wisdom. The Little House alum shared how they were both seeking contentment at that point in their lives and found it in each other.
"We've both been through it, we both had a couple marriages behind us," Gilbert told Good Morning America "I think we were both craving just a more peaceful partnership or [to] be alone. We're just very much equals and we treat each other that way, and I think that's what makes the difference. He's my blanket. He's my comfort place."
Gilbert places a priority on sense of humor and revealed that Busfield checks all the boxes in that category.
"We laugh all day long," she remarked. "We constantly crack each other up. He's one of the funniest people I know. I mean, he will walk into a door just to make me laugh."
'Back to the Prairie' chronicles new life in the Catskills
The couple pulled up stakes from Tinseltown and headed to Michigan after heading down the aisle. Later finding a cabin in upstate New York on 14 acres, Gilbert and Busfield settled in the Catskills and went to work on restoring their new home.
Now relishing a "sweeter, simpler, more comfortable life", Gilbert also commented on finally being able to embrace her age now that she's away from the glare of the spotlight.
"I had to get out of Los Angeles to actually age, which I wanted to do," she said. "I'm excited about this. I love all these changes and watching what's happening and getting to know this new person."
Source: Read Full Article