In related news, Candace Owens taunts the Grammy-winning musician in one of her tweets by sharing a screenshot showing that the femcee blocks her on the blue bird app.
AceShowbiz –Lizzo is not one to shy away from hitting back at haters commenting on her body. Her clapback arrived after one troll reacted to a video of the Grammy-winning artist's performance with an insulting question.
"How is Lizzo THIS fat when she's constantly moving this much on stage?! I wonder what she must be eating," the hater asked on Wednesday, May 31. Catching wind of the question, the "Truth Hurts" hitmaker replied, "I JUST logged on [on this] app and this is the type of s**t I see about me on a daily basis. It's really starting to make me hate the world."
"Then someone in the comments said I eat 'lots of fast food.' I LITERALLY STOPPED EATING FAST FOOD YEARS AGO," the Yitty shapewear line founder continued. She also said that she's "tired of explaining" herself and "seeing [her] name in some bulls**t."
In a separate post, Lizzo responded to someone who claimed that Lizzo doesn't want to change her appearance because her size is "her brand." Firing back at the user, the "About Damn Time" singer wrote, "I'm not trying to BE fat. I'm not trying to BE smaller. I'm literally just trying to live and be healthy. This is what my body looks like even when I'm eating super clean and working out!"
Admitting that she was "starting to get heated," Lizzo added, "I HATE IT HERE." The musician went on to lament, "The Love definitely do not outweigh the Hate on social media." She also revealed "how close" she is to "giving up on everyone and quitting and enjoying [her] money and man [Myke Wright] on a F**KING FARM."
When one fan suggested Lizzo not to search herself online, she stressed that she "NEVER" does. She further explained, "This stuff just comes up on my [timeline] & my [for you pages]. I swear I just wanna look at dance videos and science news and this s**t comes in every day."
Concluding her rant, Lizzo noted, "to the people who haven't had an original thought or fresh air in years, BEING FAT ISNT MY 'BRAND.' BEING FAT IS WHAT MY BODY LOOKS [LIKE]. THATS IT. THATS ALL." She made it clear that her brand is actually "FEEL GOOD MUSIC," "CHAMPIONING ALL PEOPLE" and "BLACK GIRL LIBERATION."
In related news, Candace Owens taunted Lizzo in one of her tweets. "I guess Lizzo wasn't lying when she said "truth hurts'," the conservative author wrote on her Twitter page alongside a screenshot showing that the femcee blocks her on the app. "But yeah, clinical obesity is still the number 1 killer in America so let's stop glorifying it."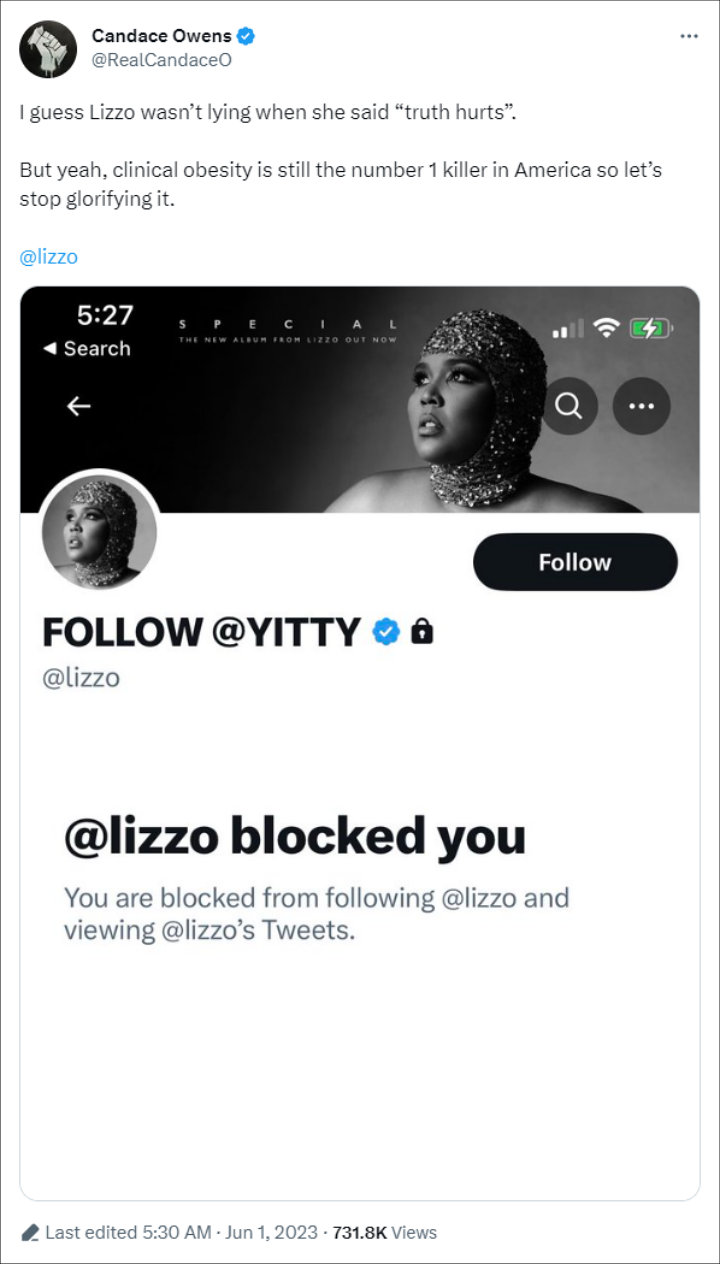 Lizzo blocked Candace Owens on Twitter.
You can share this post!
Source: Read Full Article