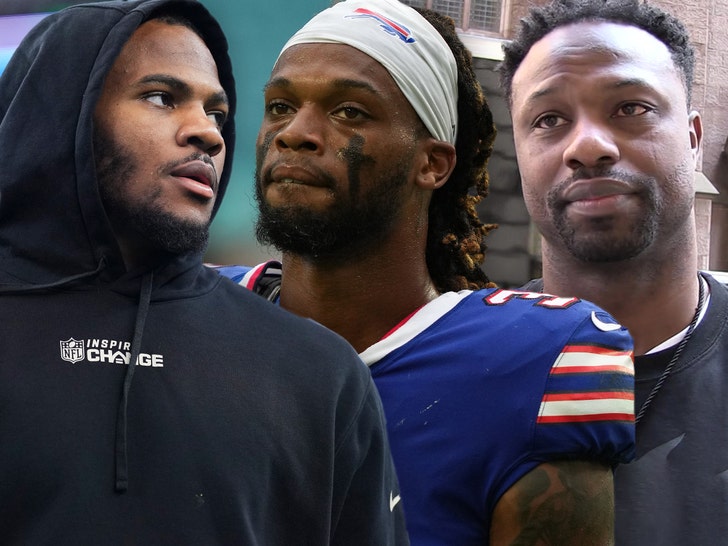 Cowboys star Micah Parsons laid into former NFL player-turned-commentator Bart Scott … who blamed Bengals wide receiver Tee Higgins for causing Bills safety Damar Hamlin's cardiac arrest during "Monday Night Football."
"Yoo are we serious?!!?," Parsons tweeted. "Why do we let some people speak on tv?! This was a freak incident but putting fault on another player is wild! They should make some of these guys go over lines or something or not even give them a seat at the table!"
Parsons wasn't done, firing off another tweet in response to Scott … writing, "Like does not even consider how Tee Huggins feels before airing some bull shut like that! That traumatic event he just went through! I swear some of these tv guys have too much egos on these stages we give them!"
ICYMI, during an appearance on ESPN's First Take, Scott seemed to insinuate Tuesday Higgins was in part responsible for Hamlin going into cardiac arrest on the field.
"Right before the tackle, he lowers his helmet, and he kind of throws his body into his chest," Scott said on FT. "He's standing up because he's thinking he got to chase Tee Higgins at an angle to make a tackle, so he didn't expect Tee Higgins to launch his body back into him."
He continued … "It's one of those things, a lot of times you see it as a linebacker … a running back comes through the hole, and he knows the contact is coming, so he lowers his helmet, and you can't get underneath him so he's able to get into you and your chest is exposed."
"They have taken that out of the game, but they don't really regulate it as much as possible. I expect the league will be a lot more vigilant when it comes to that and using that penalty."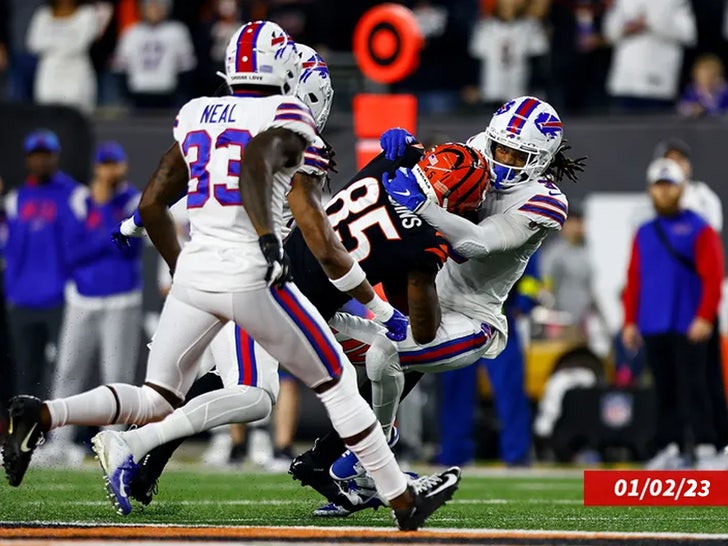 As you know by now, Hamlin was carted off the field Monday night after his heart stopped on the field, and remains hospitalized at the University of Cincinnati Medical Center, where the 24-year-old appears to be making signs of progress, according to the Bills.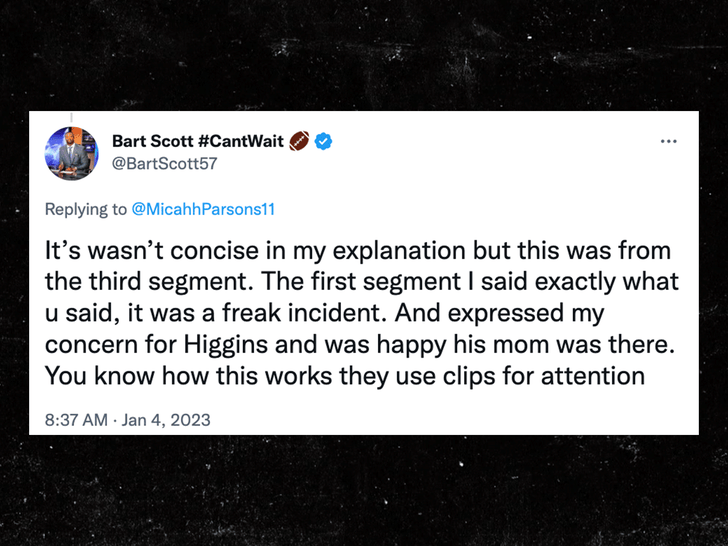 Scott responded to Micah directly on Twitter Wednesday, saying, "It's wasn't concise in my explanation but this was from the third segment. The first segment I said exactly what u said, it was a freak incident. And expressed my concern for Higgins and was happy his mom was there."
"You know how this works they use clips for attention."
Source: Read Full Article