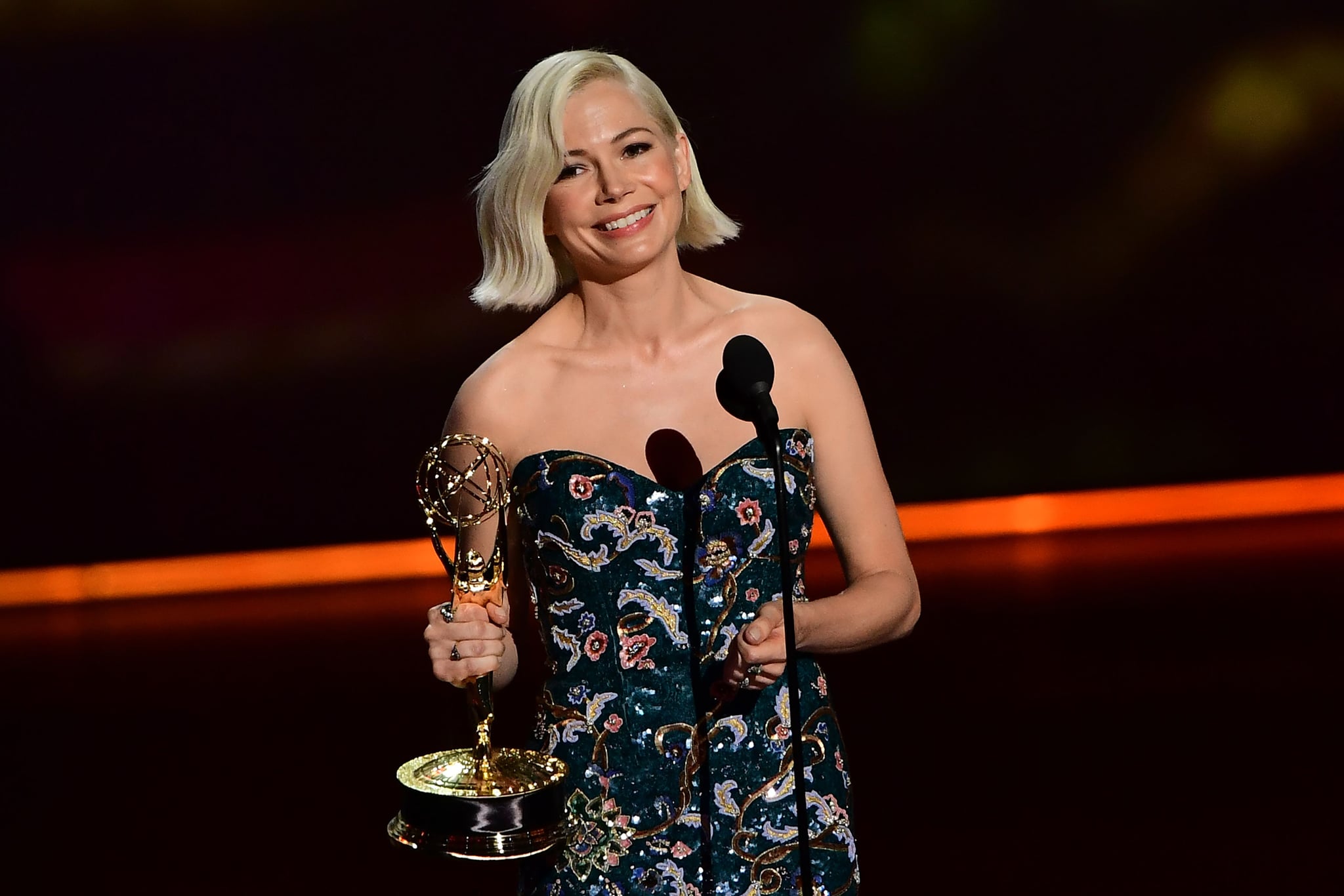 Image Source: Getty / Frederic J. Brown
Michelle Williams just announced that she's expecting her third child, and she's clearly thrilled about the news. The 41-year-old actor told Variety in a profile published on May 10: "As the years go on, you sort of wonder what they might hold for you or not hold for you. It's exciting to discover that something you want again and again is available one more time. That good fortune is not lost on me or my family."
Williams already has two children: 16-year-old daughter Matilda from her relationship with the late Heath Ledger and 2-year-old son Hart from her marriage to Thomas Kail. The pair met when Kail, who directed Broadway's "Hamilton," directed Williams on the set of FX's "Fosse/Verdon." They tied the knot in March 2020. When Williams claimed the Golden Globe for outstanding lead actress in a limited series or movie for "Fosse/Verdon" in 2020, she credited abortion access for the ability to design her life her own way. "I'm grateful for the acknowledgement of the choices I've made, and I'm also grateful to have lived at a moment in our society where choice exists, because, as women and as girls, things can happen to our bodies that are not our choice," she said. "I've tried my very best to live a life of my own making and not just a series of events that happened to me. . . . And I wouldn't have been able to do this without employing a woman's right to choose — to choose when to have my children and with whom."
Read on to learn more about Williams's growing family ahead.
Williams's eldest daughter, 16-year-old Matilda, was born to Williams and Ledger, who died in 2008. For the most part, Matilda has stayed out of the spotlight, living a life away from the cameras.
In the Variety profile, Williams shared how "Succession" star Jeremy Strong helped her and her daughter in the wake of Ledger's death. After Ledger died from an accidental overdose on sleeping pills, Williams's sister, a friend, and Strong all moved into her Brooklyn apartment. "Jeremy was serious enough to hold the weight of a child's broken heart and sensitive enough to understand how to approach her through play and games and silliness," she said. "[Matilda] didn't grow up with her father, but she grew up with her Jeremy and we were changed by his ability to play as though his life depended upon it, because hers did."
Williams has a 2-year-old son named Hart with Kail. Williams gave birth to Hart in 2020 during the first year of the COVID-19 pandemic, an experience that changed her perspective on the event. "The world we brought a baby into is not the world we thought we were bringing a baby into, but the baby is ignorant of that," she told Variety in a separate story. "He experiences the unmitigated joy of discovery and the happiness of a loving home."
In the same piece, she elaborated on motherhood. "There's nothing that makes you committed to a better world than raising a great kid. It's the ultimate creative act," she said, adding: "The most ecstatic moments of life and art are the transcendent ones. Having children is like that. You combine your DNA with someone else to create a new life."
Soon enough, a third child will be able to enjoy that loving home. Before then, Williams will costar in "The Fabelmans," an autobiographical film about Steven Spielberg. She also stars in the film "Showing Up," which is set to premiere at the forthcoming Cannes Film Festival.
Source: Read Full Article