Sweet Tooth spoilers won't be found here.
"I've always loved dystopian, post-apocalyptic fiction," says Jeff Lemire, the creator of Sweet Tooth. "I'd always wanted to do my own take on that."
But that's not easy. As Jeff points out, there's a "long history" of dystopian storytelling, and between franchises like The Walking Dead and The Last of Us, this genre has continued to thrive in ways that the survivors living in these stories can only dream of.
Still, like the zombies that populate these works, repetition is definitely starting to sink in, and not just because we're living through our own apocalypse either. As brilliant as these stories are, killer virus narratives are multiplying even faster these days than the contagions themselves. Amidst all the chaos, it's going to take something really special to resonate now with fans of this genre.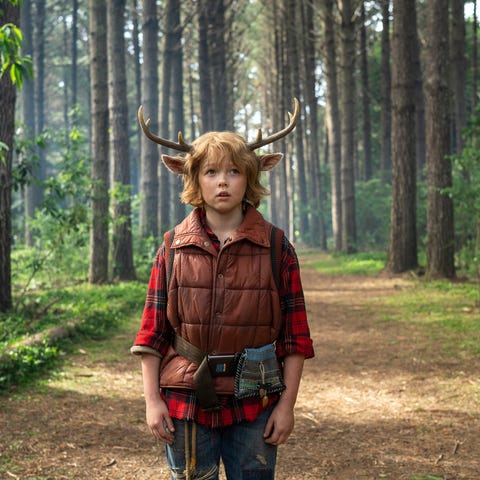 Enter Sweet Tooth. What started out as random sketches of a boy with antlers has evolved into a whole new approach called "Storybook Dystopia," as coined by showrunner Jim Mickle. And yes, there's a killer virus in this show too, but among all the horror, hope also springs up in the form of animal/human "hybrids" like Gus who embody a kinder, fairytale aesthetic that's so rarely seen in this genre.
While Jeff's original comics were more traditionally dark, and brilliant, might we add, Mickle realized that a big change was needed to make Sweet Tooth work on screen a decade later:
"If we did this now, it's going to feel like we're just aping the real world or the many apocalyptic stories that have come before. So I was looking for a new feel for end-of-the-world stories. And that idea of the fairytale just came from the nature that's already baked into the story, the fact that Gus is fully from nature."
Executive producer Susan Downey describes "storybook dystopia" as "the idea that nature has taken over. With the population decreased, it all becomes lush and green." So think the apocalypse, but make it pretty. That's essentially the approach Netflix decided to take adapting this story, and as Susan points out, "It felt very in line with the spirit of what Gus was bringing, and what Jeff Lemire ultimately wanted to say."
With humanity almost extinct, the earth now thrives within the world of Sweet Tooth. Everywhere you look, Mother Nature makes her presence known with creeping foliage and gorgeous woodlands that uproot the remains of human civilization. That in of itself is not entirely unique to this show — remember all those grass-covered zombies in The Walking Dead? — but "storybook dystopia" is more than just an aesthetic.
Susan tells us that while creating this world, the team avoided drawing any direct inspiration from AMC's hit or similar stories like The Last of Us. "In fact, anything that was post-apocalyptic was something that we would shy away from."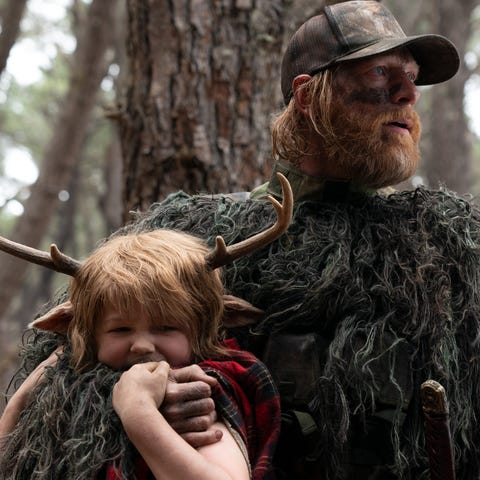 Instead, they were more concerned with "the great adventures" we all watched growing up. "Where did we get that kind of sense of hope and inspiration and mystery? We definitely didn't look to any existing shows, because Sweet Tooth is like nothing else that's on TV now."
Inspirations for Sweet Tooth were instead far broader says Jim, encompassing everything from Jim Henson — "That whole era of puppets and miniatures" — to Bong Joon-ho's Korean masterpiece, Okja. "Right as I was thinking, 'How do we make a pilot?', I saw that and just fell in love with his take on a Spielbergian kind of kids' magic. And we kept going back to '80s, '90s stuff that we grew up on."
"Every episode has its own character and inspiration, its own tone," adds Beth Schwartz, Sweet Tooth's co-showrunner. "One episode is very Indiana Jones, one is more Goonies, and "seven" is its own thing that you'll see later [laughs]. But each episode was fun, because we got to play in a lot of different areas."
Inspirations like Goonies and The Muppets are a far cry from what fans of the original comics might expect, but as Susan tells us, that was the goal Team Downey had from the very start when it came to Sweet Tooth.
"We're always looking for really interesting character-driven stories that have something to say, but then are wrapped up in a very palatable, very commercial genre way – to get the biggest audience to sort of lean in."
And that audience includes Susan's own family. "Robert [Downey Jr] and I looked for shows that we could watch with our kids. We have a six-year-old and a nine-year-old. We love to cuddle up on the couch, and find a series that we can binge together. We thought that with some adjustments here, we could create something that would be great for a whole family while keeping all of the strong themes."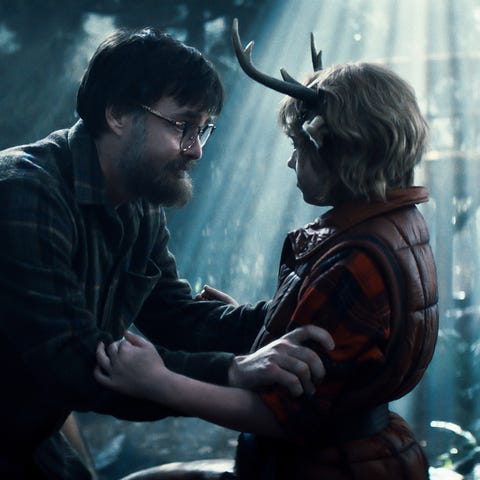 But that doesn't mean Sweet Tooth shies away completely from the dystopian aspects of Jeff's story. People die, sad times are had, and the virus does end up creating some actual monsters, although we're not talking about the "hybrids" in this case…
"As much as it is lighter," says Jeff, "I think the darker moments of the comic that are essential to the story are still there, and very much in place. And, I'm excited that I can watch the show with my son who's 12. That's kind of cool, especially, to me as well."
But how will fans of the comic react to the show's "fairytale" outlook? Jeff thinks that won't be much of an issue. "The book will always be the book, and the show can be the show. They can complement each other. I think there's enough common ground between them that people can go back and forth, and enjoy both. They can exist on their own."
Funnily enough, that's also true of The Walking Dead, which still deviates regularly from the source material, even if its tone remains largely the same in both. But still, TV's most popular apocalypse remains a different beast entirely when compared to Sweet Tooth. While Daryl and co struggle on, desperate to forge a life worth living, Gus embraces this dystopian world with an open heart and wide-eyed wonder.
Is he naive? Yes. Would Gus survive more than ten minutes without Jeppard's combat experience? Probably not. But given how many grim dystopian tales we've watched over the years, not to mention the one we're living through right now, Sweet Tooth is exactly what the world needs in 2021.
"There's been so much darkness in our real lives," says Beth. "To be immersed in this possible future, to imagine that things could actually be better with these amazing, magical creatures in this world, that's something I hope people take away."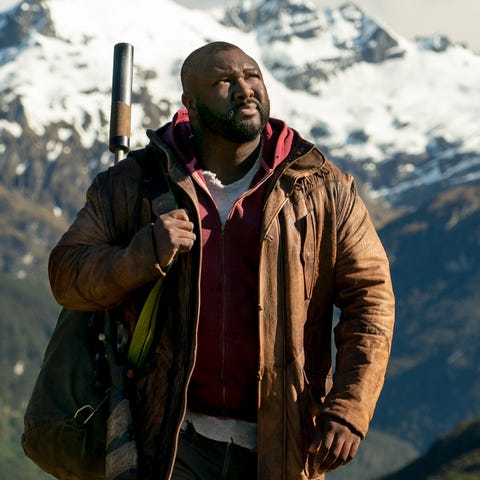 Jim agrees, suggesting that Sweet Tooth's "hope and optimism" can hopefully act as a "security blanket" in these "tumultuous times," even now with COVID still looming over us all. And if that doesn't sound like the Sweet Tooth you know, you might want to re-read the original comics.
"For me," says Jeff, "Sweet Tooth was always a story of hope, and it still is with the television adaptation. It's very much a story of hope and togetherness, and I think that those are the kind of stories that we can all use a little more of right now."
It's not every day that a dystopian show can give us hope for the future, but as Jeff said earlier, he always wanted to do his "own take" on the genre, and there's perhaps nothing more unique than a post-apocalyptic show that makes the apocalypse look so sweet good.
Sweet Tooth is now available to watch on Netflix.
Source: Read Full Article