The 'Walk Em Down' spitter sparks chatter after sharing a video of him dancing to his new music and telling fans that he's celebrating his birthday along with a caption that reads, 'RIPTAKEOFF.'
AceShowbiz –NLE Choppa is speaking out after getting dragged online for mentioning Takeoff's name when promoting his new music. Taking to his social media platform, the "Walk Em Down" rapper defended himself.
It all began after the Tennessee-born hip-hop artist turned to his Instagram and Twitter accounts on Tuesday, November 1 to share a clip of him dancing to his new music and telling fans that it's his birthday. "I'm 20 Today, I Feel Good, I'm Dropping This In 3 days, And RIPTAKEOFF [folded hands and mending heart emojis]," he captioned the video.
Social media users found Choppa's post "disrespectful." One person slammed the 20-year-old rapper, "You're serious bro?? Using takeoff death to promote your music." Another added, "you could've gave takeoff his separate tweet instead of linking it to promote your mid music." A third echoed, "Not using riptakeoff as a marketing plan." Someone else posted, "rip takeoff while promoting a song? at least give him a separate tweet."
Responding to the backlash, Choppa wrote, "For you folks saying im using someone name for clout when im already juiced be crazy." The "Shotta Flow" spitter went on explaining, "I said rip takeoff in caption because it'll be inconsiderate to not say it with what happened. My birthday today tho Ian gone let y'all f**k my day up. Like I said RIP TAKE RESPECTFULLY !"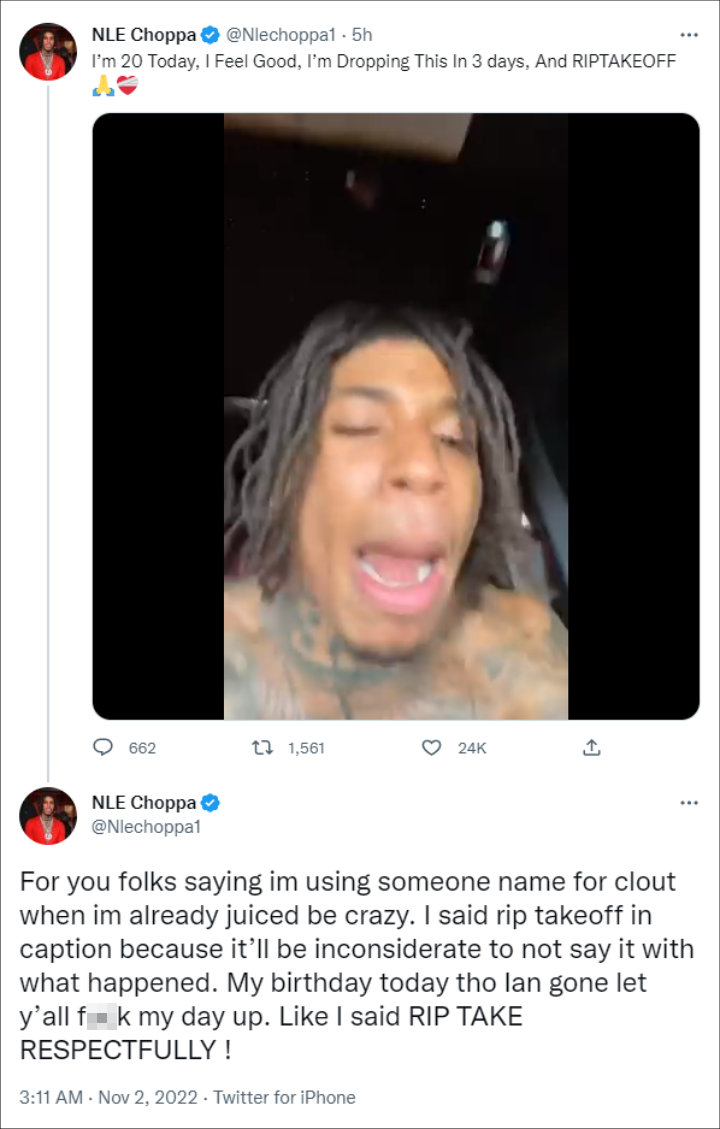 NLE Choppa spoke out after facing backlash over his 'disrespectful' post following Takeoff's tragic passing.
Later, a Twitter user replied, "You are smart to understand and separate death of someone and putting your song on it or anything.. you are a spiritual person so you DO know the frequency of vibes on your song while the death of someone else's doesn't match And with your Influence you could do better." In response, Choppa wrote back, "You can really suck the whole thang love," along with a laughing with tears emoji.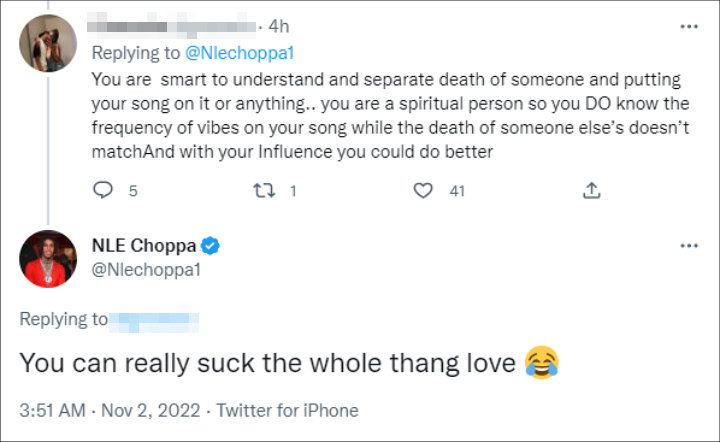 NLE Choppa continued to defend himself.
A few hours earlier, news broke that rapper Takeoff was shot and killed in a heated game of dice in Houston, Texas. According to TMZ, the fatal incident "went down shortly after 2:30 AM … that's when cops got the call for a man shot at a bowling alley called 810 Billiards & Bowling Houston."
The outlet continued that "Takeoff and Quavo were there playing dice when an altercation broke out and that's when someone opened fire, shooting Takeoff either in the head or near to his head." The 28-year-old Migos member "was pronounced dead on the scene."
Source: Read Full Article