Just when you thought Kourtney Kardashian and Travis Barker's mutual horniness couldn't get more intense than public finger sucking caught on camera, Travis went ahead and posted footage of her sucking his thumb. I'll give you a moment to process.
This video, which will be living in my mind rent free for the foreseeable future, was posted as part of Travis' extremely extra birthday tribute post to Kourt, which he captioned (in all-caps, no less) "I FUCKING LOVE YOU! 🖤 YOU'RE A BLESSING TO THIS WORLD. HAPPY BIRTHDAY."
Please scroll for the aforementioned thumb sucking, if you can handle it, which I certainly cannot.
https://www.instagram.com/p/CN0WPann8wk/?utm_source=ig_embed&utm_campaign=loading
A post shared by travisbarker (@travisbarker)
Oh, and also there's this: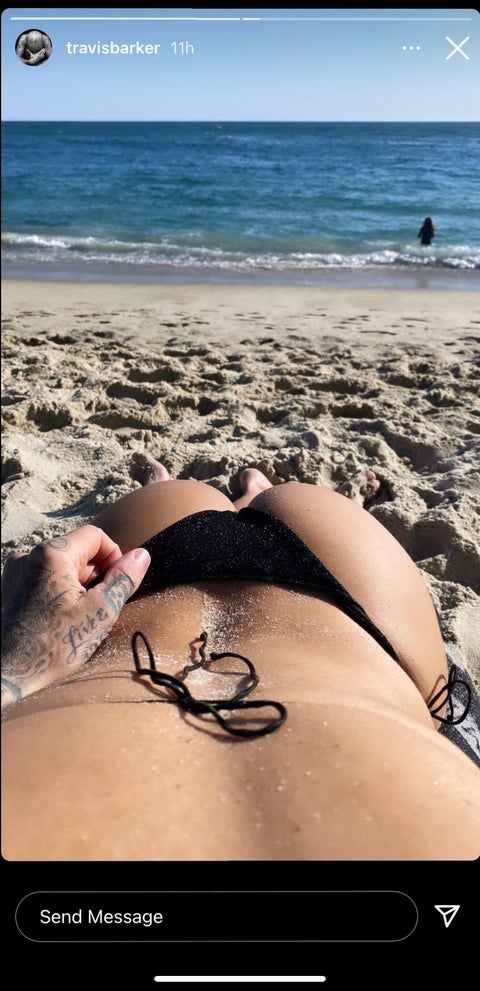 If you're wondering what Travis gave Kourt for her birthday, he surprised her with a stunning display of flowers. "Travis often spoils her and he gave her the most amazing, beautiful flower arrangement for her birthday," a source tells People of the gift. "They are celebrating with her family today."
The source adds that "Kourtney still seems very happy with Travis. He is very into her. He constantly gives her compliments and attention. You can tell he is thrilled to be dating her. Kourtney is soaking it all up and enjoying life."
These two have been dating since late 2020, and back in January an insider told People that Travis has been into Kourtney forever: "He's liked her for a long time and she just got more open to the idea. He's a good guy and a really great dad. Her family and friends all really like him. Their kids all get along too, which is sweet."
Source: Read Full Article