When posting a sweet image of baby Malcolm Hiep Mulaney, the actress portraying Betsy Braddock in 'X-Men: Apocalypse' calls the one-month-old infant 'adora-bao.'
AceShowbiz –Olivia Munn is sharing the joy of being a first-time mother. More than a month after giving birth to her first child with John Mulaney, the actress portraying Betsy Braddock in "X-Men: Apocalypse" treated her online devotees to a cute picture of their baby boy with his "daddy."
The 41-year-old beauty shared the photo in question on her Instagram Story on Thursday, December 30. In the image, her stand-up comedian boyfriend was seen playfully putting their son Malcolm Hiep Mulaney in a bun steamer.
"Lol daddy's new banh bao recipe," the proud mom captioned the snap, adding a dancing dumpling emoji. She followed it up with a second photo, calling the infant, "adora-bao."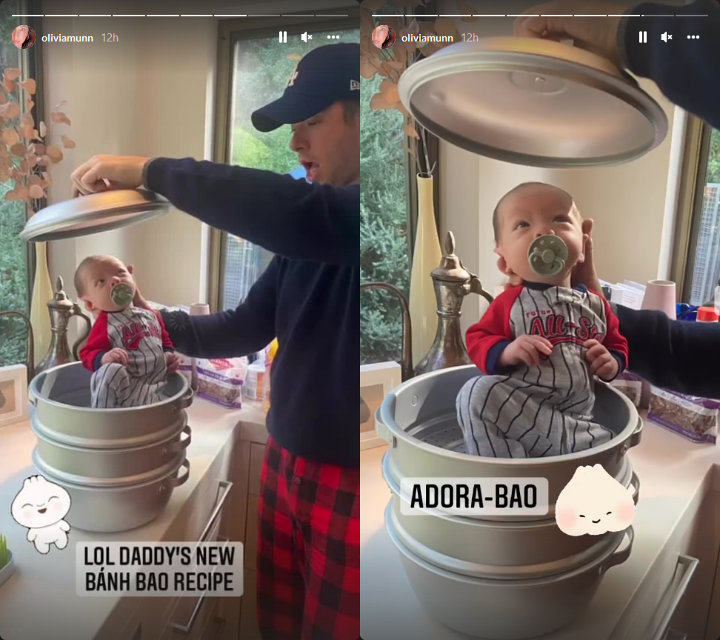 Olivia Munn shared cute photos of John Mulaney and their son Malcolm.
Olivia and John reportedly welcomed Malcolm on November 24, one day before Thanksgiving Day in Los Angeles. It was not until one month later that the two lovebirds introduced their baby to the world.
Making use of Instagram, the former "The Newsroom" star shared a photo of Malcolm sleeping soundly while being wrapped in a white fluffy blanket. "My Golden Ox baby. Malcolm Hiep Mulaney. Happy Holidays," she captioned the snap.
As for the "Saturday Night Live" alum, he uploaded the identical picture on his own Instagram page. "Meet Malcolm Hiep Mulaney. He has his whole life ahead of him. He hasn't even tried seltzer yet," he penned in the accompanying message. "I'm very in love with him and his whole deal. Happy Holidays."
John confirmed his romance with Olivia amid his divorce from wife Anna Marie Tendler. When appearing in a September episode of "Late Night with Seth Meyers", the funnyman said, "I went to rehab in September, I got out in October, I moved out of my home from my ex-wife… Then in the spring I went to Los Angeles and met and started to date a wonderful woman named Olivia."
Source: Read Full Article