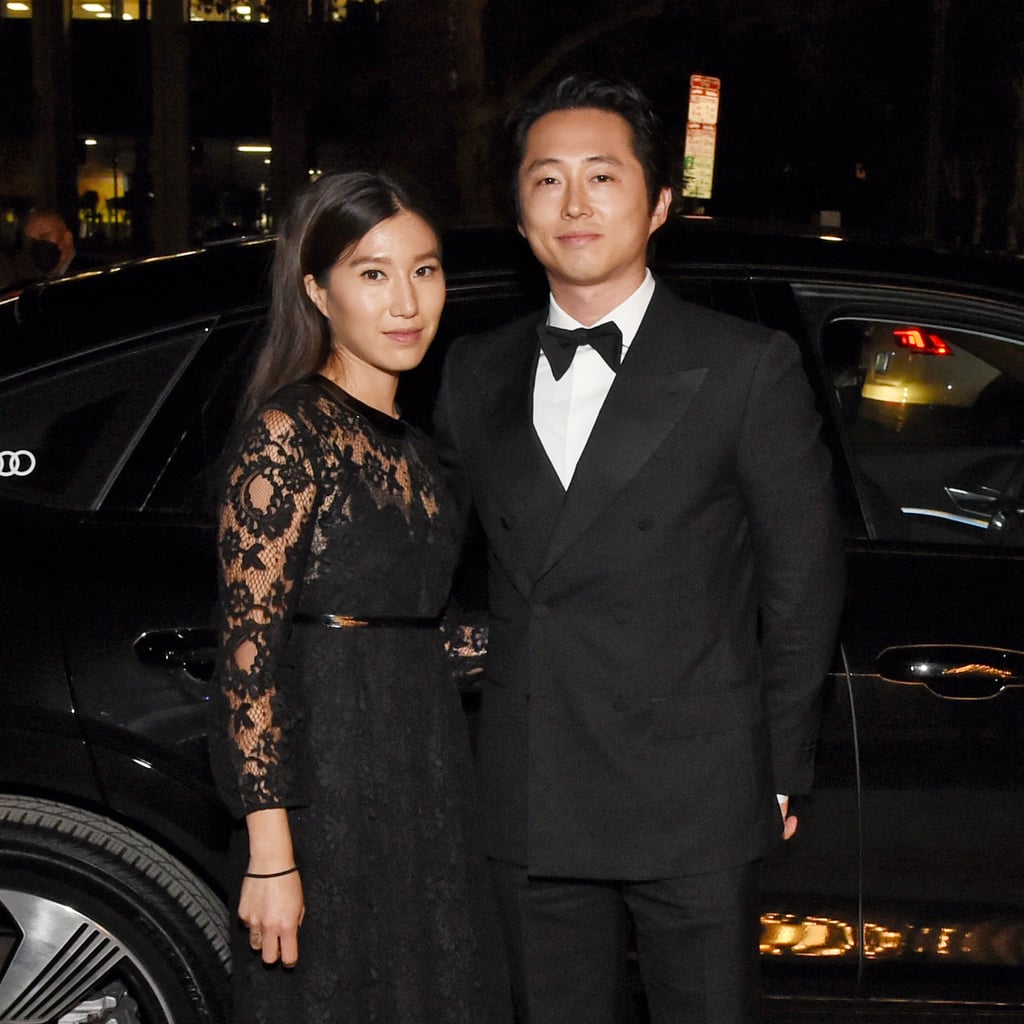 Steven Yeun and Joana Pak's Love Story Is Simple and Sweet

Steven Yeun has been a staple on TV screens since first stepping into the iconic role of Glenn on the AMC adaptation of the "The Walking Dead" comic-book series. Now, he's starring on Netflix's new comedy-thriller "Beef" alongside Ali Wong. The show follows two characters who are disillusioned with their lives for different reasons in the lead-up to and aftermath of a road-rage incident that begins to consume their every thought and action.
In real life, however, Yeun seems far less discontented. He's married to professional photographer Joana Pak, and they have a family together. Ahead, learn all there is to know about Yeun's relationship with Pak.
How Did Steven Yeun and Joana Pak Meet?
Yeun met Pak when he was down on his luck, much like his "Beef" character. According to the couple's March 2018 interview with Martha Stewart magazine, they met once in passing in 2008 but didn't really connect until 2009, when she — a student at Columbia College Chicago — visited the bar Yeun was bartending at. Yeun was working there to make ends meet while he was part of the Second City comedy theater group in Chicago.
"She walked into the bar where I was a really sh*tty bartender, and it was kismet," Yeun told Martha Stewart. "After that, I saw her every day for six months."
When Did Steven Yeun Propose to Joana Pak?
Things started falling into place for Yeun in his acting career soon after he met Pak, which meant they had to go long distance as he pursued acting gigs and bagged his breakout role on "The Walking Dead."
"He was based in Atlanta for half the year," Pak recalled to Martha Stewart magazine. "I was in Chicago. We were kind of everywhere.
However, the pair stuck it out, and Yeun proposed in August 2015.
Steven Yeun and Joana Pak's Wedding
The couple married on Dec. 3, 2016, at the historic Paramour Estate in Los Angeles in a laid-back ceremony with 220 guests in attendance — including Yeun's "The Walking Dead" costars Andrew Lincoln, Norman Reedus, Melissa McBride, Sarah Wayne Callies, Chandler Riggs, Emma Bell, and Alanna Masterson.
"We didn't make anything sacred," Yeun told the magazine about the occasion, adding, "[It] made the ceremony very relaxed and focused on a greater message of love."
Steven Yeun and Joana Pak's Life Together
Yeun and Pak share two children. Their son, Jude Malcolm Yeun, was born in March 2017, and their daughter (whose name has not been revealed) was born two years later, in May 2019.
The pair are a relatively private couple, but Pak is known to attend red carpet events with Yeun occasionally. Additionally, Pak sometimes helps Yeun prepare for his various roles.
"'Minari' is essentially the story of my wife's family," Yeun told W magazine in February 2021 about how Pak helped him prepare for his role in the Oscar-winning film. "My wife is Korean but grew up in Arkansas, and her family first made their money by chicken sexing. They gave me some tips on how to work with the chicks."
Check out more photos of Yeun and Pak together ahead.
Source: Read Full Article