Teri Hatcher is showing off a brand new hairstyle — and we almost don't recognize her! The "Desperate Housewives" alum sported a fresh look on Instagram and followers are doing a double take. Fans are used to seeing the actor sporting her signature long, brown hair or coloring out her grays, so the shorter 'do is a refreshing change of pace. The look definitely suits her!
Hatcher isn't the first star to chop her locks. Stars like Hilary Duff have also made changes to their hair. Duff debuted a shorter cut in April 2020, during the height of the coronavirus pandemic. She captioned the shot with a simple; "Yea," seemingly capturing everyone's feelings during that time. "Real Housewives of New York" star Sonja Morgan also seems to prefer her shorter blonde cut over her longer tresses, and Charlize Theron traded her shaggy cut from "Fast and Furious 9" for a breezier summer look. It's obvious Hatcher is in great company!
Fans can't stop talking about Hatcher's new look. Keep scrolling to see her new 'do.
Fans are raving about Teri Hatcher's shorter hairstyle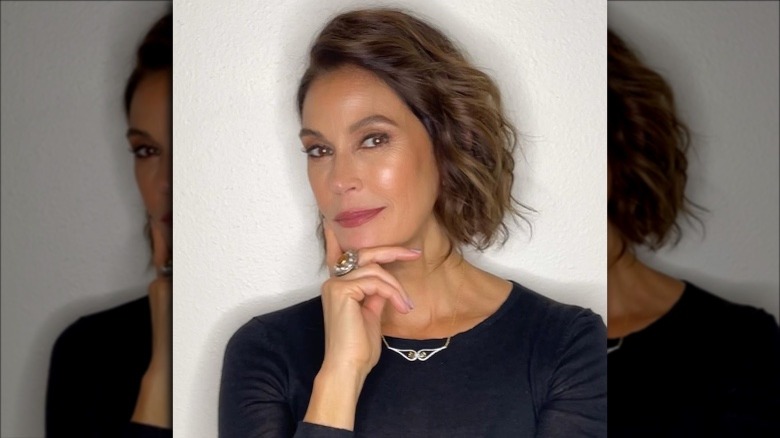 Teri Hatcher's new hairstyle is getting five-star reviews from her famous friends! She captioned the shot with, "Just makin it official….in case you missed it." Lisa Rinna commented with "LOVE!!!!!!!!!" and Tan France added, "Looks so good!"
Fans also clamored over her new hair, and referred to her as her "Desperate Housewives" character Susan in the comments. One wrote, "Beautiful Susan." Another chimed in with, "Susan," along with a flame emoji hinting at her good looks. One fan added, "You really can pull off any look, you look stunning!" Hatcher included the hashtag #ageisjustanumber in her post, so we would have to agree.
This is not the first time Hatcher has showed off her changing hairstyles on social media. In March 2020, she led her followers through a hair coloring tutorial to cover grays. Despite her celebrity status, Hatcher has colored her hair at home for years. "Many, many, many years ago when I was doing 'Desperate Housewives,' I started dyeing my grey roots myself because I didn't have time to go to the salon," she said. "That was what felt comfortable to me."
Hatcher enjoys a good hair day like the rest of us, as she told Glamour in October 2020: "I always feel so great when I have a good hair day because I appreciate all the days I don't feel like I have good hair days! But I always love my hair when I've taken the time to blow it out, because it just feels fresher and better."
Source: Read Full Article