Netflix's "The Crown" shared the first look of its new Queen Elizabeth II on July 30, revealing actor Imelda Staunton sporting a short gray do and a string of pearls. The photo sent shockwaves through Twitter because many fans cannot envision Staunton as anyone else but Dolores Umbridge from the "Harry Potter" film series. Staunton played the villainous professor in "Harry Potter and the Order of the Phoenix" and "Harry Potter and the Deathly Hallows: Part 1, according to her IMDb. It seems like fans are still living in Hogwarts, as one wrote, "She leveled up after the war I thought she was locked up in Azkaban." Another added, "Do a harry potter crossover." A fan chimed in with, "Bet the royal family members will have to pass O.W.L.s test next season."
Despite the comparisons to Professor Umbridge, positive comments flooded the post and many praised Staunton's acting chops. A fan penned, ​​"Stunning!! Imelda Staunton will be a frontrunner for the Emmys next season no doubt!!!! Watch it out." Another fan wrote, "I think Imelda will do fantastically. Brava! Welcome to the team!" One added, "Imelda can do anything."
So, what has Staunton said about the role? We reveal her feelings on taking over for Olivia Colman below.
Imelda Staunton knows she has big shoes to fill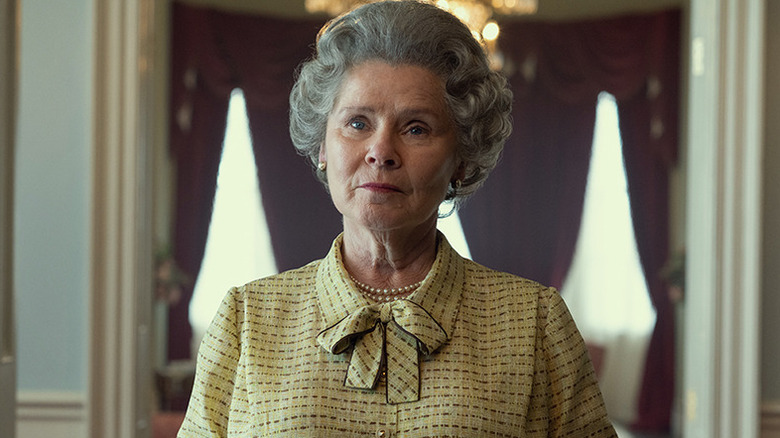 It's fair to theorize Imelda Staunton was anxiously awaiting the day her first-look photo as Queen Elizabeth would be revealed, as she had expressed some nervousness about taking on the role in the first place. "There's pressure from every angle," she told HuffPost UK's "This Morning" in October 2020. "I'm following two extraordinary actresses, but I'm also following one extraordinary human being, which is the Queen. Because she's so much in a lot of our lives and we know how she looks and how she sounds."
Still, Staunton is more than up for the job. "Of course I have to be like her as much as I can, but also I have to tell a story and a story of the day, whatever that is," she explained. "[Writer] Peter Morgan's job is to do her backstage life, if you like – that's where his writing comes in, and it's so extraordinary."
So, will Staunton live up to expectations? If fans can take "Harry Potter" out of the mix, we bet she'll be well-received!
Source: Read Full Article