It feels like the royal rifts between Prince Harry and his brother, Prince William, and dad, King Charles, have been going on for (*looks at watch*) approximately forever at this point. A lot of people would really love to see the royal relatives make nice, and, before her death earlier this month, Queen Elizabeth II was apparently one of them.
According to royal historian Robert Hardman (author of Queen of Our Times: The Life of Elizabeth II, if you'd like to look into his credentials a bit), the late monarch was one of the biggest proponents of a reconciliation between Harry (whom she had a great relationship with until the end of her life, btw) and the rest of the royal fam.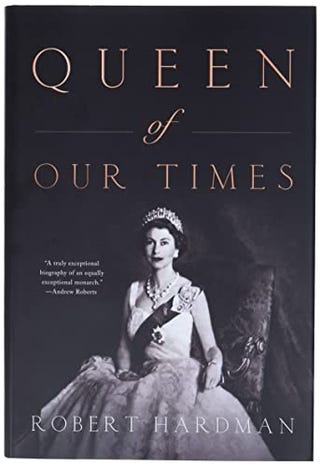 "The Queen adored Harry right to the end, and Harry adored her," Hardman told People. "I think she was one of the conduits between Windsor and California, and it would have been one of her dearest wishes that they patch things up."
It's not just literal authors of royal history books who have spoken out to make it clear that the Queen would have wanted Harry to make peace with Will and Charles. Sources close to the royals have echoed the sentiment (albeit anonymously, as sources close to anyone famous tend to do).
"You'd think that all members of the family would unite and support the King, especially. Perhaps some wounds can be healed in the process," a source described as being close to King Charles said (also to People). "She knew that conflicts were a part of life, and she didn't hold grudges. Most of all, she wanted to see her family happy."
Royal fans had some hope that Harry and his wife, Meghan Markle, might have taken the first steps toward reconciling with Will and his wife, Kate Middleton, when the former Fab Four stepped out for a joint walkabout in Windsor to greet well-wishers after the Queen's death.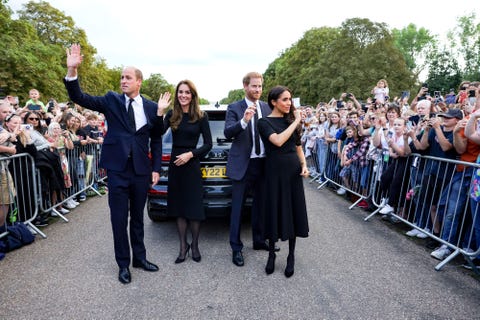 Sadly, sources close to the royals have dashed those hopes a bit in the weeks since the outing, making it clear that, even though the couples were able to smile and put on a united front for the public, things are still definitely strained between them.
"It was awkward," a source told People of the Sussex/Wales walkabout earlier this week. "Both couples found it hard. They were in a stoic spirit of just getting through it for the Queen."
Source: Read Full Article