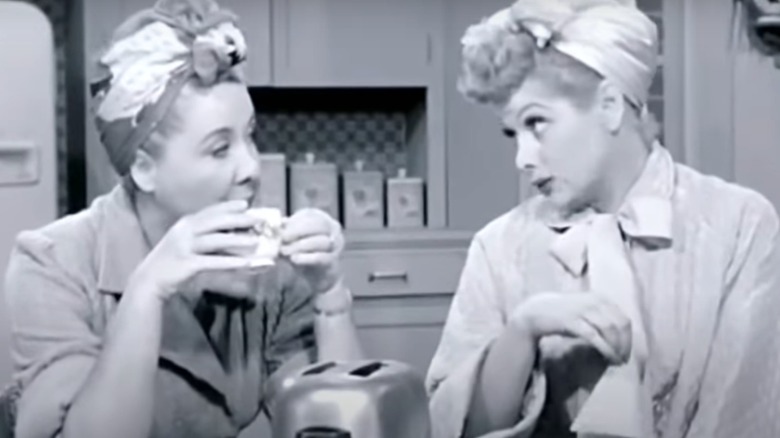 Lucy and Ethel were the first of television's best girlfriends, making audiences laugh long after "I Love Lucy" left the airwaves. In real-life, it was a friendship that lasted decades and what you saw on screen was what was often happening off-screen. Lucille Ball and Vivian Vance met when their legendary sitcom began and a death-till-us-part friendship was born.
Who can forget the zany antics of Lucy and Ethel as they got jobs at a chocolate factory and ate an abundance of candies just to keep up with the conveyor belt? And who can forget how they were always with one another through thick and thin, no matter the trouble they got in while trying to make Lucy the star she dreamed of being? That's what friendship is all about and that early television magic happened because the two actors behind those beloved characters hit it off from day one.
How the Lucille Ball and Vivian Vance friendship all began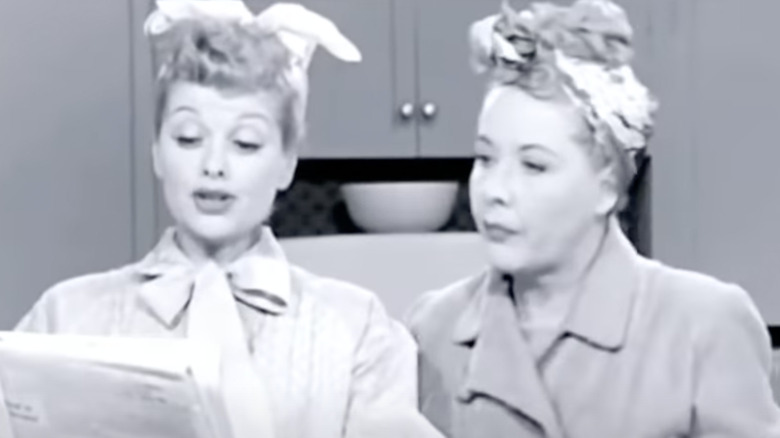 In 1948, Lucille Ball starred in a CBS radio sitcom called "My Favorite Husband." When the network wanted Ball to star in a television version of the same series, it eventually morphed into "I Love Lucy" and Ball insisted her own husband, Desi Arnaz, play her TV husband (via Vulture). By 1951, Ball and Arnaz began looking for performers to play their two best friends, a couple named Fred and Ethel Mertz who owned the Manhattan building Lucy and Ricky Ricardo lived in.
That's when Ball met Vivian Vance, a former theater actor who had appeared in a few movies without yet finding her fortune and fame (via The Famous People). Ball recalled how she and Vance felt like friends almost immediately in her autobiography "Love, Lucy."
"As far as I was concerned, it was Kismet. Viv and I were extraordinarily compatible. We both believe wholeheartedly in what we call 'an enchanted sense of play,' and use it liberally in our show" (via Showbiz Cheat Sheet).
Hard times hit the Lucille Ball-Vivian Vance friendship but it remained strong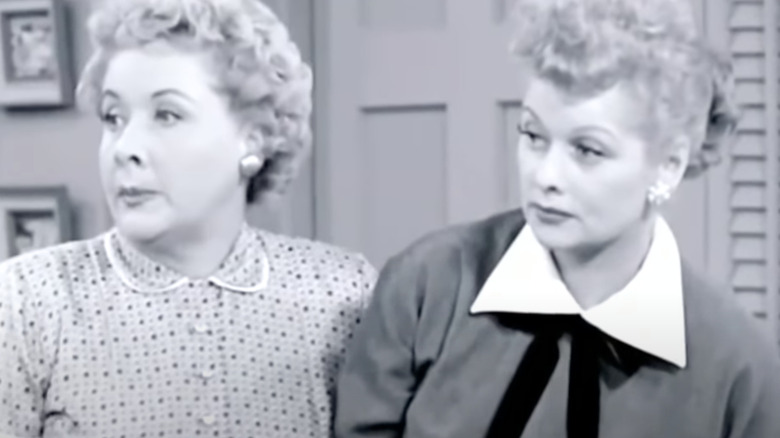 Toward the end of "I Love Lucy"'s run, both Lucille Ball and Vivian Vance made personal decisions that mirrored one another. Ball decided to divorce Desi Arnaz, whom she had been married to for 20 years. Like her friend, Vance chose to end her 20-year marriage as well.
"I had lost my good humor and sense of proportion," Ball wrote in her memoir (via Showbiz Cheat Sheet). "I decided to divorce Desi. During this period, Vivian Vance was getting her divorce from Phil Ober, and she was upset and miserable, too. Vivian and I have always been extraordinarily compatible, so we were especially close during this time of misery. Occasionally, however, our tempers grew short; this was a very rough spell for all of us."
Ball also described a battle between the two women that left them not speaking for a few days, but the stalemate ended before taping the show in front of a live audience. "We sat side by side, putting on our makeup. Although not a word had been spoken, I suddenly blurted out, 'Vivian, you know that line' — I repeated it — 'You're not reading it right. It should be…' And I gave her my interpretation."
Vance then asked why she hadn't mentioned this before. "'Well … we weren't speaking, and I'd be damned if I'd tell you!' Our eyes met in the mirror and we collapsed into laughter. We could never stay cross with each other for very long" (via Showbiz Cheat Sheet).
Lucille Ball was there for Vivian Vance till the end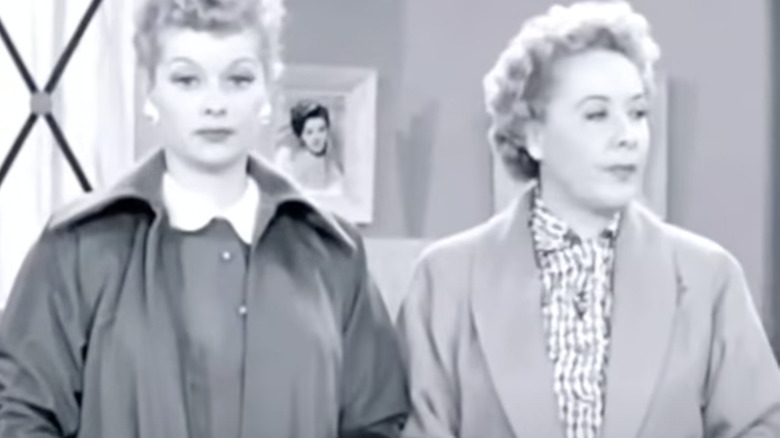 After "I Love Lucy" ended in 1957, the four main performers still appeared together on "The Lucy-Desi Comedy Hour" until 1960. After that, Lucille Ball and Vivian Vance's friendship remained strong for nearly another two decades.
When Vance was dying from bone cancer in 1979, Ball visited her old co-star and partner-in-slapstick-crime to say her goodbyes. In 2020, author Paige Peterson, who was a friend of Vance's and there for her final meeting with Ball, told People how the two bid one another farewell. "You could hear them laughing, and towards the end there was a lot of sobbing," Peterson said. "It was an amazing thing to witness. The love of these two women … We had brought Viv down and she was lying on the couch in the living room. They ate lunch and they talked and talked. Viv knew she was dying."
Peterson then relayed what she saw when Ball left. "The pain on her face shook me to my core. She was in tears. She couldn't speak. I think Viv gave up after that." Vance died only a few days after that last meeting on August 17, 1979. Ball went on to live another 10 years and died from a ruptured aorta after open heart surgery on April 26, 1989 (via Biography).
Source: Read Full Article