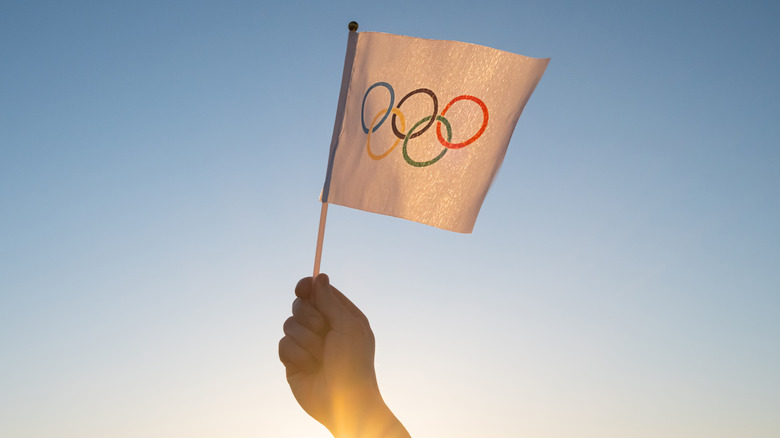 It's finally the moment we've been anticipating for years: the 2021 Tokyo Olympics. It was a bit touch and go for a while there, however, as no one was sure if they would even end up happening due to the inherent unknowns of the ongoing COVID-19 pandemic. Even more concerns arose when, back in January, entrepreneur Sir Keith Mills told the BBC that organizers should be "making plans for a cancellation," adding that he believed the continuation of the event to be "unlikely." But we all took a collective deep sigh of relief when on July 23, the games began, with some games like softball and soccer beginning even earlier, on July 21 (via the Washington Post).
So far, the Tokyo Olympics are already reminding viewers of the incredible, awe-inspiring athleticism and strength of these Olympians, who trained so hard to get where they are. Some of the stand-out performances have come from the likes of Tom Daley, Simone Biles, Oksana Chusovitina, Ariarne Titmus, and Chase Kalisz, amongst many, all of whom have been breaking records and taking names (via CBS News).
Did you know that there have been 28 Summer Olympics and 22 Winter Olympics (via World Atlas)? That's an impressive number of record-defying athletes. But after all of these years of sports and teams, we have to wonder: are there any Olympic sports that compete co-ed?
The debate surrounding the performance gap between men and women is a common one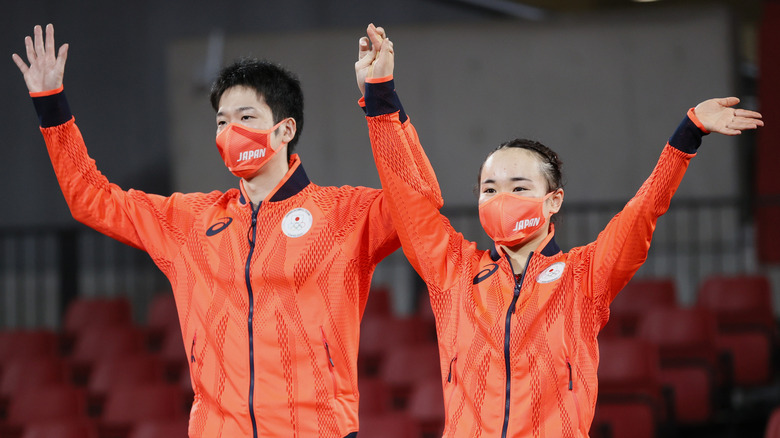 The conversation surrounding whether men and women can, and should, compete on the same teams is not new; many question the logistics of men and women competing against one another. Historically, when it comes to the majority of sports, there are men divisions and women divisions and they very rarely overlap or compete against one another, if at all. Reports suggest that this is due to men and women performing differently in certain sports. 
According to The Perspective, "In short sprints, even the most talented women are at a disadvantage when competing against the average male athlete. This is due to reasons such as differences in muscle mass, innate strength, testosterone levels, or socially constructed gender differences." Additionally, sources report that a "performance gap" does exist when it comes to men's and women's sports. 
The outlet says that the difference in athleticism and sports process is quite wide, between 8 to 12%. Some say that this gap is physically impossible for women to bridge. "The top women in 100m sprints and the long jump still lag around 10% behind their male counterparts. Additionally, women's best scores in swimming or athletics don't even reach the top 400 men's scores."
Furthermore, a study at the US National Library of Medicine National Institutes of Health found that the performance gap stood somewhere between 5.5 to 17.5% in sports like freestyle swimming, long jumping, speed skating, etc. The outlet wrote, "These results suggest that women will not run, jump, swim or ride as fast as men."
Women hold some of the most impressive athletic accomplishments of all time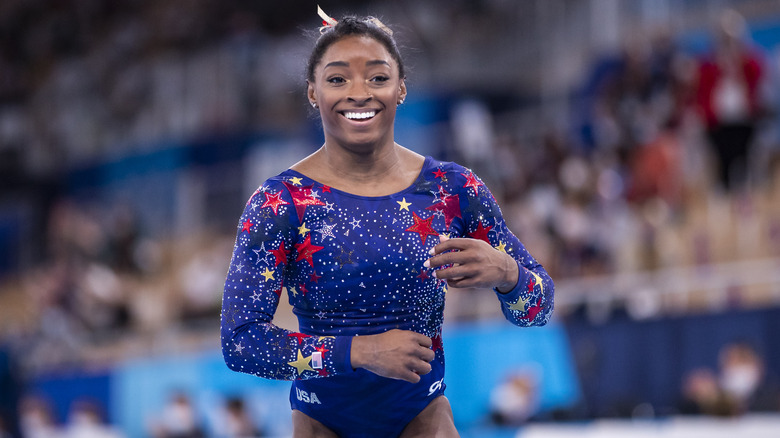 These studies by no means suggest that women are not athletically skilled. In fact, in just a few days that the 2021 Tokyo Olympics have been going on, countless women have broken decades-long records that have absolutely shocked the world. 
For example, Katie Ledecky holds the current world record in the women's 400m, 800m, and 1500m freestyle swimming, making her the greatest female distance swimmer of all time. Runner Shelly-Ann Fraser-Pryce is the fastest woman alive with countless broken records in her back pocket (via NBC Boston). 
And don't even get us started on Simone Biles, who is quite literally the most decorated and accomplished athlete at the Gymnastics World Championships in history, male or female. She has collected a mind-blowing 25 metals throughout her illustrious career, including 19 golds, 3 silvers, 3 bronzes, per teamusa.org.
These superlatives are nothing to blink at, regardless of gender. These women are some of the most incredible and decorated athletes of all time.
The gender pay gap in sports is severe and problematic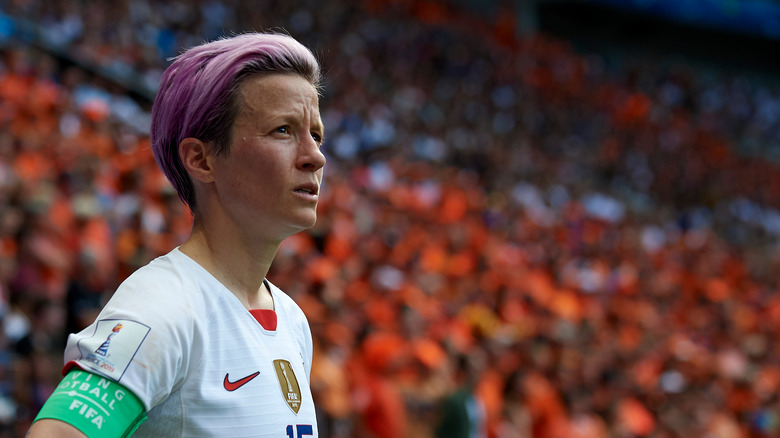 However, physical prowess aside, there is clear sexism involved in the contrast between men's sports and women's sports. On a large scale, female athletes are paid significantly less than their male counterparts. It's not a stretch to attribute this vicious inequality to blatant sexism and a false assumption that the public is less interested in sports played by women. According to Olivia Abrams per a 2019 Forbes article, "The top WNBA salary was $117,500 last season, compared with $37.4 million in the NBA." She added that while women's softball made $175,000, the Boston Red Sox brought in $227 million.
But it's more than just the salaries given to the athletes. There is a massive difference in "TV money between men's and women's sports leagues." Where Major League Baseball makes $10 billion in revenue, the NPF (National Professional Fastpitchplayers) make an average of $5,000 to $6,000 because of the league's low revenue. Abrams continues, revealing that when it comes to televised basketball, ESPN and TNT make 100 times more than that of women-focused channels, per Forbes.
Soccer star Meghan Rapinoe said it well when she spoke out against this vicious financial inequality in front of Congress. "What we've learned and what we continue to learn is there's no level of status, and there is no accomplishment or power, that will protect you from the clutches of inequality," Rapinoe said in her testimony. "One cannot simply outperform inequality or be excellent enough to escape discrimination of any kind" (via ABCNews).
Men and women compete against each other in these few sports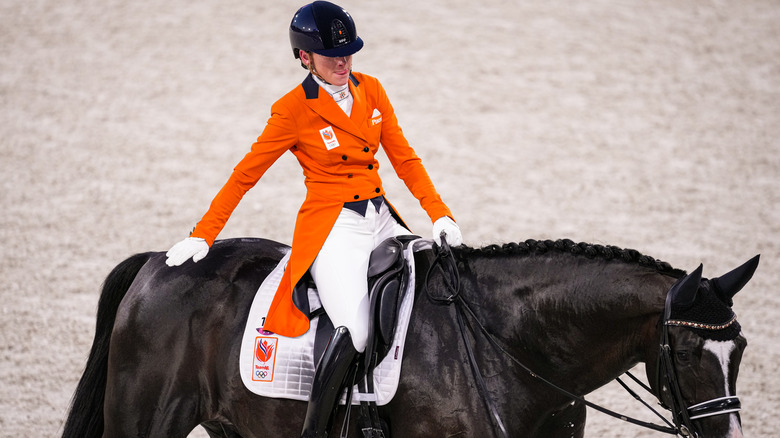 Is there anywhere in Olympics competitions where the segregation between men and women athletes doesn't exist? Well, according to Rules of Sports, there are, in fact, a handful of sports where gender does not play a role in the creation of teams. The idea surrounding these co-ed sports is that overall performances would not be attributed to one's gender in any way.
Firstly, "mixed events" are sports where teams of both men and women compete cooperatively. In these sports, men and women compete together in a way that is deemed completely fair and equally matched. These sports include badminton, luge, tennis, and ice skating. The first three consist of men and women competing as duos against other teams of co-ed duos, known as "doubles." Ice skating, on the other hand, does not take the form of head-to-head competition, but rather duos of men and women performing together. Their scores are subsequently compared to those of their rivals.
The other category of co-ed sports is called "True Mixed Sex," and this consists of men and women competing head-to-head. These sports are also ones that don't take physical prowess inherent to one gender or the other into consideration, as they aren't relevant in the outcomes of the competition. "True Mixed Sex" sports within the Olympics include horse racing, equestrian, sailing, motorbike racing, and darts, per Pledge Sports. And at this year's Tokyo Olympics, archery is one of the newer mixed-sex sports. According to 6News, "Each coed team has three men and three women."
Here are some of the ways the Tokyo Olympics are vouching for gender equality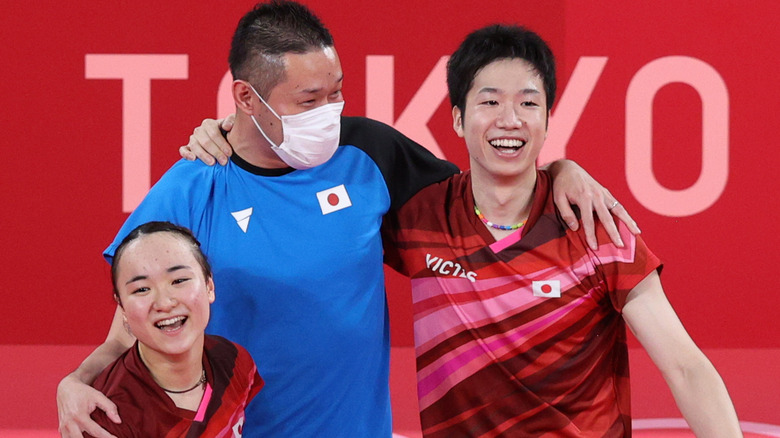 Sports no doubt have a long way to go before women can begin feeling like they are properly and fairly represented within athletics. But this year's Tokyo Olympics is giving the public hope. In fact, according to Leah Rodriguez via Global Citizen, this year is predicted to be the most gender-equal Olympic sports of all time. 
There have been many stipulations added this year, some big and some small, that represent an active interest in equaling the playing field. Some of these changes include teams of every sport being required to have an equal number of women and men, with the exceptions of certain sports that involve different roster sizes; each country is asked to nominate one man and one woman to represent their respective countries as flag bearers during the opening ceremony; an equal number of men and women's weightlifting teams. Rodriguez even points out that there are 11,000 female athletes at this year's Olympics which is more than ever before.
From athletes like Megan Rapinoe standing up for equal rights, to organizers in charge of the Olympics requiring more gender-equality amongst sports, it would appear that society is truly beginning to grapple with this important notion.
And in the meantime, we'll be sitting by and watching the women absolutely dominate the 2021 Tokyo Olympics.
Source: Read Full Article