We all know Barack Obama as the down-to-earth president who liked to make jokes and discuss sports with people during his two terms in the White House, while also attending to all the critical issues of the day — from healthcare to same-sex marriage. But behind the politician and prominent public figure is a man from Hawaii with a personal life, hobbies, preferences and dislikes just like the rest of us. You only have to look at his annual recommendation lists to prove it.
Things haven't always been easy for Obama, but he learned many lessons in the process — and taught them to us along the way, too. So you may think you know everything there is to know about the first African American president of the United States, but we're willing to bet you've missed out on a fact or two about his life. Let us walk you through the untold truth of Barack Obama.
Barack Obama's relationship with his father left him with questions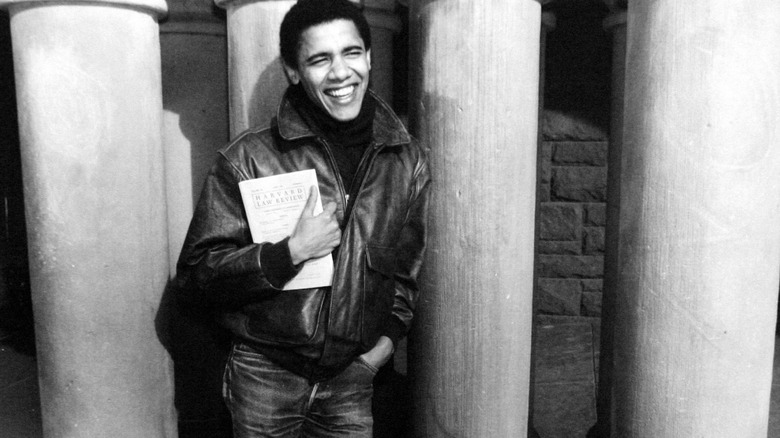 Barack Obama Sr. may have given his name to young Barack Obama, but he sadly didn't participate much in the future president's life otherwise. According to NPR, Obama Sr. was born in Kenya and moved to Hawaii in 1959 to attend university, which is where he met Stanley Ann Dunham, Obama Jr.'s mom. Soon, Dunham became pregnant with Barack Hussein Obama, marrying Obama Sr. three months later, also per NPR. The problem? The elder Obama was already married to a woman in Kenya, with whom he shared two children, but Dunham thought he was divorced and didn't know about the kids.
In a recent Instagram post, Obama Jr. shared a picture of himself as a 10-year-old posing with his father, who had left him and his mother when he was a toddler. He only visited them once after that, and died in a car crash in 1982, according to The New Yorker (the outlet also touches on the "suspicions" that Obama Sr. could have been murdered, but this remains a rumor). Regarding the visit, Obama Jr. wrote, "His short visit had a profound impact on my life. My father gave me my first basketball and introduced me to jazz. But for the most part, the visit left me with more questions than it answered, and I knew I would have to figure out how to be a man on my own." Speaking of their shared father, Obama Jr's half-brother wrote in his 2009 book that he was abusive (via Today).
If you or someone you know is dealing with domestic abuse, you can call the National Domestic Violence Hotline at 1−800−799−7233. You can also find more information, resources, and support at their website.
Barack Obama's mother was a huge influence in his life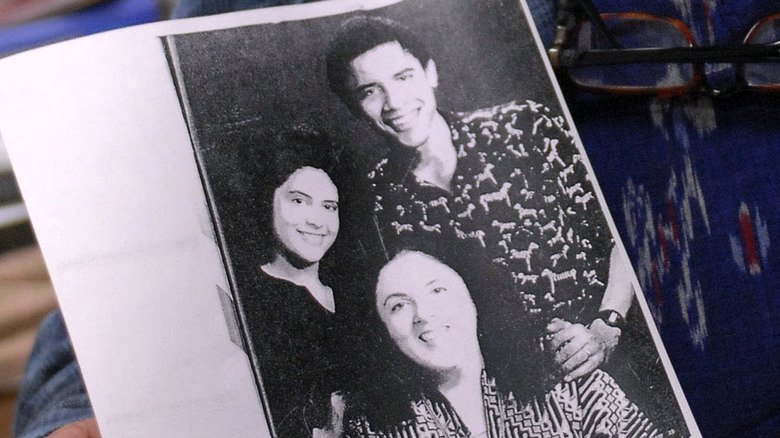 Barack Obama's mother, Stanley Ann Dunham (or simply Ann Dunham), was born in Kansas and moved to Hawaii in 1960. This is where she gave birth to Obama, and where she lived with her son for several years, according to NPR. Dunham fought hard to give her son the high-level education she wanted him to have, and he has repeatedly expressed a lot of gratitude for the influence his mother has had on him throughout his life.
Obama posted a photo of himself as a child with his mother on Instagram, writing, "my mother, Ann Dunham, was strong, smart, and marched to her own beat. For her, the world offered endless opportunities for moral instruction. My sister Maya and I got early lessons about the struggle for civil rights, the impact of poverty on people around the world, and the importance of respecting other cultures and considering other points of view." 
He continued, "'The world is complicated, Bar,' she used to say. 'That's why it's interesting.'" Obama reiterated this idea in an interview with Oprah Winfrey, sharing, "My mother taught me empathy — the basic concept of standing in somebody else's shoes and looking through their eyes." According to the Stanley Ann Dunham Fund website, Obama's mom died in 1995 of ovarian cancer. She was an accomplished anthropologist and dedicated her time to helping out global communities and living according to her strong values.
Barack Obama moved around a lot as a child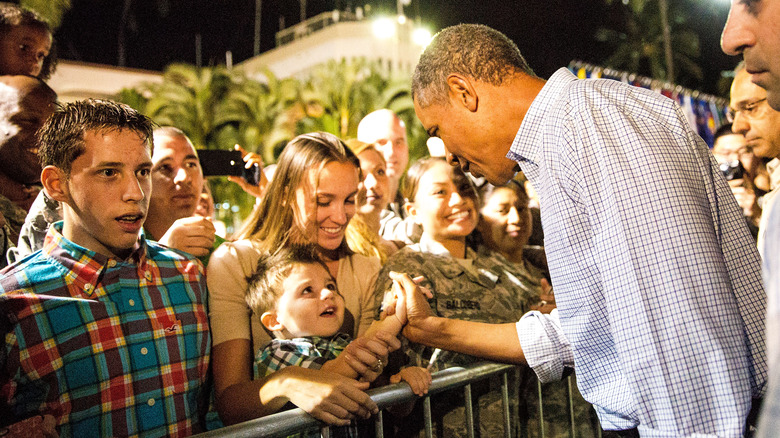 Barack Obama was born in Hawaii, then his mother quickly relocated him to Seattle before moving back to Hawaii again when Obama was a toddler, according to NPR. "The memories of my childhood in Hawaii are so important to me," Obama told National Geographic in 2017. "People ask why do I stay calm in the midst of a lot of crazy stuff going on, well, I always tell people I think part of it's just being born in Hawaii."
Later, Obama's mother would marry an Indonesian man named Lolo Soetoro and the family would move to Indonesia in 1967, where Obama would live for four years. "He was a clever boy," one of his Indonesian classmates told Reuters. "Whenever a teacher asked him to solve a problem in front of the class, he could do it." Eventually though, Dunham decided that Obama needed to return to the United States in order to receive the kind of education she wanted him to have, per NPR. There, he lived with his maternal grandparents until he shipped off to Occidental College in Los Angeles at 18, followed by Columbia University in New York City two years later, according to Biography.
Race was a complicated issue for young Barack Obama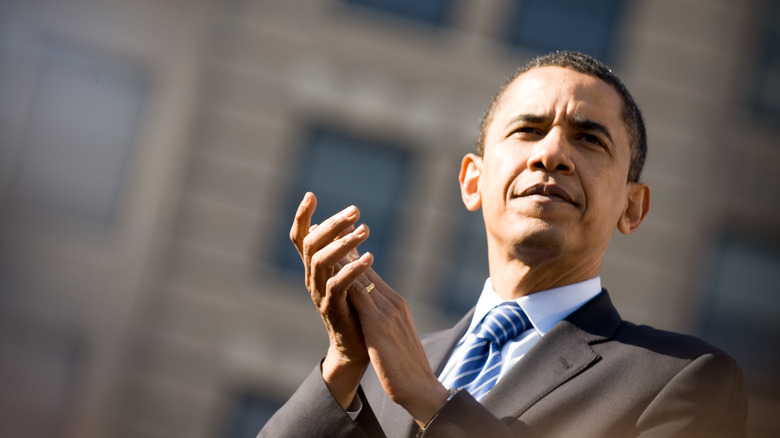 Barack Obama is "the son of a Black man from Kenya, and a white woman from Kansas," as he declared during a well-known speech on race in 2008. "I have brothers, sisters, nieces, nephews, uncles and cousins of every race and every hue scattered across three continents," he continued. And as a kid, he felt a good deal of fear and anger about how Black people were treated. "People were satisfied so long as you were courteous and smiled and made no sudden moves," he wrote in his memoir "Dreams From My Father." "They were more than satisfied; they were relieved — such a pleasant surprise to find a well-mannered black man who didn't seem angry all the time."
But Obama hid his frustration, and there was a sense among his Hawaiian classmates that their school was actually pretty well integrated and tolerant. "We had chapel sessions on the Bahai faith, Islam, Judaism, and all forms of Christianity," one of them told the Los Angeles Times. "The message was that diversity made for a richer community." Another chimed in, "We didn't think about his blackness." 
But his race weighed on Obama's mind. "I noticed that there was nobody like me in the Sears, Roebuck Christmas catalog that Toot and Gramps sent us, and that Santa was a white man," he recalled in "Dreams From My Father." "I kept these observations to myself, deciding that either my mother didn't see them or she was trying to protect me, and that I shouldn't expose her efforts as having failed."
President Obama experimented with drugs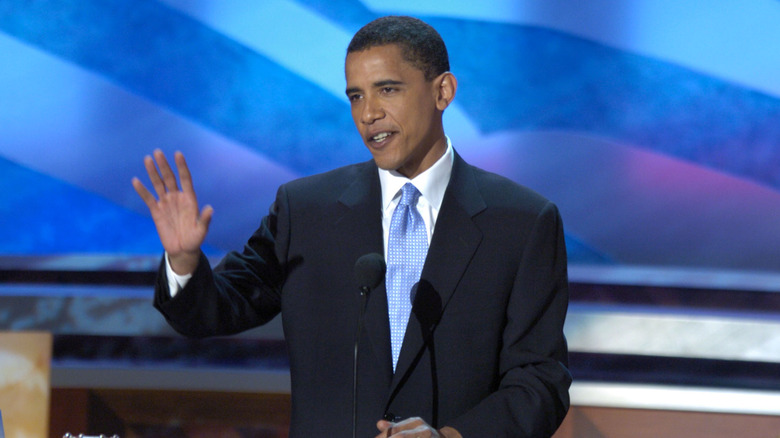 In search of who he was, Barack Obama experimented with different ways of life as a young man — including trying out drugs. In "Becoming," Michelle Obama tells the story of meeting her future husband and finding him to be "cerebral," but recounts his admittance that he hadn't always been this way. "There was a time, he told me, when he'd been looser, more wild," writes the former first lady. "He'd spent the first twenty years of his life going by the nickname Barry. As a teen, he smoked pot in the lush volcanic foothills of Oahu. At Occidental, he rode the waning energy of the 1970s, embracing Hendrix and the Stones."
In his own memoir, "Dreams From My Father," Barack painted a less romanticized picture of his drug use. "Junkie. Pothead. That's where I'd been headed: the final, fatal role of the young would-be black man." He used drugs as an escape. "I got high for just the opposite effect, something that could push questions of who I was out of my mind, something that could flatten out the landscape of my heart, blur the edges of my memory." When Barack Obama ran for president, there was some debate as to whether this past would hurt his campaign, but it ultimately didn't impede his journey to the White House. "Those choices were misguided, a serious mistake," he told The State Journal-Register (via the Independent). "Growing up to be a man involves taking responsibility."
Barack Obama proposed to another woman before Michelle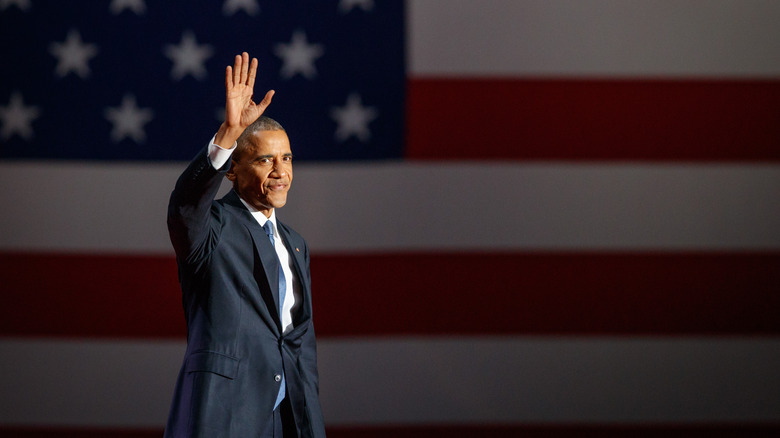 Many of us think of the Obamas as the ultimate power couple, a beautiful and real love story that has never not existed. But of course this is real life, and both Michelle and Barack Obama came with a romantic past of their own when they met. Barack Obama previously dated a woman named Sheila Miyoshi Jager while he was living in Chicago, as detailed in a 2017 biography of the 44th president, "Rising Star" by David J. Garrow (via The Washington Post).
It wasn't an easy relationship, with Jager admitting that Barack largely kept her out of his professional life. Still, it was serious, and Barack reckoned it had staying power: "In the winter of '86, when we visited my parents, he asked me to marry him," Jager told Garrow (via The Washington Post). But her parents were concerned, thinking it was too soon for them. They had many differences, but the future president would propose once more, before they finally broke things off.
Jager is a professor of East Asian Studies at Oberlin College in Ohio who has published several books, as well as participating in documentaries and writing articles for outlet Politico.
Michelle Obama 'refused' to go out with Barack Obama at first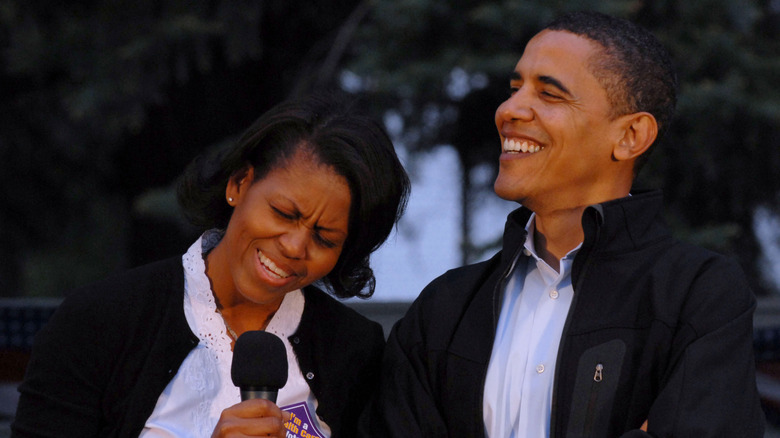 When Barack Obama, fresh out of his first year at Harvard Law School, joined Michelle Obama's law firm for the summer, she was assigned to be his mentor — and dating was the farthest thing from her mind. She even tried to set him up with one of her friends. "I'd gone out with a couple of guys in law school but hadn't met anyone special upon turning to Chicago and had little interest anyway. I'd announced to everyone, including potential suitors, that my career was my priority. I did, though, have plenty of girlfriends who were looking for someone to date," she writes in "Becoming," describing how she brought him along to a happy hour, where he had a fairly disastrous conversation with a friend of hers.
But Barack was set on Michelle, and he didn't want to give up. "I asked her out. She refused. I kept asking. She kept refusing," he wrote for Oprah.com. "​​'I'm your adviser,' she said. 'It's not appropriate.' Finally, I offered to quit my job, and at last she relented." They went on a first date that became the stuff of myths (and Hollywood movies). They argued about whether or not to get married, but at last Barack proposed, and the lovebirds tied the knot in 1992, per Brides. "Twenty five years later, we're still having fun, while also doing the hard work to build our partnership and support each other as individuals," Michelle wrote on Instagram in 2018.
Barack Obama's daughters are all-important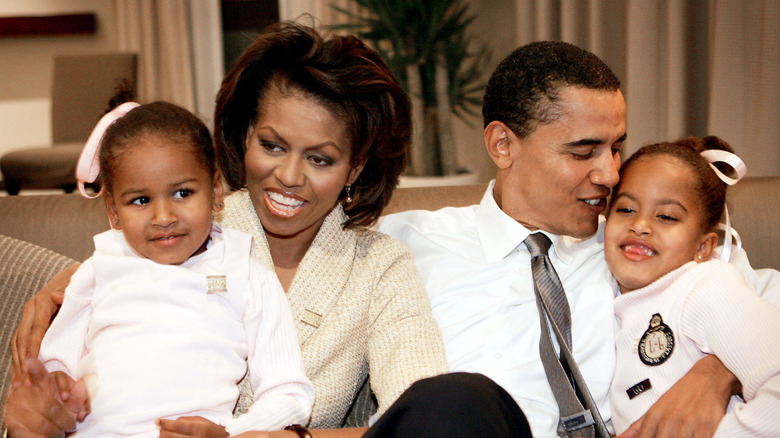 In "Becoming," Michelle Obama got raw about the fertility issues that made having kids difficult, and impacted on her life with her husband. So it was an even more special moment for both of them when Malia Obama was born in 1998, closely followed by her sister Natasha "Sasha" Obama in 2001. Since then, Barack Obama has often spoken about how important his daughters are to him, and how proud he is of them.
"Happy Fourth of July, and Happy Birthday, Malia!" Obama wrote on Instagram for the young woman's birthday in 2021. "It's been such a joy to watch you begin to make your own way in the world with poise, grace, and humor. I miss the days when you thought the fireworks were for you." Speaking to Jimmy Kimmel, Obama also joked about being "scared" of his youngest. "The reason is because Sasha is a mini Michelle, and I'm afraid of Michelle, and Sasha […] basically has the same look, and the same attitude," he said. "Uh, Malia is more like me temperamentally." In 2020, Sasha made waves on the internet when she popped up in various TikTok videos that unsurprisingly went viral.
Barack beautifully summed up the kind of man he wants to be for his family during an interview with Oprah Winfrey: "If my wife thinks that I'm a solid guy and if my daughters know that I love them and want to spend time with them, then that is probably the most important reward that I receive."
Barack Obama is a dog person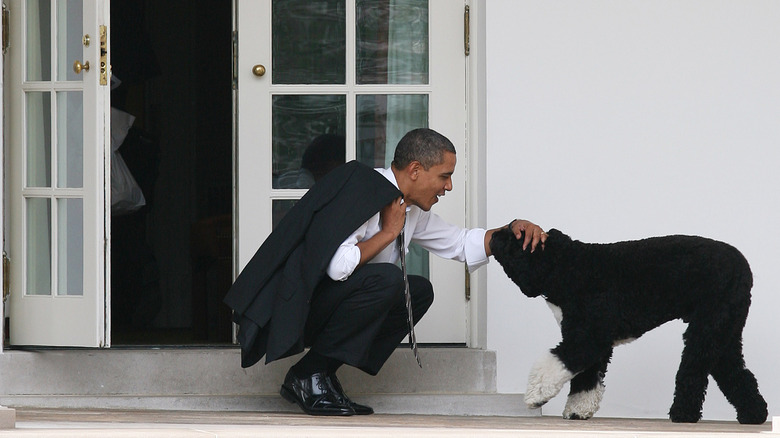 When Joe Biden was elected president, many commenters rejoiced in the fact that dogs would finally be returning to the White House. That's because they got used to seeing the Obamas' family pets roaming around the presidential residence while Barack Obama was in office, and Donald Trump doesn't have any dogs of his own. The Obamas first got a dog when Barack was elected president. Addressing his daughters in his acceptance speech (via the Obama Foundation), he said, "I love you both more than you can imagine. You have earned the puppy that is coming with us!"
That puppy, a Portuguese Water Dog named Bo, sadly passed away in May 2021 after 12 happy years with the Obamas. "As a family, we will miss Bo dearly," Michelle Obama wrote on Instagram. "But we are thankful that he lived such a joyful life full of snuggles, games of fetch, and evenings spent lying on the couch." The family got Sunny, a second Portuguese Water Dog, when Obama began his second term. Sunny was formally introduced in a sweet YouTube video posted by The Obama White House channel in 2013.
The impressive net worth of Barack Obama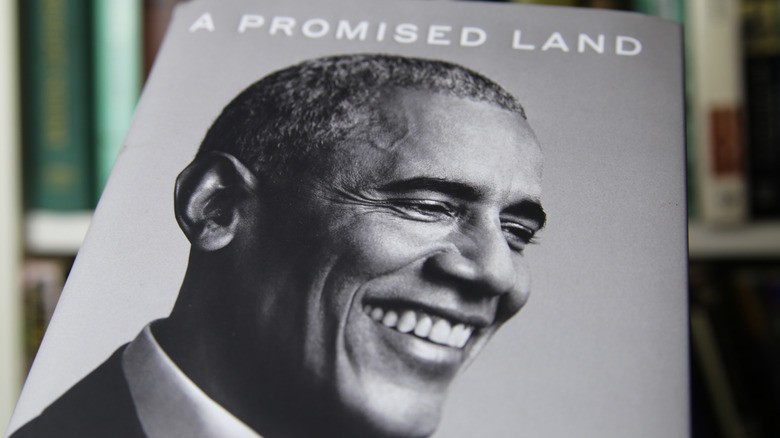 These days, Barack Obama is worth an impressive $70 million, but his finances didn't always look this way, according to Celebrity Net Worth. He actually received a pretty modest salary up until 2004, the year he was elected as a US senator. But it was the royalties from his first book, "Dreams From My Father," that made him a millionaire when it became a bestseller many years after it was published, corresponding with his ascension to political fame, as reported by the Guardian.
In 2017, Barack and Michelle Obama received a joint book deal advance of $65 million, according to Vox, which would turn into the twin books "Becoming," Michelle's memoir, and "A Promised Land," Barack's memoir. The latter sold 890,000 copies within its first 24 hours of publication in North America, per the Associated Press, a new record for its publisher, Penguin Random House.
Barack Obama also receives a large pension as a former president, which amounted to $207,800 in 2017 according to CNN Money, which was "about half of his presidential salary." Although the Obamas aren't known for their flashy lifestyle, Barack does plan to host a lavish birthday party in their $11.75 million Martha's Vineyard home in 2021, according to House Beautiful. The family's regular residence is a mansion in the Kalorama neighborhood of Washington, D.C. worth $8.1 million, per The New York Times.
Barack Obama is a proud feminist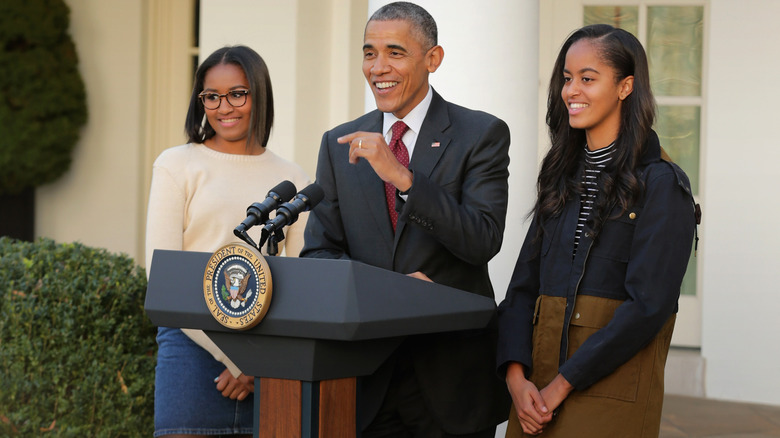 One of Barack Obama's greatest joys in life is being able to support his daughters in achieving whatever they set their minds to — and he recognizes that some of the opportunities they have been afforded would not have been possible without the decades of activism that led to greater women's rights today. On the flipside, he recognizes that there is still much, much more work to be done, and that is why he calls himself a feminist.
"Now, the most important people in my life have always been women," Obama wrote in Glamour in 2016. "But I also have to admit that when you're the father of two daughters, you become even more aware of how gender stereotypes pervade our society. You see the subtle and not-so-subtle social cues transmitted through culture." In the essay, Obama calls for people to reimagine their attitudes to girls and women, and pledges to further this mission as a man, a dad and a public figure. "That's what twenty-first-century feminism is about: the idea that when everybody is equal, we are all more free," he concluded.
This philosophy is very important to Obama. At the White House United State of Women in 2016, he declared, "I may be a little grayer than I was eight years ago, but this is what a feminist looks like." Mic drop.
Faith is a big part of Barack Obama's life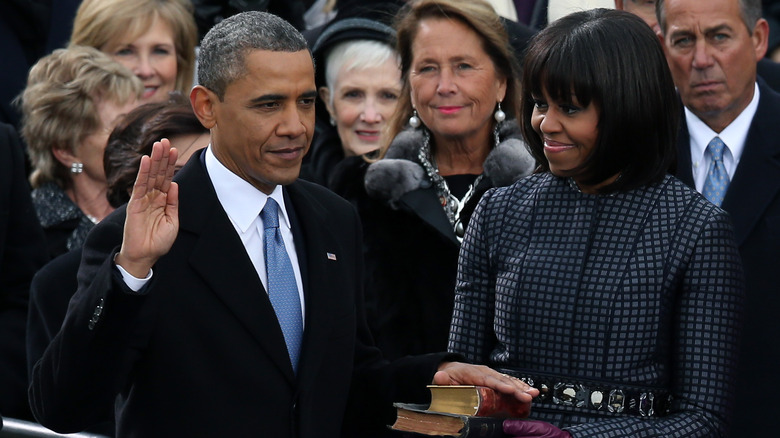 When a member of the public asked Barack Obama in 2010 about how he found his faith, he replied (via Reuters), "It was because the precepts of Jesus Christ spoke to me in terms of the kind of life that I would want to lead — being my brother's and sister's keeper, treating others as they would treat me. And I think also understanding […] that we're sinful and we're flawed and we make mistakes, and that we… achieve salvation through the grace of God."
Throughout his campaign and presidency, dissenters tried to spread the rumor that Obama was actually a Muslim — a rumor fueled by Islamophobia and the assumption that voters would be uncomfortable with a Muslim president (the latter of which turned out to be false, as pointed out by the Guardian). The rumors were so powerful that a 2015 survey found that a whopping 29 percent of Americans believed that Obama was in fact a Muslim.
Meanwhile, Obama has been guided by his Christian values throughout his life and presidency. While announcing his support of same-sex marriage, Obama told ABC (via Yahoo!), "​​[W]hen we think about our faith, the thing at root that we think about is, not only Christ sacrificing himself on our behalf, but it's also the Golden Rule, you know, treat others the way you would want to be treated."
Barack Obama always intended to become president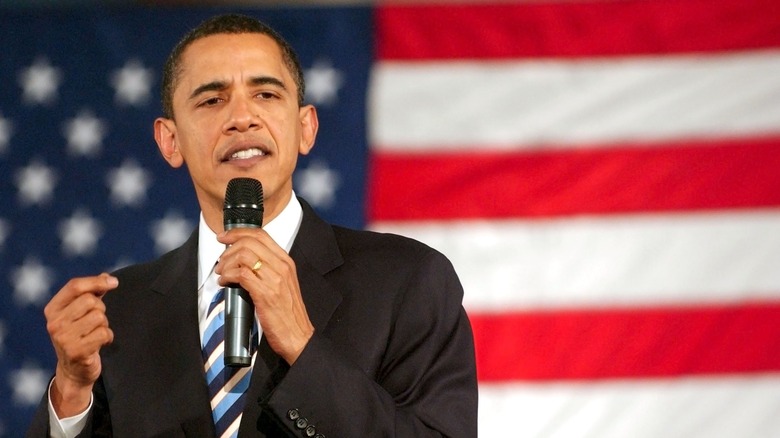 Barack Obama had a bit of a wild side as a young man, but then a change occurred in him and he became very serious and focused all of a sudden — he wanted to become president of the United States. At least that's what his ex Sheila Miyoshi Jager said when speaking to Obama biographer David J. Garrow.
"He became. . . so very ambitious," Jager recalled (via the Washington Post). "I remember very clearly when this transformation happened, and I remember very specifically that by 1987, about a year into our relationship, he already had his sights on becoming president." To this end, Barack first became a civil rights lawyer, then an Illinois state senator in 1996, then a US senator in 2004, according to Biography.
In "Becoming," Michelle Obama writes about the time her husband fully committed to running for president. "I supported him in campaigning, but I also felt certain he wouldn't make it all the way," she said. "Barack was a Black man in America, after all. I didn't really think he could win." But against her wildest hopes, Barack Obama was elected president in 2008, becoming the first African American commander-in-chief, and fulfilling what he had seen as his destiny.
Writing books has been a major thread throughout Barack Obama's life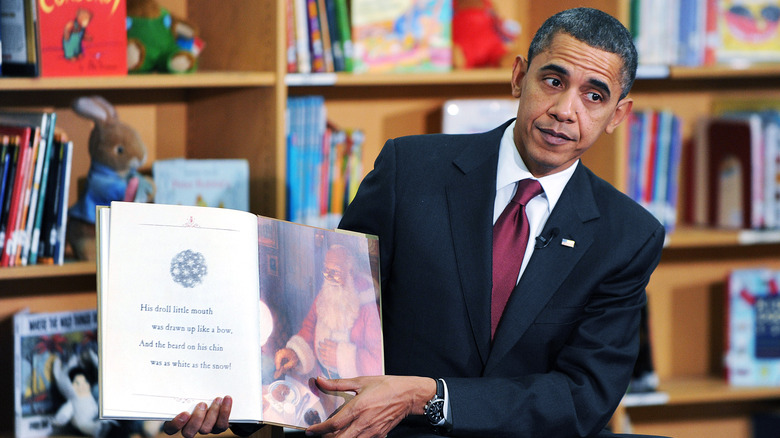 Barack Obama has always been a big reader — so much so that he now periodically shares extensive reading recommendation lists—but he's also fundamentally a writer. As a young man, he tried his hand at fiction, sometimes sharing the stories he wrote with his peers, according to Lit Hub. Fiction may have been Obama's early love, but it's in memoir-writing that he truly found his stride. Long before he became president, he penned the memoir "Dreams From My Father," which was published in 1995 and recounts Obama's quest to understand his father's life — notably by traveling to Kenya. Then came "The Audacity of Hope," published in 2004, and "​​Of Thee I Sing: A Letter to My Daughters," published in 2010.
Finally, Obama wrote "A Promised Land," which came out in 2020 and became an overnight sensation, according to the Associated Press. "Part of the goal of the book was to connect my personal journey with the public life that people saw," Obama told Jesmyn Ward for Vanity Fair. "What I wanted to do for the reader, particularly for young people, is to give them a sense of commonality between their day-to-day choices, decisions, insights, hopes, fears, and what somebody who ends up being the president of the United States is going through."
Source: Read Full Article