On "Love & Hip Hop: Atlanta," viewers witnessed Mimi Faust's failed relationships with her child's father, Stevie J, as well as with Nikko London (who somehow convinced her that it would be a good idea to release a *staged* sex tape together, per Us Weekly). Fans of the reality show soon grew to love Mimi, with many hoping she would find real love soon. Then, in 2016, Mimi revealed her new boo, WNBA player Tamera "Ty" Young. 
Although the two dated from 2016, they successfully kept things under wraps for years, before announcing their relationship in 2019. "My favorite girls," Mimi wrote on Instagram, along with a picture of herself, her daughter Eva Giselle, and Ty in a now-deleted post (via Republic World). One year going public, the two became engaged. 
"I've been trying to surprise her since August 2019," Ty wrote in another deleted Instagram post in August 2020, showcasing Mimi's ring (per USA Today). "From ring complications with the first designer and more; we're finally HERE!!!" Unfortunately, however, Mimi and Ty broke off their engagement in 2021. Find out more about their breakup below.
Mimi Faust admitted she didn't want to be married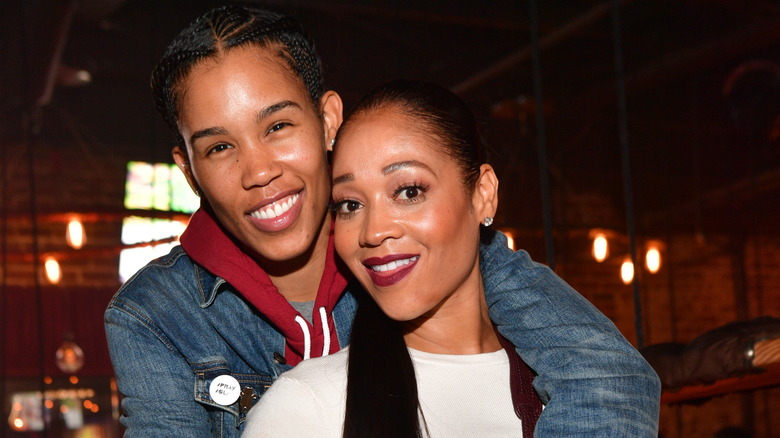 In March, Mimi Faust confirmed she had broken off her engagement to Tamera "Ty" Young," after fans noticed the two stopped sharing pictures of each other. As reported by Madame Noire, when a fan on Instagram asked Mimi if she was still engaged, she simply replied, "No." Later, during an interview, Mimi explained what happened.
On the June 11 episode of "Get Into It With Tami Roman," Mimi explained why she broke off the engagement. Apparently, this really wasn't what she wanted. "I think the turning point for me was engagement … that's not what I wanted," she told the former "Basketball Wives" star. Although she tried to explain this to her ex-fiancée, they couldn't seem to compromise, adding that Ty is used to getting what she wants. "And so that is what she wanted and she pressed forward with what she wanted, regardless of anybody else saying how they felt about it."
She continued, "I didn't want to be married, no." In the same interview, Mimi also explained how coming clean about it to Ty opened a "humongous can of worms." According to her, the two would have had a lot of work to do in order to make the marriage work. "There was a lot of things on that level for me to consider a lifetime with someone." 
Source: Read Full Article