For our free coronavirus pandemic coverage, learn more here.
Two aged care homes in Melbourne's north where a combined 83 residents died in COVID-19 outbreaks want a Supreme Court judge to make a ruling that would reduce the number of people in a class action against the centres.
Families of some residents who died after contracting COVID-19 at St Basil's Homes for the Aged in Fawkner and Epping Gardens Aged Care are part of a group that has launched civil action against the centres.
Residents who became infected and survived, and their families, are also part of the class action.
Effie Fotiadis outside St Basil's last year. Her father died in hospital after contracting COVID-19 at the home.Credit:Chris Hopkins
The group and their lawyers allege the homes breached their duty of care to residents by failing to protect them at the height of Victoria's deadly outbreak last year, and by failing to implement measures that would have prevented rapid transmission of the virus.
But lawyers for the care homes on Tuesday told the court there were differences among some of the plaintiffs based on allegations that some residents died or fell ill from COVID-19 while others died or became sick from alleged neglect.
The centres' lawyers want Justice John Dixon to make a ruling that would effectively separate the two types of allegation. If the judge backed the centres, the number of plaintiffs in the action could be reduced, which could in turn reduce the damages paid if the court ultimately found in favour of the families.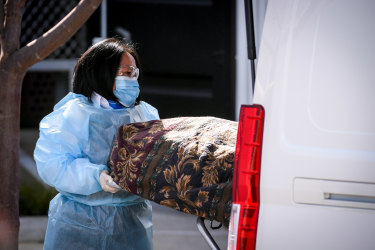 A body is removed from Epping Gardens Aged Care last year.Credit:Eddie Jim
Christopher Caleo, QC, acting for Heritage Care – the company that operates Epping Gardens Aged Care – said there was no common link between some cases and it was appropriate Justice Dixon removed them from the class action.
"They appear to be united by nothing more than … the fact it was an approved provider of aged care services," Mr Caleo told a case management hearing.
He and Patrick Over, for St Basil's Homes for the Aged, said the claims against the homes were individualised and had to be assessed to determine exactly how each resident became unwell.
"These are claims of a highly individualistic nature without any systemic or … common thread linking them," Mr Over said.
But Andrew Broadfoot, QC, for the families and surviving residents, argued it was "artificial" to distinguish between neglect and COVID-19 cases as both were attributable to the homes' alleged failings. Some residents had claims to developing COVID-19 from neglect, he said.
"The COVID allegations and the neglect allegations can't be separated when there's one duty of care and the breaches of the duty of care and the breaches of contract led to different consequences," Mr Broadfoot said. "They all take place in the same period and at the same facility."
The writs lodged with the court raise questions over whether the homes provided adequate levels of hygiene and treatment to residents. In the writ against Epping Gardens, plaintiffs allege the centre allowed staff and residents to not wear personal protective equipment, while St Basil's allegedly breached government guidelines by operating the facility when people's lives were in danger.
The lead plaintiff against St Basil's is Effie Fotiadis, whose 79-year-old father, Dimitrios, died on July 25 last year in hospital after contracting COVID-19 at the home.
In the class action against Epping Gardens, the lead plaintiff is Sebastian Agnello, who alleges the centre failed to place his 92-year-old mother, Carmela, in isolation to protect her. Ms Agnello died last July 28, a week after health authorities acknowledged an outbreak at the home.
Justice Dixon will make his ruling at a later date.
An independent review of the outbreaks at Epping Gardens, where 45 residents died, and St Basil's, where 38 lives were lost, found both facilities had poor emergency planning, inadequate staff training and insufficient infection prevention and control procedures.
State Coroner John Cain is also investigating the St Basil's outbreak.
The Morning Edition newsletter is our guide to the day's most important and interesting stories, analysis and insights. Sign up here.
Most Viewed in National
From our partners
Source: Read Full Article