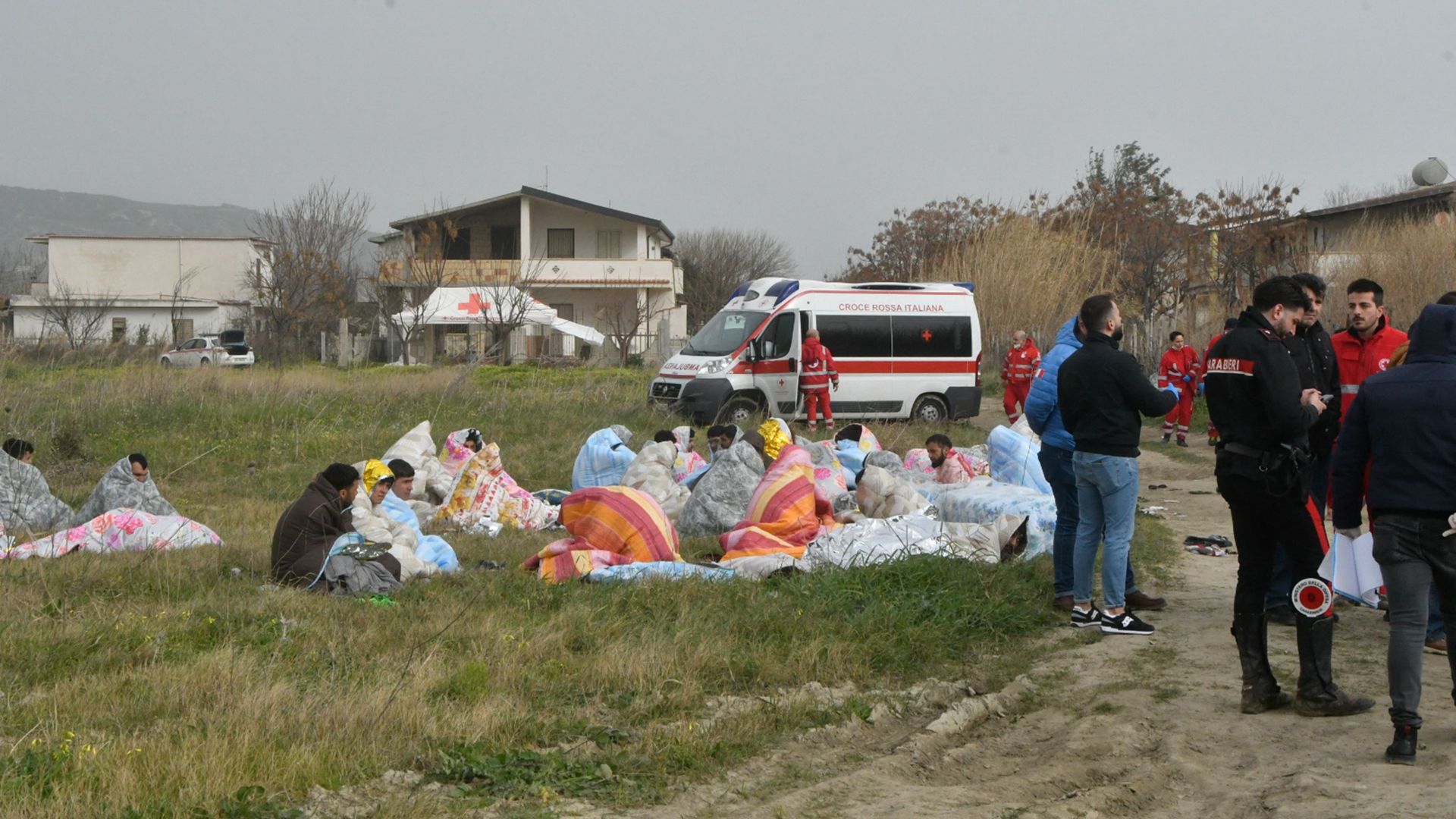 Migrants wrapped in blankets, and rescuers, in Steccato di Cutro, after their boat sank off Italy's southern Calabria region on Feb. 26. Photo: ANSA/AFP via Getty Images
At least 43 people have died after a boat carrying migrants crashed against the rocks off the coast of southern Italy early Sunday, the Italian coast guard said in a statement.
Driving the news: A total of 80 survivors have been found, and search and rescue operations are continuing, the coast guard added.
The shipwreck occurred near the seaside resort of Steccato di Cutro, off the coast of Calabria, the region that forms the tip of Italy's boot.
Italian media reported that the death toll was likely to rise, per the Washington Post.
The big picture: Splintered wood and parts of the boat have washed up on the shore of Steccato di Cutro, AP reported.
The Mayor of Cutro, Antonio Ceraso, said the boat had "disintegrated" in stormy conditions, per Reuters. Women and children were among the fatalities.
Estimates of how many migrants were aboard the boat varied, though Italian Prime Minister Giorgia Meloni said in a statement Sunday that 200 people were on board.
Italian AGI news agency reported that a months-old baby was among the victims, per Al Jazeera.
The boat had departed from Izmir, Turkey several days ago carrying people from Afghanistan, Pakistan and Somalia, a local government official said, per Al Jazeera.
State of play: In 2022, Europe saw its highest migration numbers since 2017.
While the Calabrian coast has seen little migration until recently, tightening restrictions in Greece has seen traffickers in Turkey chart a new route to bypass the Greek islands and bring migrants to Calabria, according to the Post.
Meloni's far-right government has taken a hard line on migration since coming into office last year. Earlier this week, Italy's parliament passed a law that would restrict the ability of humanitarian rescue ships to make more than one rescue at a time.
"More people in distress will be made to suffer and more lives risk being lost because timely help is not available, if this law is passed," UN High Commissioner for Human Rights Volker Türk said earlier this month.
Source: Read Full Article