Washington: The Manhattan District Attorney at the centre of Donald Trump's historic indictment has accused Republicans of "unlawful political interference" as tensions in the US escalated ahead of the former president's arraignment next week.
One day after a grand jury in New York took the unprecedented step of indicting Trump over hush money paid to a porn star, Trump also launched a new fundraising blitz off the back of his plight. Meanwhile, allies in Congress called for people to protest in the streets and Trump's favourite daughter Ivanka broke her silence over the case, declaring: "I love my father, and I love my country. Today, I am pained for both."
Then US president Donald Trump watches his daughter Ivanka speak at a rally ahead of the 2020 election.Credit:AP
Trump is expected to be arraigned in New York on Tuesday at 2.15pm EST, which would mark the first time a former US president has ever been processed, fingerprinted, and had his mugshot taken before appearing in court where his charges will be outlined as he enters a plea.
His team has reportedly made arrangements with the district attorney's legal team to surrender without handcuffs, and according to his attorney, Joe Tacopina, there was "zero" chance Trump would take a plea deal because "there's no crime".
But as Americans braced themselves for this extraordinary arraignment, the office of Democratic District Attorney Alvin Bragg hit back on Friday at House Republicans after they demanded he provide Congress with documents and an explanation for his actions, which they have described as a "witch hunt".
Manhattan District Attorney Alvin Bragg.Credit:AP
In a scathing six-page letter to senior Republicans Jim Jordan, James Comer and Bryan Steil, Bragg's general counsel Leslie Dubeck cited Trump's attacks on the district attorney and his social media threat last week that an arrest could unleash "death and destruction".
"As committee chairmen, you could use the stature of your office to denounce these attacks and urge respect for the fairness of our justice system and for the work of the impartial grand jury," she said.
"Instead you and many of your colleagues have chosen to collaborate with Mr Trump's efforts to vilify and denigrate the integrity of elected state prosecutors and trial judges and made unfounded allegations … We urge you to refrain from these inflammatory accusations, withdraw your demand for information, and let the criminal justice process proceed without unlawful political interference."
The broadside is one of the latest signs of the deepening chasm over Trump's indictment, which represents the first time a former US president has ever faced criminal charges – let alone a former president who is currently the frontrunner to be the Republicans' candidate at the 2024 election.
The indictment took place on Thursday (Friday AEST) when a 23-member grand jury of New Yorkers decided Bragg's team had presented enough evidence to bring charges against Trump over an alleged hush money payment to porn star Stormy Daniels.
Daniels said she had a sexual encounter with Trump in 2006, the year after he married third wife Melania. The adult film star had sought to sell her story for years, and in the weeks before the 2016 election, Trump's then attorney and "fixer" Michael Cohen paid her $US130,000 to stay silent over the affair.
She was due to have an exclusive interview with Piers Morgan on Friday, but pulled out due to apparent security concerns.
"Unfortunately, Stormy Daniels has had to suddenly postpone our interview tonight due to some security issues that have arisen. Hope she's OK," Morgan tweeted.
While the full charges won't be known until the indictment is unsealed next week, prosecutors have built their case around the allegation that Trump reimbursed Cohen but may have falsified business records and violated campaign finance laws.
The former president has denied the allegations and spent the past 24 hours fundraising over what he describes as "political persecution".
One of his latest pitches includes selling a T-shirt emblazoned with the words "I Stand With Trump". Another called on people to donate to a new campaign fund called "The President's Trust," in which he urged supporters to make a donation "to defend our movement".
Asked how the former president was feeling, Tacopina told CBS: "He's not worried at all."
"I mean, he's upset, angry, he is being persecuted politically. That is clear to many people, not only on the right, but on the left, and we as Americans honestly should be concerned," Tacopina said.
A group of Black Trump supporters demonstrate in favour of former the former US president.Credit:AP
"Today it's Donald Trump, tomorrow it's going to be a Democrat, the day after that it can be your brother, your son, your daughter."
Months after Trump was blamed for the Republicans' poor showing at the midterm elections, many senior party members are now rallying around him, while others are merely strengthening their loyalty.
Among them was far-right Congresswoman Marjorie Taylor Greene, who said she would travel to New York next week to protest against the indictment and urged others to join her.
"I'm going to New York on Tuesday. We MUST protest the unconstitutional WITCH HUNT!" Greene tweeted.
An almost tearful South Carolina Senator Lindsey Graham choked up with emotion on Fox News' Hannity program as he branded the indictment "legal voodoo" and begged supporters to send the former president more money.
"They're trying to drain him dry. He's spent more money on lawyers than most people spent on campaigns," he said.
And former vice-president Mike Pence, who is expected to run against Trump for the Republican presidential nomination, said the indictment sent a "terrible message" to the world about American justice.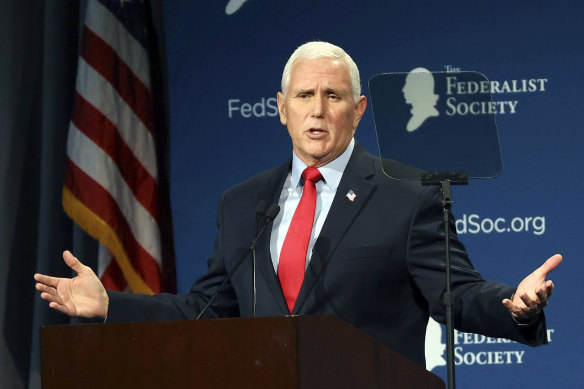 Former US vice-president Mike Pence.Credit:AP
"There are dictators and authoritarians around the world that will point to that to justify their own abuse of their own so-called justice system," Pence said during an interview at the National Review's Ideas Summit.
Amid concern about the potential for violence, the New York Police Department – which includes 36,000 officers and 19,000 civilian employees – has ordered every member of the force to turn up in full uniform.
Authorities were also on high alert in Washington DC, where the January 6 Capitol attack took place in 2021. However, neither city reported any major signs of civil unrest.
US President Joe Biden, meanwhile, has refused to weigh in on the matter, repeatedly telling reporters "no comment," as he left the White House en route to Mississippi to support the community following last week's tornado.
"I'm not going to talk about Trump's indictment," he said.
Get a note directly from our foreign correspondents on what's making headlines around the world. Sign up for the weekly What in the World newsletter here.
Most Viewed in World
From our partners
Source: Read Full Article