The business phone system continues to evolve nowadays. And with the emergence of new telecommunication technology, it's no wonder that some business owners might get overwhelmed by these technologies.
However, it is a good thing to know that the telecommunication revolution continues since it allows entrepreneurs as well as organizations to choose the best and yet affordable business phone system.
In this article, we will discuss another trending and very reliable communication technology: the IP Phone System.
Just What an IP Phone System Is?
Most often than not, IP phones are referred to as VoIP phones. Voice over Internet Protocol or VoIP uses a phone connection over the Internet.
Therefore, an IP phone system utilizes VoIP technology rather than traditional phone service. Before, VoIP was considered only as an alternative technology. However, as the world of digital continues to emerge with the latest state-of-the-art technology, VoIP now is the primary way that businesses and organizations implement their voice communication.
Let's go back a little bit to the traditional telephone system. You can visualize desk phones and a room called 'server room' to accept inbound calls. Also, you can think of many telephone lines being installed to connect the servers to every analog phone in the office.
With an IP phone system, this kind of scenario is eliminated since it uses the power of the Internet and the fact that the IP phone system is a cloud-based technology. This means that there is no need for a server room. And the good thing is, you can make and receive phone calls using an Internet connection alone.
What an IP Phone Looks Like?
Good question! Mobile phones, laptops or personal computers will let you take calls as long as you have Internet access and an IP telephony connection. Mobile phones that have an Internet connection and IP telephony application can be VoIP phones.
How Does this Phone System Work?
In layman's terms, any inbound calls are routed to your virtual server which is hosted in the 'cloud' by your service provider. Then your service provider converts the call into an audio file. After then, it conveys the data to your IP phone.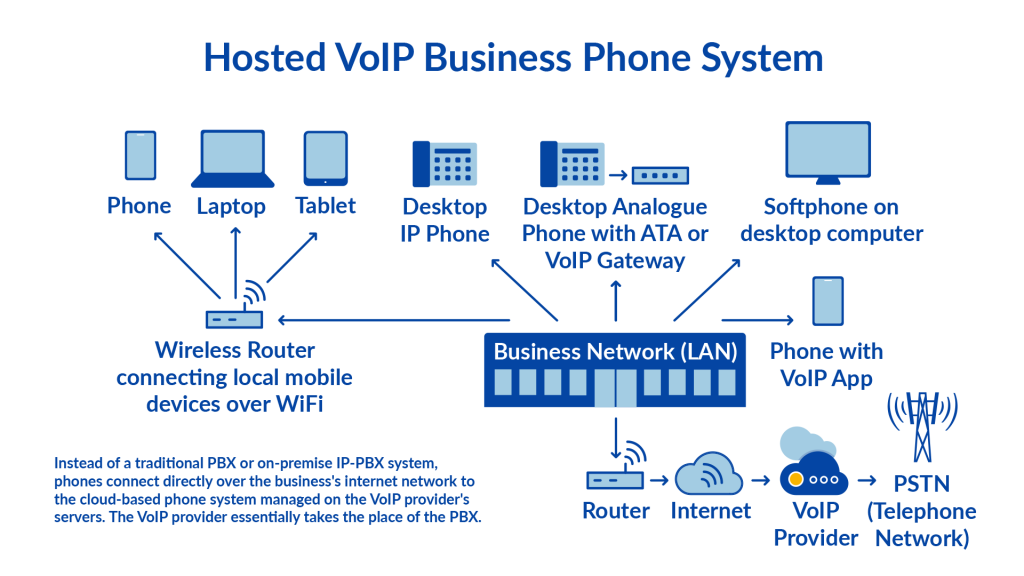 Simply enough, you are now connected to the caller, just the same with the actual transmission done through the Internet, instead of a cell tower.
Types of IP Phone Systems
Before you decide to integrate an IP phone system into your business, it is a MUST that you should know its different types.
On-premises – With on-premise, all hardware and equipment are installed in your office. Equipment and hardware such as copper wire, a server that connects to the desk phones, just the same with the traditional telephone line installed in your office.
Since an on-premise IP phone system is connected to a PBX (Private Branch Exchange) inside your business office via LAN (Local Area Network) connection, it would be easy for you to add additional features to enhance the communication system.
Moreover, you will have the ability to control your VoIP system's operation. But remember that with an on-premise IP phone system, you may need to hire an IT expert to execute all the related activities.
Cloud-based (Virtual) – Cloud PBX or hosted PBX is quite different from an on-premise IP phone system. A third party (service provider) handles everything related to your cloud-based phone system. The good thing is that all the setting up and maintenance are done virtually, which means that there is no need for you to hire an IT expert or someone coming to your office to install equipment and hardware.
However, there are two things that you should be able to provide: a device where the IP phone software is to be installed and a stable Internet connection.
With a cloud-based phone system, you still can make and receive high-quality calls without the cost of maintenance and set up.
Does Your Business Need One?
The answer lies in the resources of your business. With an on-premise, it provides you the total control of your VoIP system. However, since all the equipment and hardware are installed on your business premises, you have to rely upon most of the time to an IT expert to manage your IP phone system. And this can be too expensive on your part, especially if you're just a start-up business.
On the other hand, a cloud-based IP phone system only requires a strong and reliable Internet connection to avoid drop calls.
Benefits of IP Phone Systems
Whether you choose the on-premise or cloud-based IP phone system, you will still be enjoying the benefits and advantages of having one.
Cheaper to maintain and Set up
If you are a small business owner, the first thing that you would consider is your budget, right? You don't want to be stressed out because of paying a large amount of phone bills just to accept calls. And that is the point that you should integrate an IP phone system to your business.
Compared to the traditional wired setup, an IP phone system is way cheaper in two ways: Firstly, you don't need to set up brand new hardware to start with. And secondly, a stable Internet connection and Internet-connected softphones or handsets.
With an IP phone system, the only thing that you need to rely on is your Internet connection. Unlike the traditional telephone line system, there is no need to worry about entangled wires and cables, desk phones that work only in a specific position, and other issues.
But what if your Internet connection goes down unexpectedly? If that scenario happens, you can still make and receive calls through its call forwarding features. All you need to do is divert calls to another mobile device with a different Internet connection. By doing this, you don't need to worry about downtime.
Not all businesses indeed have sufficient phone lines associated with VoIP services. But this only provides companies the benefits of supporting their remote employees.
With an IP phone system, calls are now possible to be made and received from any location by the use of any compatible devices or mobile phones. You only need to add their cell phone numbers to your IP phone system then divert incoming calls to their devices, without necessarily staying in the office.
An IP phone system can provide you efficient advanced features that a traditional phone system cannot. Some of them are the following:
Call forwarding – whether you're away from the office or there is a power outage, your VoIP phone number automatically forwards unanswered calls to a different cell phone or landline number. This significantly reduces the amount of missed calls that might be too important to be left unanswered.
Virtual phone numbers – this is a very important factor to consider if you want to build a strong business presence in regions other than your area. Let's say that you want to establish your business in different states, virtual phone numbers will let you have local phone numbers for your clients or customers to call.
Conclusion
If you are interested to learn more about IP phone systems, or better yet, you are interested in having one, you can do your research to find a reliable VoIP service provider such as Telnum.net.
Integrating this state-of-the-art communication technology to your business will surely give you an edge over other rival businesses.