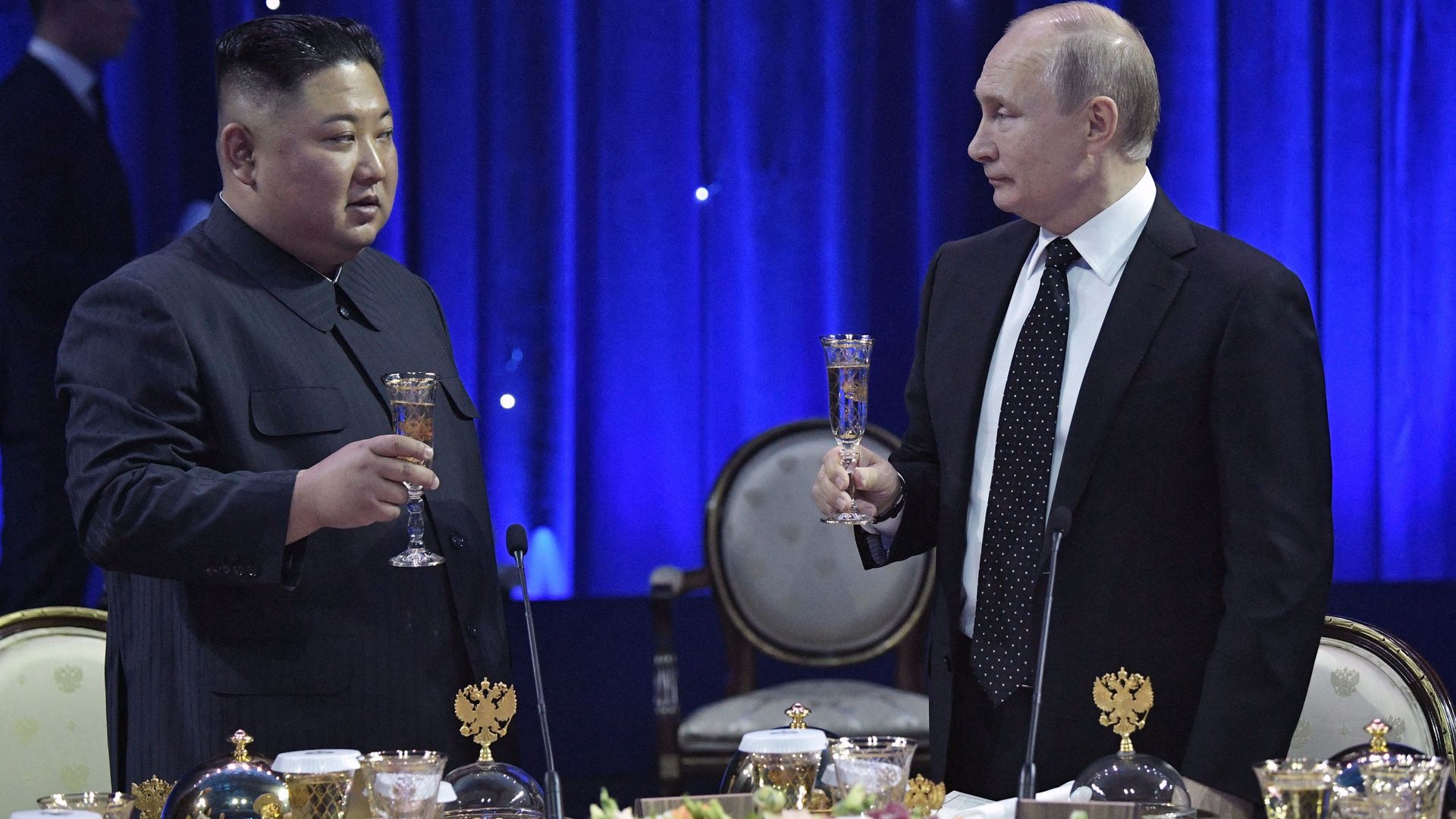 Vladimir Putin meets Kim Jong-un in 2019 in Vladivostok. Photo: Alexy Nikolsky/Sputnik via Getty Images
As much of the world backs away from Russia over its invasion of Ukraine, Moscow is providing cheap oil, a friend on the UN Security Council and sensitive military technology to those partners still standing by it.
Why it matters: According to the White House, Russia is swiftly moving toward a "full-fledged defense partnership" with Iran, and now plans to dispatch a delegation to negotiate with North Korea. Meanwhile, the U.S. continues to fear that China will abandon its supposed "neutrality" and back Russia more directly.
Driving the news: The U.S. Treasury sanctioned a Slovak arms dealer last Thursday for allegedly attempting to broker a deal whereby North Korea would send "over two dozen kinds of weapons and munitions" to Russia in exchange for "commercial aircraft, raw materials… commodities" and potentially cash.
The White House previously accused North Korea of supplying Russia's Wagner Group with missiles and rockets to use in Ukraine. Pyongyang denied arming Russia at the time, and said it had no intention of doing so.
National Security Council spokesperson John Kirby said Thursday that Russia intends to send representatives to North Korea to seek munitions in exchange for food. North Korea is experiencing a severe food crisis.
Between the lines: Both Russia and Ukraine are facing shortages of equipment and ammunition, artillery shells in particular.
Ukraine's backers in Brussels and Washington are scrambling to provide Kyiv with desperately needed 155mm shells.
With his own military-industrial complex struggling to keep up, the Biden administration claims, Russian President Vladimir Putin is turning to "rogue regimes."
Russia has been using Iranian attack drones in Ukraine for months, and in exchange is offering Tehran "an unprecedented level of military and technical support," Kirby warned in December.
Iran denies shipping drones since the invasion, and Russia has denied using them, though Ukraine regularly reports shooting them down.
In March, Moscow finalized a deal to sell advanced fighter jets to Tehran's poorly equipped air force. Iranian pilots have already received training on the system, the White House says.
A member of Iran's parliamentary national security commission told state media that Iran had also ordered helicopters, missiles, and air defense systems from Russia. According to the WSJ, Russia is also providing surveillance technology for domestic use in Iran.
CNN reports Russia has also sent some U.S. weapons captured in Ukraine to Iran for intelligence purposes. Monitoring the performance of their drones in Ukraine will also help Iran refine its technology and tactics, analysts say.
Several other countries are backing Russia's invasion at the UN,underscoring that a pariah to the West tends to be a friend to Putin.
Many were already close to Russia before the invasion. Syria's Bashar al-Assad and Belarus' Aleksandr Lukashenko both might have lost power if not for Putin, while Mali's junta relies on Wagner mercenaries.
Nicaragua's Daniel Ortega, increasingly reviled in Washington, is moving closer to Moscow.
So is Myanmar's military regime, which has held a series of high-level engagements with Moscow and purchased Russian weaponry, and is seeking to tap Russia's expertise in another area: nuclear power.
As with North Korea, Iran and Syria, Russia has blocked statements condemning Myanmar at the UN Security Council.
Many more countries aren't providing their arms or even their votes, but refuse to condemn Russia or suspend trade. Those include more than a dozen countries in Africa, India and, crucially, China.
For many of them, Russia is a key source of oil, weapons, fertilizer or grain.
For China, Putin's Russia is also a vital ideological ally in its rivalry with the U.S. While Beijing denies any intention of sending arms, and there's no evidence it's currently doing so, some analysts believe that could change if the Kremlin seems in danger of a destabilizing defeat.
Source: Read Full Article