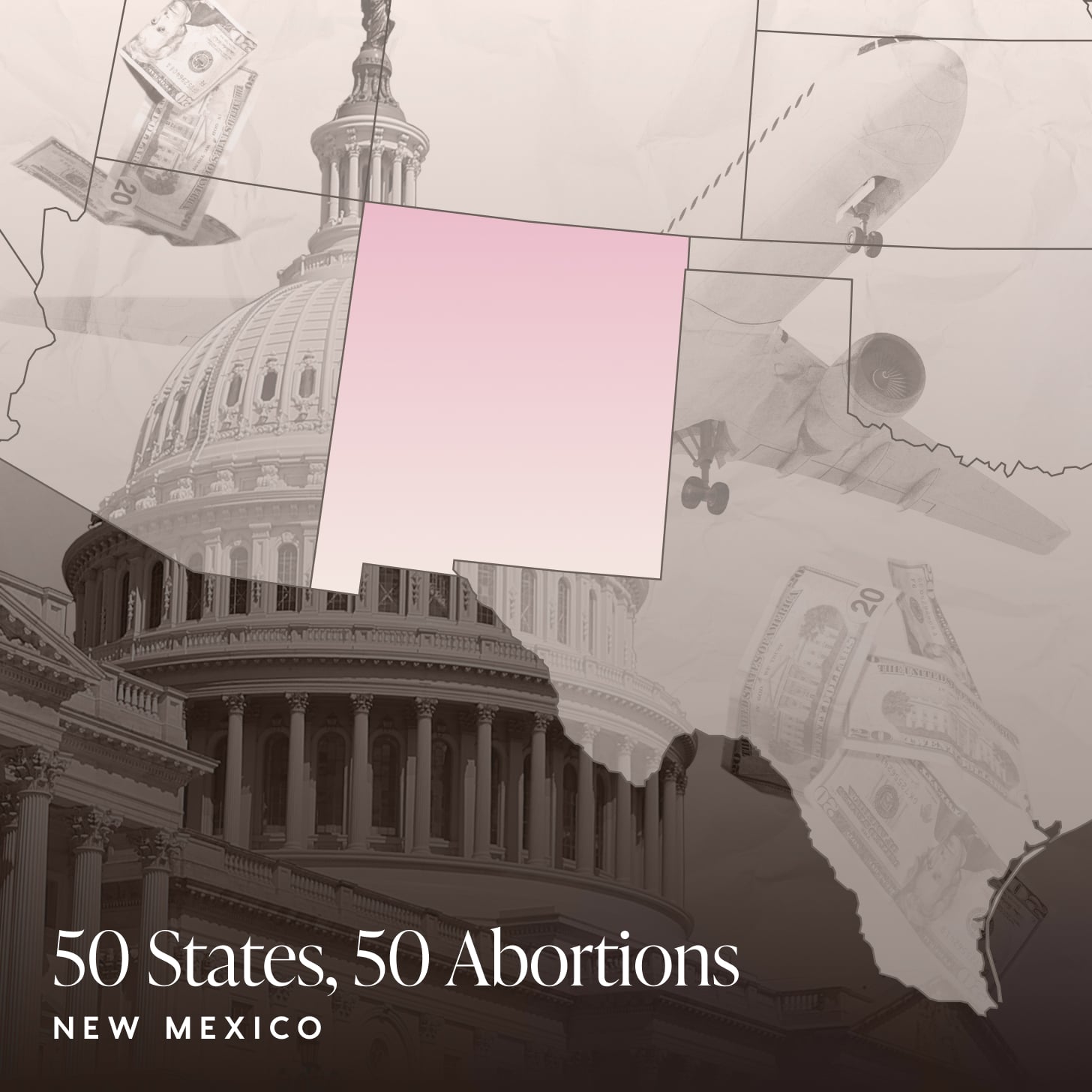 This article is part of POPSUGAR's 50 States, 50 Abortions, a large-scale storytelling project that aims to elevate the voices of people who've had abortions. For more information about how to find an abortion clinic near you, please visit The Cut's abortion service finder.
I had just gotten to college. My roommate and I had this big box of menstrual products that we would share. At some point, she made a comment like, "You haven't had your period in a while," and I said, "Huh, that's right, I haven't." She asked if I was concerned about that, and I told her not really. But then she said, "You probably should be concerned about that, b*tch." So I took a pregnancy test, which was positive. Then we went to the campus nurse as well, because I needed to know for sure. That was how I found out.
My first thought was that I worked so hard to get to where I was back then. I was 17, and it was my first year of college. I had been sort of a troubled teen; it hadn't always looked like college was going to be in the future for me. So it was just this certainty of, "This [pregnancy] is not going to happen."
I've talked about my abortion experience before, and I always put it in this perspective: I have a daughter now who's almost 10. And the difference is that when I found out I was pregnant the first time, sitting there in that nurse's office, I was f*cking terrified. Compare that to when I was sitting in Planned Parenthood and I found out that I was pregnant with my daughter: then, I felt excitement. It's hard to describe the difference, but I knew when I was pregnant with her that I could actually do it this time.
That first time, I knew right away I needed an abortion. I made that decision in the moment, and I just moved forward with it.
The next step from there was to figure out how to get one. I had grown up in a rural community in New Mexico and figured that I would have to go to Albuquerque. There's a Planned Parenthood in Santa Fe, where I was going to school, but I think they were just a small clinic. Planned Parenthood was really the first place I thought to call. I didn't even know until I was much older that there are other places in Albuquerque where you can get abortion access.
I called Planned Parenthood, and they asked how far along I was. I didn't know. I remember getting really flustered and anxious when talking to them on the phone because the person was asking a lot of questions that I didn't know the answers to. I hung up, then went to the library — because I didn't have a computer of my own — and looked up, "What will Planned Parenthood ask me when I call?" Then I wrote down my answers and called back. I remember being afraid that if I didn't answer their questions right, they wouldn't let me get an abortion.
The next issue was money. I was far enough along that I couldn't do a medication abortion. I had to get an aspiration abortion, and that was going to cost several hundred dollars. How to get this money together became my sole focus, especially because after I passed a certain date, the abortion would cost more.
I was lucky enough to have a lot of supportive people in my life. Santa Fe is a pretty progressive space to be in. I remember even telling one of my teachers, "I've got to get this money together," and she offered to help. I told my boss at work, and he offered to give me a small advance on my paycheck. My friends were pooling their beer money for the week to give to me.
I had no idea about any abortion funds. This was back in 2007, before Obamacare, and I didn't have insurance. So I really didn't know what else to do apart from tell people the truth about what was going on and ask for help.
I can remember the day. I went into the clinic with an envelope full of cash because I didn't have a credit card or a debit card or anything and it was just all this money that my friends had given me. So yeah, it was a true community effort to get me this abortion.
I had an ultrasound, and I can remember the doctor asking if I wanted to look at it, and I did, because I had never seen an embryo or whatever. They also asked me some questions like, "Are you here on your own free will?" and "Do you understand what this procedure is?" (Editors' note: While some states require doctors to ask patients if they'd like to view their ultrasound and provide state-mandated "counseling," often including irrelevant and unnecessary information, according to the ACLU, New Mexico does not.)
But there weren't really any roadblocks. New Mexico has always been a pretty good state as far as abortion access goes; I don't remember any waiting period, for instance. I lived in Texas for a little bit and I heard about its waiting period, so it was a concern for me. I was like, "I can't do that because I don't have a car." But in New Mexico, I made the appointment, they told me how much it was going to cost, I got the money, and I showed up that morning with the money in hand. I was there all day.
The abortion itself f*cking hurt because I said no to the anesthesia, since it cost more. Also, I was 17, and I hadn't had any kind of gynecological exam before in my life. I remember crying and the nurse was saying, "Oh, you've made the best decision for you," and I was like, "I'm not really crying because of that. I'm crying because there are 40 people staring into my vagina right now and I have never had that experience and that's really weird for me." It was a really clinical setting, and that felt overwhelming.
In the recovery room, I threw up everywhere. A nurse came over and told me it was normal, which I really appreciated. Shakira's "Hips Don't Lie" was playing on the speaker — I've always remembered that. Then my friend drove me back to Santa Fe.
I took, I think, two days off work and school before going back. If I were to do anything differently, I probably would have asked more questions about what the procedure was going to be like, and I definitely would've taken more time off after. Because there are emotional ups and downs — just the hormonal rises and dips that happen when a pregnancy ends. I didn't understand enough about my own body and how the physical changes were going to impact me emotionally.
When this was all happening to me, I didn't have the awareness that maybe I shouldn't be telling everybody I knew that I was pregnant and trying to get an abortion. I was so young that I didn't really pick up on when people were being judgmental or weird about it. I remember some guy at a party once said, "Well, aren't you that slut that killed your baby?" or something. But everyone around us was like, "F*ck you" — enough people that I sort of registered it as, "OK, this guy is the outlier in this situation."
It wasn't until later in life, as I got involved in abortion advocacy work, that I started to understand the stigma around abortion. I also realized that there was a real need for a diverse range of stories.
I had always thought that my story didn't count because I didn't have a medical emergency or some heartbreaking situation. I was pregnant, and I didn't want to be pregnant anymore, and that was it. I could have parented if I had chosen to do that, but I didn't want to. So I always thought that my story didn't belong in the movement because I thought they needed stories that would really pull heartstrings, to move people to be more supportive or vote in a certain way. Doing that work, I realized I was wrong; there are a lot of people who have an experience like mine. And I wanted to hear more of those stories.
When I was working at the ACLU, I did this project where I would go around to churches across the state of New Mexico and I would give these little sermons where I'd basically tell my abortion story. An amazing thing would happen at the end: somebody would tell me their story, and they would say, "I've actually never told anybody that before." Without fail, that happened every single time.
My advice would be to know that supportive people are there — you will find them, and you don't have to carry the weight of your experience on your own. There is a community, whether it's online or in person.
It's been heartbreaking to watch the aftermath of the overturning of Roe v. Wade. I live in Northern Ireland now, where up until 2019, abortion was illegal. To see the US overturn Roe v. Wade made people here realize that we're always only one election away from losing this right. I think that's strengthened the fight here, and there's a lot of solidarity among the people here with people in states that have less access.
I'm also really proud of people in New Mexico. The state remains this place where access is still comparatively available. I have a lot of friends who work for abortion funds, like Indigenous Women Rising and the Mariposa Fund. It's hard to see how overworked they are and how they're struggling to provide for people, but also kind of great to watch them step into their power.
Folks in New Mexico, we've been training for this moment. We've fought really hard to protect abortion access, and it warms my heart. All those times we would be in the legislature in Santa Fe until the wee hours, fighting tooth and nail for little changes that we thought would protect access, it really seemed like a thankless job. Seeing how New Mexico has now become a place where people in surrounding states can come for abortions makes that work feel worth it.
— Alanna (she/her) (New Mexico), as told to Mirel Zaman
Image Sources For "Click For Stories From Each State": Unsplash / Aaron Burden, Getty / Sergii Iaremenko/Science Photo Library, Unsplash / Manik Roy and Photo Illustration: Patricia O'Connor
Source: Read Full Article