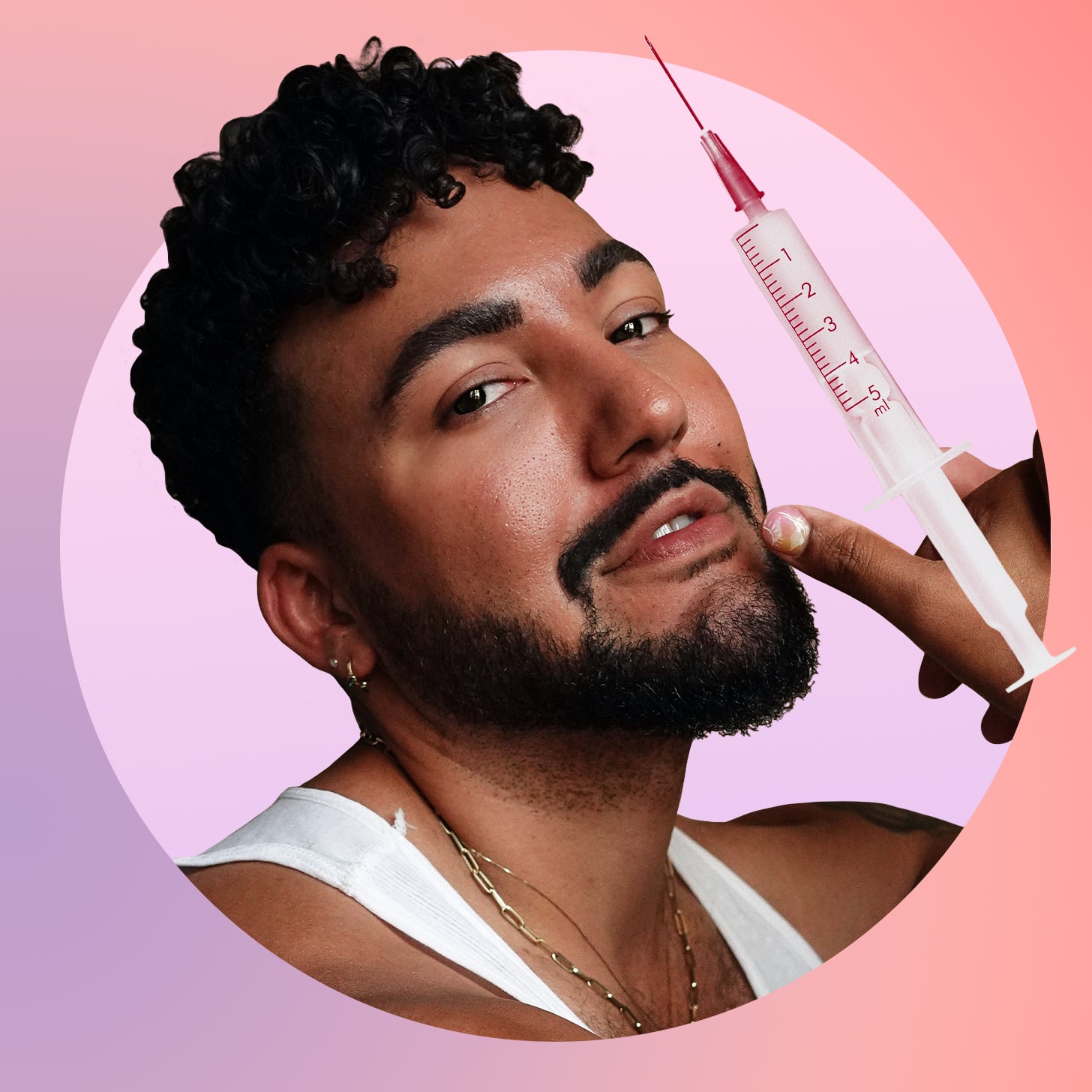 For some people within the Latinx community, injectables are often considered taboo, but for Puerto Rican content creator and professional hairstylist David Lopez, it's a means for self-confidence. Here, he shares, in his own words, the power of "tweakments" — and why he's not ashamed to share his journey with Botox and filler with the world. This story was told to Kelsey Castañon and edited for length and clarity.
I cried the first time I got filler.
At the time I was 28 in Washington DC, and I went to a consultation with an ophthalmologist to have the fat pads under my eyes removed. With my job, I'm on camera a lot, and television is very unforgiving. You can't conceal bags under the eyes. It's genetic.
At the consultation, the doctor and nurse practitioner were like, "If we take the fat pads out, you're going to look hollow. We can actually fix this with dermal filler." I didn't have any idea what filler was, but they did it right then and there. I mean it when I say it was life-changing; I literally cried leaving the office.
That was something I have been so insecure about for as long as I can remember. I was a 3-year-old with bags under my eyes. People used to ask my mom, "Why does he look so tired?" and it was like, No, I just have bags under my eyes.
Obviously, growing up, I didn't know about cosmetic procedures like Botox and filler. All we knew was when things looked obvious. We had Walter Mercado, an astrologer who's very popular in the Latin community, and to me Walter Mercado definitely looked artificial. He would do all his astrology reports, and he had his fluffed hair and high cheekbones. In retrospect, he had some work done, but I just knew that it looked bad.
The thing is, in a lot of Latinx communities, self-grooming habits are not seen as girly. Specifically being Puerto Rican, it was not uncommon for a cis straight man to have groomed eyebrows, wear cologne, or have a freshly pressed shirt. In my experience at least, machismo culture showed up in different ways that were misogynistic, but it was not tied to how you cared for yourself physically. I was always told to have a fresh haircut, take care of my skin, be freshly shaven. My grandfather always had a clean manicure, buffed nails. That was part of our culture.
I saw the power of self-care in general, which is why I never looked at cosmetic procedures as bad. The mentality was: if you have something you want to change, change it. I had crooked teeth, I got braces. I had acne, they took me to a doctor and I got doxycycline. Watching my mom get her hair blown out, seeing my skin clear up — it gives you confidence. Those transformations definitely informed what I do today and the decisions I make, both professionally and personally.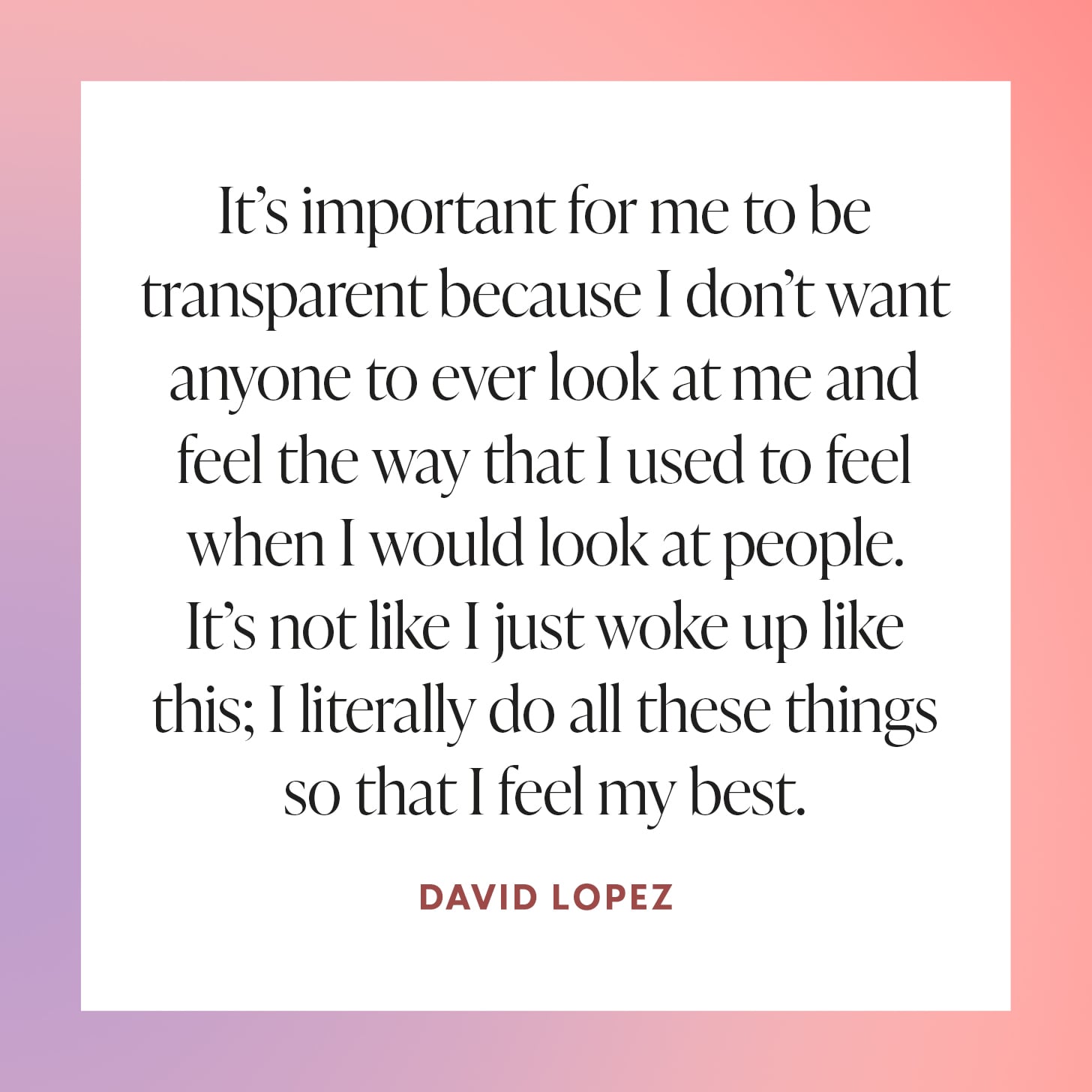 Of course, I've had to deep dive into the reasons we have this mentality of fixing things in our culture, because I understand no one has to do these things. We are all living in a system of "perfection," but there's a piece to be said about being a person of color. You need to take any advantage where you can get it; if that means you happen to look better than the other person, take it.
With cosmetic procedures specifically, I see a lot of men going to injectors to look more masculine. They're getting the jaw filler, the chin filler, all the filler to make their face look more angular and sharp. I can only speak for the communities that I'm in, but I know a lot of Latino men who have no problem going in for a little Botox, a little filler, a hair transplant, whatever it is.
Anyone who has any sort of relationship with what they look like, regardless of their gender identity or their sexuality, they're going to do whatever they need to do to look their best. It shouldn't be a shameful thing.
That's why I'm open about what I get done. After getting undereye filler for the first time, from there, it was Pandora's box. My mom, who I'm closest with, was most excited when I got nose filler, which is highly controversial. But my nose is a bit hooked, so I got it to make it look straight and raise the tip a bit. My mom was obsessed.
It's important for me to be transparent because I don't want anyone to ever look at me and feel the way that I used to feel when I would look at people. I need you to know that when you look at me or if you think X, Y, Z about me and my skin, teeth, body, whatever, this is a little manufactured. It's not like I just woke up like this; I literally do all these things so that I feel my best. Please don't feel like you're at a genetic deficit.
Source: Read Full Article