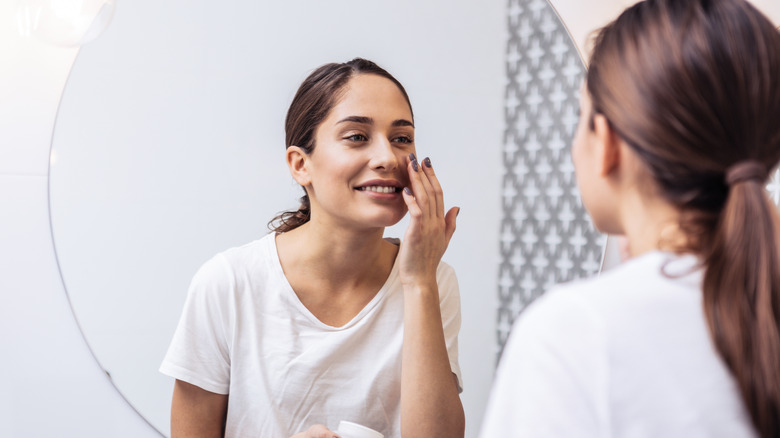 If you love all things beauty then it can be very tempting to order new products as soon as they come out on the market. Beautiful packaging and promises of plump, dewy skin can be hard to pass upon. However, just because a product promises the world doesn't mean it's right for everyone. Here's how to build a skincare routine for sensitive skin, according to experts.
WebMD outlined that sensitive skin can manifest in lots of different ways. You may experience redness, stinging, burning, itching, or tightness. This can be caused by products or your environment. When your skin is susceptible to breakouts or irritation, it can be scary to use different products on it. However, Dr. Rachel Nazarian, a Manhattan dermatologist, told The New York Times that you need to give new products a good try before you write them off. This means using them daily for at least six weeks. "Results are only seen through consistent use," she said.
Beauty Bay noted that elaborate and lengthy skincare routines aren't always better, and if your skin is particularly sensitive, one of the most important things you can do is "maintain a consistent and effective routine to keep it calm, clear, and balanced." If you're on the lookout for a routine that will work for you and your sensitive skin, here are some products to look out for.
Which cleanser and toner is good for sensitive skin?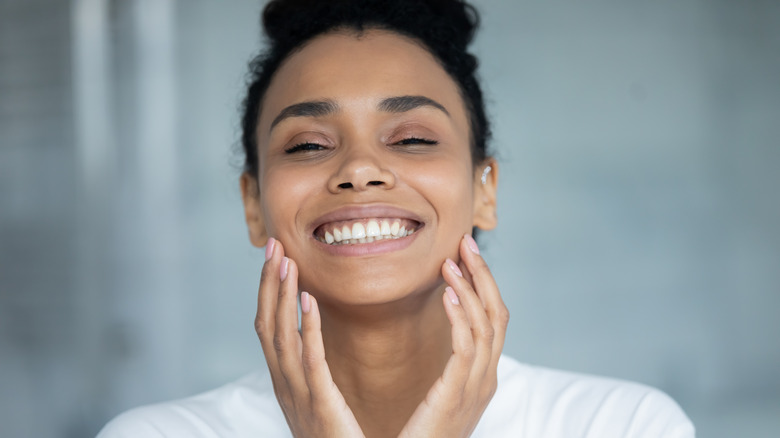 At the end of a busy day, following a multiple-step skincare routine may feel like one task too far. However, Simple noted that finding a cleanser that is gentle on your skin, removes makeup or product build-up, and soothes your face could be the key to settling redness or soreness. They recommended their daily Simple Water Boost Micellar Facial Gel Wash. Similarly, Beauty Bay noted that the Mario Badescu Seaweed cleansing lotion is a lovely option.
Skin guru Renée Rouleau told Byrdie that a crucial thing to look out for when picking products for your sensitive skin is to really listen to your body and look at how it reacts. They suggested a sulfate-free cleansing lotion, like the Peet Rivko Gentle Skin Cleanser.
The New York Times noted that after you cleanse your sensitive skin, you can then add a toner. Aesthetician Jordana Mattioli said, "[Toners] can be a good way to add in specific ingredients that you may not have in your other products or add another layer of skin replenishment." Good Housekeeping also added that if you're prone to breakouts, look for toners with salicylic acid. Similarly, Rouleau told Byrdie that you should look out for products with green tea, bisabolol, and chamomile as they serve as anti-inflammatories on the skin. Rouleau recommended Origins A Perfect World Age-Defense Treatment Lotion With White Tea. The New York Times also suggested hyaluronic acid, alpha, and beta hydroxy acids, and vitamin E and C to protect the skin.
It is important to moisturize your skin, especially if it's sensitive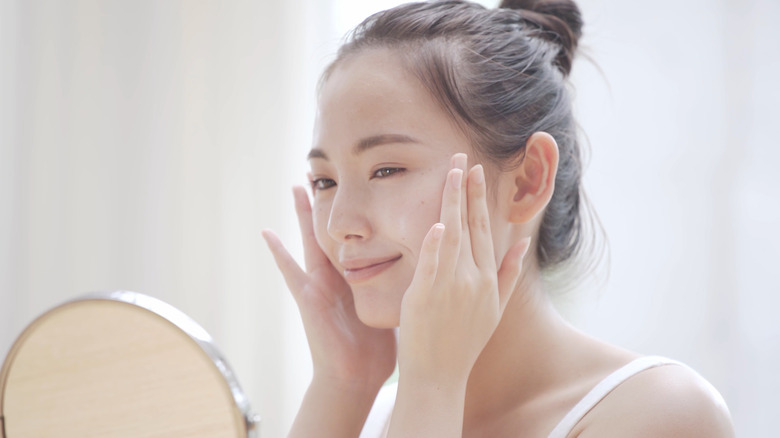 A key step in your skincare routine, regardless of your skin needs, is to ensure that you're getting enough moisture. Good Housekeeping noted that moisturizer helps to hydrate your skin and protect it from your environment. You might consider using a lighter moisturizer during the day and a heavier one at night to repair the skin and deeply nourish it.
Beauty Bay recommended the Mario Badescu Buttermilk moisturizer and the Alpha-H Essential Hydration cream as being great options for people with sensitive skin. If you know that your skin can react to strong fragrances or chemicals, then Byrdie recommended that you stay away from products with synthetic fragrances, alcohol, and synthetic dyes.
A three-step routine of cleansing, toning, and moisturizing is really easy to remember and manageable. Looking after your skin can feel totally daunting and the beauty industry would have you believe that you need a cupboard full of products if you're going to get serious. However, Skin Store noted, "The main goal in our skincare routine comes down to a few simple things; keeping our skin looking and feeling its best, preventing further damage to our skin, helping repair past superficial damage to our skin, and minimizing irritation to the skin. It's about creating a strong foundation for your basic skincare routine." So stick to the basics, and you'll be fine. 
Here are additional treatments and treats for those with sensitive skin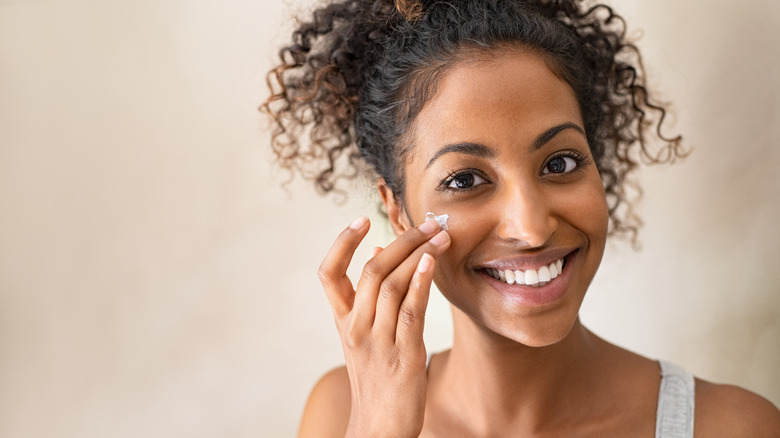 Once you've found the basic products that work for you and you can use them every day, you can start to explore other treatments that will give your skin that extra boost when you need it. Beauty Bay noted that if you have sensitive skin, you don't have to miss out on serums, eye creams, and masks. They wrote that the Instanatural eye gel is really gentle around the eyes, and The Ordinary Mandelic acid exfoliates the skin without causing irritation.
The New York Times also noted that SPF is something that should be in your routine all year round. Chemical ingredients like oxybenzone and octinoxate can make sunscreens super lightweight and comfortable. However, they can irritate and cause reactions if you have very sensitive skin. Renée Rouleau told Byrdie, "Zinc oxide sunscreens are the least likely to irritate sensitive skin. Titanium dioxide sunscreens are good, but not as compatible with medium and darker skin tones because they can leave a white cast." Rouleau recommended the CeraVe Sunscreen Face Lotion SPF 50 or Supergoop Skin Soothing Mineral Sunscreen Broad Spectrum SPF 40.
If you want to create your own masks at home, The New York Times noted that you can combine dried oats with water which will help to heal inflammation. Similarly, by splashing cool water steeped in green tea, you can soothe your skin.
Source: Read Full Article