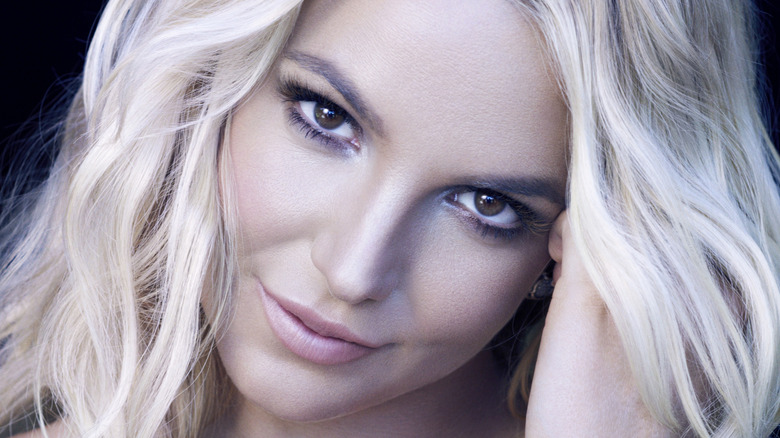 Considering her status as the Princess of Pop (via Medium), it's fair to say that Britney Spears has one of the most photographed faces in recent memory. It's been more than 20 years since she dropped her chart-topping debut single "… Baby One More Time" (via Rolling Stone), and her career stretches back even further with an appearance on "Star Search" in 1992 and a starring role in "The All New Mickey Mouse Club" back in 1993. 
With so many years in the limelight, it's hardly surprising that her beauty routine has frequently been up for discussion. If you've ever wanted to replicate Spears' routine, you're not alone. There are countless tutorials on YouTube that promise to help you recreate some of her more popular music video looks (like Jackie Wyers' "… Baby One More Time"-inspired option, via YouTube) or provide tips on how to steal her red carpet style (like Makeup By Myrna's bronze-toned option, via YouTube).
Over the years, Britney Spears' beauty aesthetic has certainly evolved (via Refinery29), so it's hard to nail down her exact routine. However, the "Toxic" singer provided some insight in 2018 interviews with Vogue Arabia and Cosmopolitan.
Britney Spears shared beauty favorites and more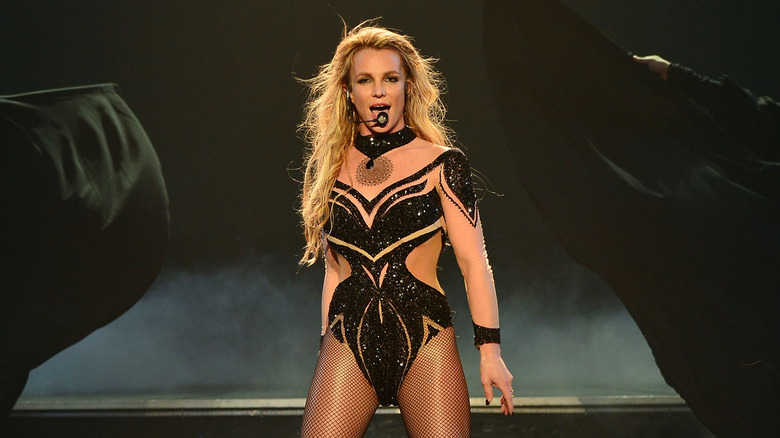 Speaking to Vogue Arabia, Britney Spears emphasized that she likes to switch up her look. "I like to experiment with different things," she said. One area that she seemed fond of playing up was her eyes. "I think it's fun to use different pale shades and pinks in eyeshadows. I like a kind of gothic look in most situations but I think it's better to use light colors to open up your eyes."
Since she likes to change up her style, it shouldn't be surprising that Spears listed "Toxic" as her favorite music video. "I think 'Toxic' is one of my favorite looks," she mused. "Because it was like a superhero and imagination type thing. There were so many superheroes she turned into, kind of like a superwoman." 
Spears emphasized that decision in her chat with Cosmopolitan, listing some beauty must-haves that may surprise you. "I always have a lip balm with me," Spears revealed. "It's great for chapped lips and makes them soft, and it can actually be used for all dry skin which is an added bonus!" What else does she need? A solid body moisturizer. The hitmaker provided her most important beauty tip, too. "Take care of your skin. I always remove my makeup and cleanse my face every night, I have to as I do a lot of shows; I perform four times a week so I can't go to bed without doing it."
Replicating Britney Spears' makeup looks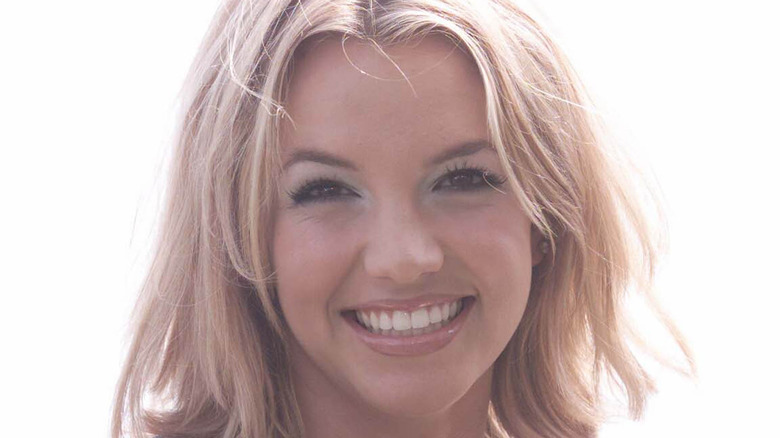 So how can you recreate Britney Spears' makeup looks? First, you'll need to decide which Britney look you're going for. After all, her "Oops! … I Did It Again" makeup (with its pale, frosty eyeshadow) is quite different from her "Slave 4 U" look and its dark eyeliner and dramatic lashes (via YouTube). But whatever makeup look you're replicating, start with a lightweight foundation, or perhaps just a tinted moisturizer. Next, groomed brows are a must. Anastasia Beverly Hills Brow Wiz is a cult favorite (via Sephora).
bh cosmetics has a number of eyeshadow palettes to choose from. The Do Not Disturb collection, heavy on the blues, is perfect for an "Oops! … I Did It Again" copy, while Emerald for May contains plenty of green colors for a smoky "Slave 4 U" vibe. If you're going for a more toned-down Britney Spears makeup look, a couple of coats of black mascara and a swipe of natural-looking lipstick topped with Nars lip gloss (via Sephora) is all you need.
Again, Britney Spears has gone through so many transformations that there are a number of different looks — from fresh-faced and natural to smoky and mysterious — giving you a variety of options in how you recreate her style.
What is Britney Spears' makeup routine like today?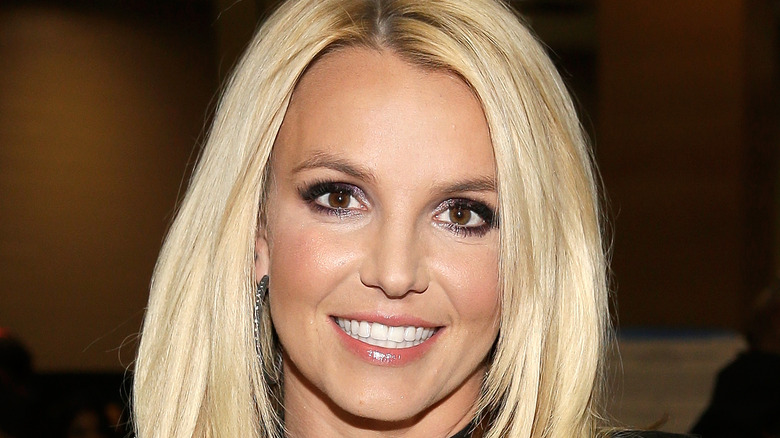 In 2020, Britney Spears took to Instagram to give fans a surprising update about her makeup routine. After taking some time off performing, the "If U Seek Amy" siren now believes that less makeup (or none whatsoever) is ideal. "Who would have thunk it," she teased in a caption that accompanied a (mostly) fresh-faced selfie. "After all this time in my life I'm just now learning that no makeup is the way to go" (via Instagram).
Spears went on to further explain her new stance, which she revealed was inspired by years of being prepped for photographs by a professional beauty team. "A little makeup is fun but after spending so much time in hair and makeup chairs to look flawless …. I think a natural look is the way to go." She continued to heap praise on the no-makeup lifestyle. "It makes you look waaaay younger and so much better."
Although she heralded the benefits of wearing less makeup, Spears did admit that there was a product she still wears with some frequency. "​​Pssss YES …. I know I'm wearing mascara in this," she wrote. It's worth noting that mascara has long been a staple in Spears' makeup routine. She told Vogue Arabia that it was the one product she religiously wore when she wasn't onstage back in 2018 and listed Too Faced's Better Than Sex as her preferred formula.
Skincare is important to Britney Spears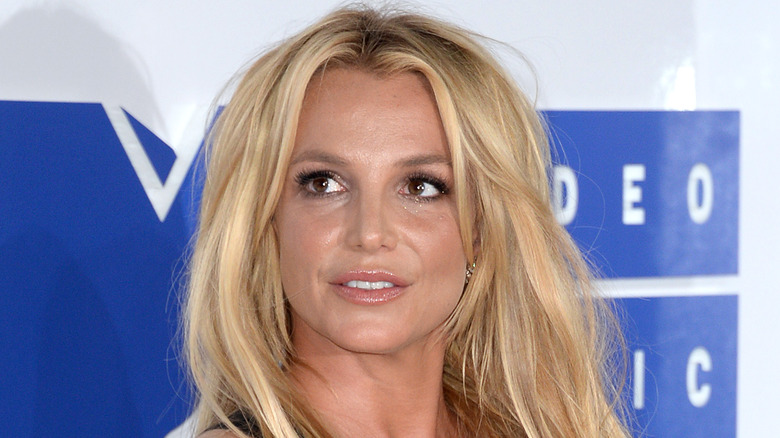 There's one final thing to consider when trying to replicate Britney Spears's makeup routine — skincare. "I like toners," she told Vogue Arabia. "I'm all about a good astringent toner before I put my moisturizer on. I can't just put moisturizer on — I have breakouts because I work out. I don't actually get zits or acne, I just get these red marks where it's, like, about to break out and it shows up like a rash on the side of my face."
The hitmaker listed the brand La Mer as a staple but revealed that she uses astringent toners from Elizabeth Arden or Neutrogena. While Spears told the publication that she doesn't get acne, she admitted that it was a problem in the past (via Instagram). "When I was younger I never really had an acne problem until I did my first movie," she said. "I was so nervous to be on camera so I went to the dermatologist for stronger skincare products." 
In another Instagram update, Spears spoke about her adapting skincare routine. "It's all about balance and it's hard because if you over moisturize you can break out," she wrote after listing dry skin as a problem. The pop phenom provided an update on her routine at the time, too. While she used to only apply skincare at night, she was now attempting a new morning and evening schedule.
Source: Read Full Article