Kelly Ripa is a doting mom to three grown-up children, and just like all parents – she's not afraid to embarrass them every now and then!
On Monday, the Live star's oldest child, Michael Consuelos, 25, took to Instagram to share a photo of himself posing on the beach. He wrote alongside it: "100% not posing. Didn't even know there was a camera there."
Kelly was quick to respond to his picture with a witty remark, writing: "A very candid not at all posed pic. I approve."
WATCH: Kelly Ripa's children highlight their different lifestyles during appearance on Live!
Michael lives in Brooklyn, having graduated from New York University in 2020.
The aspiring actor often comes back to Manhattan to visit his parents, and has also made several appearances on Live in the last year as he continues to carve out his career in the entertainment industry.
MOST READ: NCIS confirm return of well-loved character – and fans can't wait!
POPULAR: Pauley Perrette's bold new look delights fans as she returns to social media
One of Michael's latest projects was in the Lifetime movie, Let's Get Physical, which was backed by Milojo Productions, Kelly and Mark's production company.
https://www.instagram.com/p/Cnx1s7MporM/
A post shared by Michael Consuelos (@michael.consuelos)
Kelly poked fun at her oldest child on social media
Speaking with People Magazine ahead of the film's release, the young star opened up about what his acting journey has been like, and how grateful he is for his parents' help.
"I read the script and I really, really enjoyed the character. I thought he was really funny," he said of his role.
MORE: Today hosts band together for emotional farewell to much-loved colleague
SEE: Salma Hayek leaves fans speechless with sultry bathtub photo
He also added: "Also, you know, it was offered to me – and when you are starting out, when something is offered, you take it. It was kind of a no-brainer for me."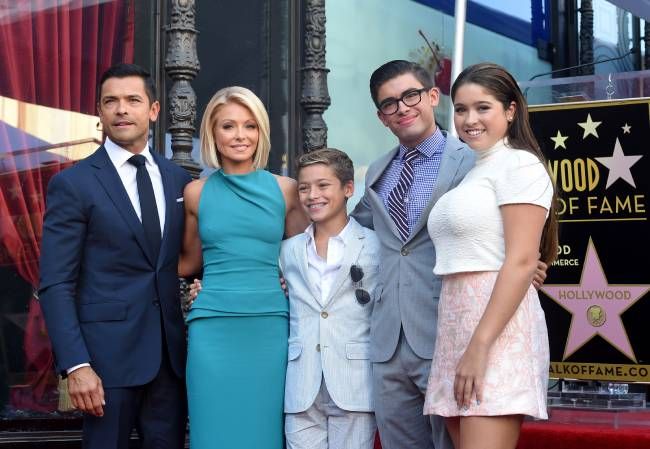 Kelly and Mark have three children who are now grown up
Though he did have his parents help when it came to casting, he maintained that's about as hands-on as they were, admitting that they are in no way "momagers."
He said: "They weren't micromanaging everything, they trusted my ability to deliver what they wanted for the character. I'm very proud of it," adding that: "I'm proud that I got to work with them. Hopefully again sometime… it was a real treat."
Michael also previously starred alongside his father in Riverdale, where he played the younger version of Mark's character, Hiram Lodge.
Read more HELLO! US stories here
Source: Read Full Article