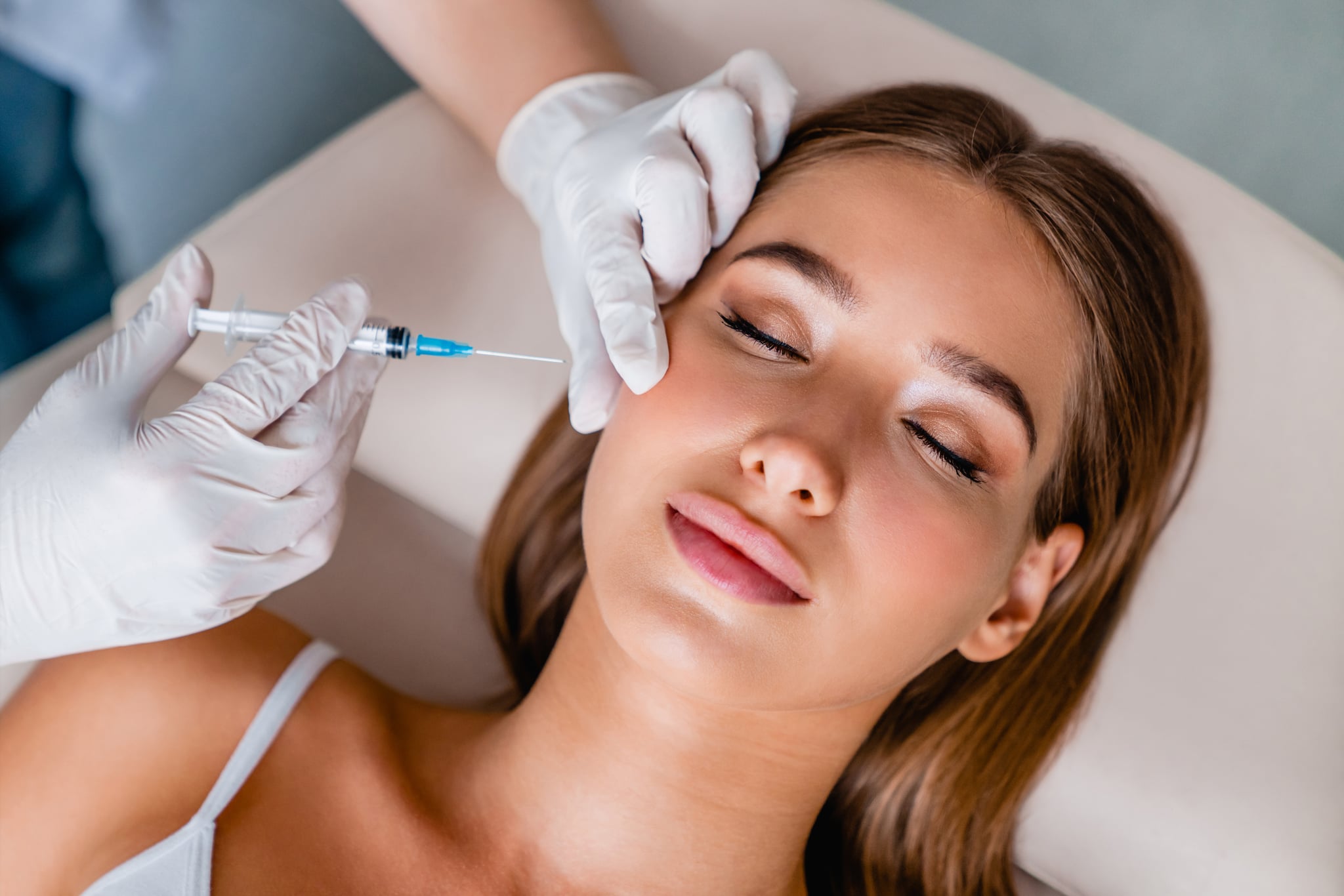 Image Source: Getty/Inside Creative House
Whether you have lifelong experience with acne or are just starting to notice a few pimples over the last few months, dealing with the skin condition can be quite a journey. It's something that about 85 percent of people will experience, according to the American Academy of Dermatology Association, but it can somehow still feel incredibly isolating. Additionally, many people don't discuss the numerous side effects that can stem from a bout of acne. Take, for example, acne scarring.
Often left behind after a particularly long or severe bout of acne, scarring can create marks on the face that can take years to heal and sometimes may even require medical intervention. "These scars can manifest as discolored patches, raised or depressed areas, or pitted holes on the skin, ranging in severity from mild to severe," Michelle Henry, MD, FAAD, tells POPSUGAR. "Different types of acne scars exist, including ice pick, rolling, and boxcar scars, which have various shapes and sizes."
Depending on the type of acne scar you have, filler can be an option for restoring even skin texture. Yes, you read that right, the dermal filler that we know and love can also be used to fix depressions in the face due to scarring. If you're just as intrigued as we were when found this out, Dr. Henry breaks down everything we should know about the treatment, from how long the results last to whether it's covered by insurance.
What Causes Acne Scars
Before we get to the treatment, let's take a look at what causes acne scars. "These marks appear if the skin beneath the acne spot becomes inflamed or wounded," Dr. Henry says. "The pigmentation is the result of uneven collagen deposition on the damaged skin area, resulting in either raised or depressed forms of acne scars."
While you can't always perfectly predict which pimples will leave an acne scar, a good indication is if a pimple or blackhead has been in one area for an extended period of time or is extremely inflamed.
How to Use Filler to Fix Acne Scars
https://www.instagram.com/p/CExu5bzHUTX/
Essentially, dermal filler for acne helps to address volume loss the same way it would if you were to treat your lips, hip dips, or any other body part. "The utilization of filler injections for acne scars is effective in adding volume to depressed or indented scars, resulting in a smoother skin surface," Dr. Henry says. "The injection of the filler material into the scar elevates it to the level of the surrounding skin, improving its appearance."
As with any cosmetic procedure, the experience is tailored to you and your skin's needs, so no two treatment plans will look exactly the same. For example, the type of filler you use can differ. "The selection of the filler substance depends on various factors, such as the scar's location and severity, skin type, and the desired outcome," Dr. Henry says. What may also vary is how long it takes to achieve results, as well as how long the filler lasts. Whereas someone may only require one session, another could need multiple before they start to achieve their desired results. Additionally, though filler for acne scars typically lasts anywhere from six to 12 months, your results can depend on everything from your lifestyle to the type of acne scarring you have.
How Much Does Filler for Acne Scarring Cost?
Though acne scarring is skin-related, it is not covered by insurance because it is an elective, cosmetic procedure. If you choose to move forward with the treatment, expect to pay anywhere from $600 to $1,200 per treatment, depending on the product used and where the physician is located.
Is Getting Filler for Acne Scarring Painful?
Pain is relative, but getting filler for acne scars will likely not be very painful, thanks to the numbing that happens beforehand. "Topical lidocaine is applied to minimize the pain of injections, but some may still feel slight discomfort during the procedure," Dr. Henry says.
As far as recovery time goes, there isn't really any. "There are usually very minimal side effects following filler injections," Dr. Henry says. "Some may feel temporary swelling, redness, sensitivity, or discoloration at injection sites. These side effects are short-term and resolve in a couple of days."
How you choose to approach your acne journey is entirely up to you, but if you're like us and love having new beauty tools in your toolbox, it never hurts to be more aware of your options. Whether you decide to move forward with your own acne filler journey or not, let this information serve as a guide you can refer to — whether you're still in the process of deciding or are setting up your consultation as we speak.
Source: Read Full Article